For the second time in three weeks, the Pittsburgh Steelers matched a season-best with just 2 missed tackles on the road Sunday in a 24-17 loss to the Denver Broncos.
That certainly makes the loss even more frustrating doesn't it?
Pittsburgh missed just one tackle on defense and one tackle on special teams, which raises some red flags defensively, considering Phillip Lindsay gashed the Steelers on the ground for much of the game. Yet after two re-watches and a coach's film session, the Steelers didn't give up big runs because of missed tackles for the most part.
Total misses at Broncos — 2
Sean Davis – 1
Tyler Matakevich – 1 (special teams)
Total missed tackles through 12 weeks  (11 games) — 100 (9.1 misses per game)
Sean Davis – 12 (one on special teams)
TJ Watt – 10
Joe Haden – 9
Terrell Edmunds – 9 (three on special teams)
Vince Williams – 7
Mike Hilton — 6 (one on special teams)
Bud Dupree – 5 (two on sack attempts)
LJ Fort – 5
Stephon Tuitt — 4
Cam Sutton – 4 (one on special teams)
Coty Sensabaugh – 4
Tyler Matakevich – 4 (two on special teams)
Artie Burns — 3
Anthony Chickillo – 3 (one on special teams)
Jon Bostic – 3
Roosevelt Nix – 2 (both on special teams)
Cam Heyward – 2
Tyson Alualu – 2
Jordan Dangerfield – 2 (one on special teams)
Daniel McCullers – 2
Nat Berhe – 1
Javon Hargrave – 1
That's two straight weeks now where Sean Davis has really struggled to come downhill against the run at the standard he set earlier in the season on a big play. He played well aside from Lindsay's 32-yard run in the second quarter that saw Davis take a horrendous angle while getting caught on his heels. That simply can't happen as the last line of defense.
As for Tyler Matakevich, that's now two missed tackles on special teams, an area that he mainly made the team for. Fifty percent of his misses have been on special teams. That's not going to cut it.
Let's take a look at the two misses.
Here it is; the Lindsay 32-yard run.
Pay close attention to Vince Williams at first in this clip. Look at the way Billy Turner grabs him and yanks him backwards, keeping him from getting a clean shot on Lindsay. If Turner doesn't do this, or better yet gets a flag here, this completely wipes out Lindsay's splash run.
Instead, the hold goes uncalled, leaving Davis as the last line of defense. Check out how he takes a poor angle at first and then almost comes to a stop with most of his weight on his heels as Lindsay comes barreling downhill. That's technique. We haven't seen that type of play this much from Davis this year, but it reared its ugly head in a big-time spot on Sunday.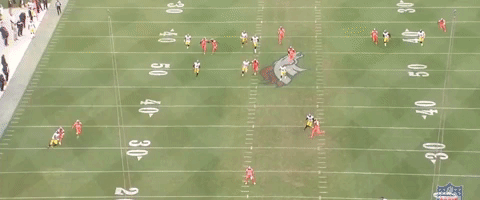 On the only punt return River Cracraft attempted on Sunday, he was able to make Matakevich miss in space. Granted, this is always going to be a hard play to make for a defender sprinting down the field to try and get a shot on a stationary target that is trying to catch the ball before then moving, but Matakevich is able to break down on Cracraft. He has to finish.
Prior to Matakevich's miss, Cameron Sutton does a great job of working back outside into his coverage lane, forcing Cracraft to stay in the middle of the field where Sutton's help defenders are.
Offensively, the Steelers forced 6 missed tackles, meaning they won the battle in that department by +4. Plain and simple, the Steelers dominated this game and should have won. That stings.
Total forced misses at Denver — 6
James Conner – 2
JuJu Smith-Schuster – 2
Vance McDonald – 1
Jaylen Samuels – 1
Total forced misses through 12 weeks (11 games) –  118 (10.7 forced misses per game)
James Conner — 62
Antonio Brown — 15
Ryan Switzer — 14
Vance McDonald — 12
Stevan Ridley – 4
Ben Roethlisberger — 3
JuJu Smith-Schuster — 3
James Washington — 1
Xavier Grimble  — 1
Jaylen Samuels – 1
Jesse James – 1
James Conner continues to stay on a roll in the forced misses department. He had a rough game Sunday with the big fumble, but he once again top 100 total yards despite touching the ball just 16 times.
Here's one of his forced misses.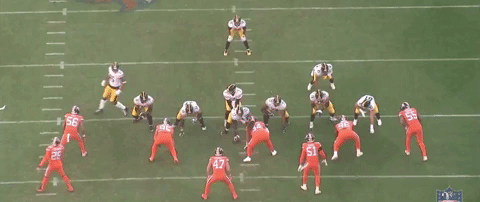 This play was supposed to go up the middle, but Conner does a great job with his jump-cut, bouncing back to his left, forcing Shelby Harris to miss in the hole for a 6-yard gain.
JuJu Smith-Schuster stole the show though with his two forced misses at the end of his 97-yard touchdown catch-and-run.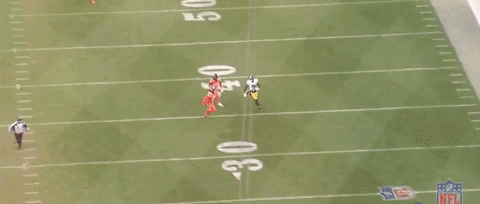 That's a mean stiff arm from the second-year pro. It takes out two defenders, letting him walk in for the score.
All JuJu does it outrun defenders for 97-yard scores.
As for Vance McDonald's forced miss, it came on a short catch over the middle in which he took a shot from Darian Stewart, but watched as the physical safety bounced off of him for a miss. Jaylen Samuels' forced miss came in the first quarter on his 12-yard catch, moving the chains for a first down.