As we have been for several years now, we'll break down the Pittsburgh Steelers' opponent each week, telling you what to expect from a scheme and individual standpoint. Like last year, Josh Carney and I will cover the opposing team's offense. I will focus on scheme, Josh on the players.
Today, we're revisiting the Baltimore Ravens' offense.
Alex's Scheme Report
Ravens Run Game
The run game has definitely been poor and it's a large reason why the team made the deadline deal for Ty Montgomery. Even before Alex Collins' injury that may keep him out this week, expect Montgomery to see a decent number of snaps, at least in the 5-10 range. If Collins can't go, that number may rise.
Collins, who had a strong 2017 season, is averaging only 3.7 YPC on 98 carries with a long of just 19 yards. He's also fumbled three times.
Baltimore hasn't been shy about trying to get other players involved in the run game. A whopping 12 players have recorded a carry for them this year – Montgomery should make it 13 by Sunday. That includes tight ends too. Maxx Williams (who has been used as a FB) and Hayden Hurst have had designed carries for them. Wide receivers make up for five total carries. To compare, the Steelers – not including Josh Dobbs' two kneeldowns – have only five players with a carry.
Buck Allen is a do-everything back. He can play FB, catch, and run. Most of his work comes in short yardage and goal line (11 of his 38 come in the red zone).
Baltimore is struggling to produce explosive plays in the run game. They have just 20 carries of 10+ yards (tied 20th in the NFL) and are the only team without a RB to record a 20 yard gain. The Ravens do have one such run this year, coming from QB Lamar Jackson.
The offensive line is such a mess that it feels difficult to project who the starters will be. Injuries across the board, including to LT Ronnie Stanley. The interior guard play has really suffered the last couple weeks with new faces and guys rotating in because of injury. Alex Lewis' status is still up in the air after being carted off with a scary looking neck injury against the Tennessee Titans. As of this writing, neither player has practiced this week.
One positive along the o-line is rookie RT Orlando Brown. Brown had one of the worst pre-draft processes the league has ever seen, tanking at the Combine (5.85 40, 2.00 ten split, 14 reps on the bench, 19.5 vert, 6'10" broad). But his play has been much better than the workout suggests. Like his father, Orlando Sr (also a Raven), Brown is a mountain of a man (6'8, 345) who moves better than his Combine numbers and has great play strength. T.J. Watt will have his hands full.
The run scheme feels as power heavy as it is zone, a break from their IZ dominant run schemes of the past. Most power runs are set to the field. As are their end arounds/reverses to wide receivers. Run to field, not the boundary, to give their guys some space.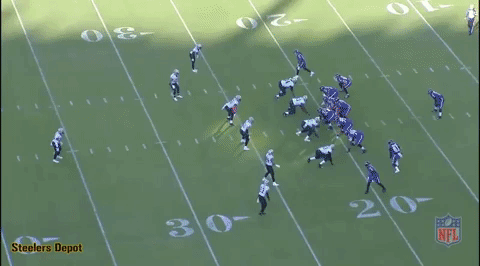 They also have their outside zone game, too.
Ravens Pass Game
While the Ravens are known for their big play passing game, it's largely been stagnant and boring and why their offense is only barely above average in points per game, tied for 14th at 24.6. An elite defense has plenty to do with that, too.
Joe Flacco has thrown 12 TDs to 6 picks while completing 61.1% of his passes. As a team, they're averaging only 6.6 YPA (28th in the NFL). They're below average in completions of 20+ (tied 18th) and only slightly better in 40+ (tied 14th).
The more interesting element is Lamar Jackson. He played his second most snaps last week versus Carolina, 14 in total, completing four of five passes and carrying the ball three times, throwing his first TD pass too. Don't be surprised if he's involved relatively heavily against the Steelers. Baltimore used him for nine snaps in their first meeting (the third most snaps he's played in a game) and the offense seems to click lately when he's in the game (three TDs the last two weeks with him out there). Pittsburgh had trouble with him last time, from subbing correctly to executing.
With him, they'll run plenty of read option or what looks like a read option pass. Jackson seems like he could give the ball, keep it (end unblocked) or hit the TE pulling across in the flat. The TE can also arc block if Jackson keeps it. Lot going on.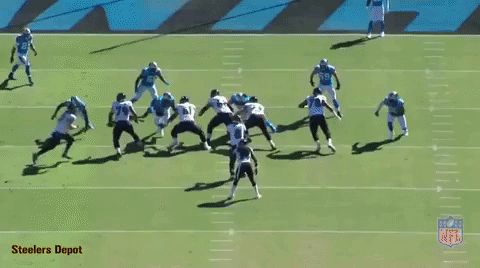 The receivers are largely the same names. Michael Crabtree, a crafty route runner but mostly underneath player, John Brown, their deep threat, and Willie Snead. Snead is a shifty receiver out of the slot and almost purely a YAC threat. Averaging just 10.3 YPC (that's less than James Conner) but leading the Ravens in YAC with 156 yards. That means on average, his air yards per catch is just 6.2.
It's a tight end heavy offense. Last week, three tight ends played at least 20 snaps. And in Week 7, four played at least 18. Tons of 12/22/13 personnel in this old-school looking offense. First round pick Hayden Hurst is getting his feet wet in the offense, catching two passes on three targets and his first professional TD. Hurst was injured in the first Steelers/Ravens matchup.
With all the tight ends and heavy personnel, watch out for playaction. Alert for it on 1st and 10 in their own territory and 2nd and 1, where they've opted to take some shots.
In empty, the tight end is also often the first read. Two looks from the last two weeks. Y out and a Y nod, the latter not completed but that is Flacco's first read. Steelers' dime package better equipped to match up with them this time around. But if the Ravens come out in 12, the Steelers won't be in dime. So it's a chess match.
Josh's Individual Report
It's Ravens week, Steelers fans! And it's time for a little redemption.
The last time these two rivals met, Joe Flacco and the Ravens took advantage of some defensive miscommunications and a couple of deep shots to pull out the win on the road. That appears to be cleaned up lately for the Steelers, and that bodes well for the black and gold because not much has changed offensively for the Ravens since that Week 4 matchup.
Coming into Sunday's Week 9 matchup in Baltimore, the Ravens are 14th in total offense, 14th in points per game (24.6), 27th in yards per play (5.2), and 5th in third down conversion percentage (47 percent).
Largely, this is an average offense that relies on the league's best defense to not only keep them in games, but also set them up in ideal field conditions.
In that Week 4 matchup at Heinz Field, Flacco was a surgeon against the Steelers' defense, throwing for 363 yards and two touchdowns. Lately though, he's turned back into checkdown Joe, working the ball short of the sticks consistently in hopes of his receivers making plays in space to keep the chains moving.
That said, he loves to try and hit deep shots against the Steelers. The Ravens clearly see something on tape heading into each matchup with the Steelers, and Flacco appears more willing to push the ball down the field.
The Steelers have to be ready for John Brown this time around. There's no excuse for him to put up the numbers he did against the Steelers in Week 4 this time around.
Two weeks ago against the New Orleans Saints at home, Brown had what appeared to be the game-tying score, considering kicker Justin Tucker was automatic on extra points. This one looked like a miscommunication between the two Saints defenders, but Brown has a knack for getting open like this.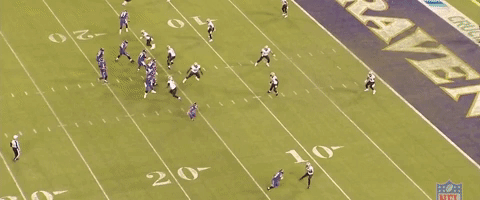 Take a look at this placement by Flacco down the right sideline into the back corner of the end zone. That's a pretty throw by the veteran quarterback, and I like the route concept in that area of the field getting Brown up the field on the sideline. It's very clear Marshon Lattimore was playing a shallow zone, but Brown's release off the line is great, and he'd likely have beaten Lattimore in man as well.
The last three weeks it seems like Flacco has lost his fastball, forcing him to check the ball down. He still appears relatively healthy and moves well in the pocket, but he's simply not taking chances with the football down the field.
The running game continues to be hit or miss week-to-week.
Alex Collins is one of the most physical runners in the league, but despite his punishing style of running, he doesn't seem to have much production to go with it, rushing for a combined 141 yards on 41 carries (3.4 yards per carry) over the last three weeks.
Collins got off to a fast start in Week 8 on the road at Carolina, putting this good-looking touchdown on the board on the Ravens' first drive.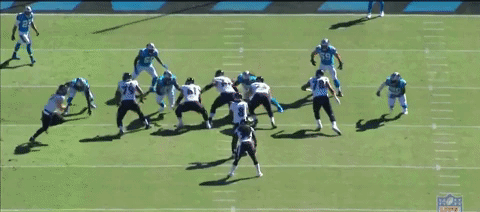 Notice that Lamar Jackson is in at quarterback on this play. It's a wrinkle the Ravens like to show in the red zone at least once per game. Collins take the read-option handoff and gets up the gut to the Panthers' linebacking level. Notice the motion with Hayden Hurst as well moving left to right. It's a great play design to get the linemen moving upfield for blocks, while also forcing the linebackers to honor the motion right with Jackson and Hurst for a possible run or pass to the flats.
Collins does the rest with power, spinning out of a tackle to race into the end zone.
He's a violent runner with quick feet. He's tough to bring down one-on-one in space, so the Steelers will have to fly to the football again on Sunday.
When in the red zone, look for Jackson to come onto the field and use his legs.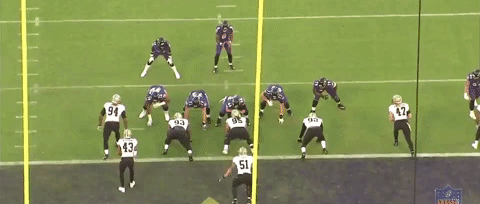 Jackson primarily comes into the game to run the read-option, and he's pretty darn good at it, especially within striking distance of the end zone.
Javorius Allen is the change of pace back for the Ravens. Flacco loves to get him the football as a receiver, especially on swing routes to get him in a favorable matchup with linebackers on the boundary. The Ravens will mix in Allen as a runner at times too, but he's primarily a receiving threat right now because he's not having much success as a runner as of late.
The acquisition of Ty Montgomery from the Packers at the trade deadline is a curious one. I think they want him to fill the Danny Woodhead role, but I could see the Ravens adding Montgomery to the receiving room as well, adding another slot option to Willie Snead IV.
At receiver, Brown is Flacco's go-to guy, but Michael Crabtree has seen a lot of targets lately, recording 23 targets in the last three weeks. He's the possession receiver for the Ravens, one that goes across the middle and works the sideline well, keeping the chains moving for Baltimore.
Snead IV and Chris Moore work primarily out of the slot for the Ravens. Moore usually runs crossing routes to utilize his speed in space, while Snead IV is the possession guy in the middle of the field, running the short 8-10 yard curl routes in the middle, opening up the outside for Brown and Crabtree.
Watch out for the standard Ravens jet sweeps with Snead IV and Moore out of the slot. I've seen the Ravens run that play at least twice per game all year. It doesn't matter what side it's run to either. They like the play and like the personnel they have to run it.
At tight end, we know the Ravens spent a ton of draft capital on tight ends, but it hasn't really worked out so far for Baltimore. Yes, Mark Andrews is having a good year, but he's not being utilized like he was at Oklahoma as a true move TE. His yards per catch are very pedestrian, but he's a threat in the red zone.
First round pick Hayden Hurst recently came back from a foot injury that caused him to miss the start of the season. He's done very little since coming back, hauling in three passes, going catchless in two games.
The offensive line continues to be a work in progress, especially after the loss of right tackle Alex Lewis to a scary neck injury that saw him carted off the field three weeks ago.
Here's how the Ravens should line up on Sunday, left to right:
LT — Ronnie Stanley
LG — Hronnis Grasu
C — Matt Skura
RG — Marshal Yanda
RT — Orlando Brown Jr.
Stanley and Yanda are the big names on that line, while Brown Jr. is a high pedigree rookie looking to take over the job for the injured James Hurst. He's a road grader in the run game, but he hasn't shown the ability to move well in pass protection.
Grasu stepped in for Lewis and has played well. He's a former center, but has transitioned to guard well, keeping the Ravens solid in the middle of the line.
On special teams, Tucker is still Mr. Automatic despite missing that extra point two weeks ago. There's not kicker I'd rather have than Tucker in a big spot. He has a strong, accurate leg and is reliable from 60 and in. That's hard to find in a kicker today.
Punter Sam Koch might be the best punter in football, giving the Ravens the best special teams tandem in the league by far. Koch has great touch on his punts, and really has a feel for directional punting, consistently pinning teams deep, setting them up for failure against the league's best defense in Baltimore.
Moore and Tim White serve as the kick returners for the Ravens. The Steelers had success containing White in Week 4, holding him to a 19-yard average on three returns.
Baltimore has a new punt returner in cornerback Cyrus Jones, a University of Alabama product and former second round pick of the Patriots. Jones hasn't had much success in the return game in the NFL, but he's finding some success with the Ravens, averaging 11.45 yards per punt return, including a long of 26.