As we have been for several years now, we'll break down the Pittsburgh Steelers' opponent each week, telling you what to expect from a scheme and individual standpoint. Like last year, Josh Carney and I will cover the opposing team's offense. I will focus on scheme, Josh on the players.
Today, we're checking out what the Denver Broncos offer on offense.
Alex's Scheme Report
Broncos Run Game
Things may be a little different with all their offensive line injuries, though they still were effective in Sunday's win over the Chargers, but statistically, they boast the NFL's top run game. Denver is averaging 5.2 yards per carry, led by rookie sensation Phillip Lindsay, whose early career arc reminds me of Willie Parker. Undersized, undrafted speedster taking the league by storm. And the dude is legit.
Lindsay is averaging a whopping 5.5 YPC. Six of his runs have gained 20+ yards. What's even more impressive about this run game as a whole is their ball security. One of only two teams – the Giants are the other – who haven't fumbled a rushing attempt. Not beating themselves. They also have Royce Freeman and Devonte Booker, the latter mostly working on third downs and passing situations.
Schematically, there are some Gibbs/Shanahan callbacks but it's not the exclusive inside/outside zone like they used to run with Terrell Davis. They'll run some power too, often to the boundary. Plenty of split zone, too.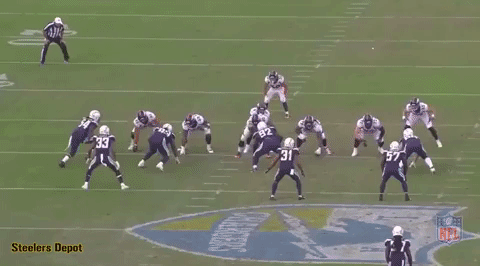 They are using a fullback quite a bit. Andy Janovich has the fourth most snaps at the position. But he's a bit of a new-age type. A legit threat in the pass game and he'll be flexed out like a tight end too. While Denver can go heavy, they don't have the same feeling as say Jacksonville. More explosive athletes, more of a threat to get the ball on the perimeter.
The offensive line, as Josh has also outlined for you below, has taken a hit. They've lost their center and left guard over the last two games. But credit where credit is due – they held up well vs the Chargers, not allowing a sack while the run game averaged 5.7 yards per carry.
Speaking big-picture, it's a physical group up front that does a nice job of putting bodies on the ground. Steelers' DL is going to need to pay extra special attention to staying on your feet. Get cut blocked or buried to the ground and you're opening a runway for a gamebreaker like Lindsay.
No surprise they're top ten in big run stats. Ninth in gains of 10+ with 38 of them. And nine runs of 20+ yards, tied for 6th.
Some other stats for you. Averaging just under 23 points per game while their 13 rushing TDs are tied for the third most in 2018. Though large parts of the offense have improved from this year compared to last, the third down offense has regressed, now 27th in the league. That's unexpected.
Broncos Pass Game
Now led by Case Keenum, brought over after his success with the Minnesota Vikings. He's been…ok, but certainly taken a step back. Nearly as many INTs (10) as touchdowns (11). Bad company to be in, joining the likes of Josh Rosen, Sam Darnold, and C.J. Beathard with similarly ugly ratios. He's thrown at least one INT his last eight games, including three in the narrow victory over the Chargers.
The receiving game has a pretty clear division of labor:
Emmanuel Sanders (the possession player): caught 75% of his targets, averaging 12.7 YPC
Courtland Sutton (the deep threat): caught 47.9% of his targets, averaging league-high 20 YPC
I'm over-simplifying things a little bit. Sanders can still get vertical and Sutton is being asked to do more in the offense with Demaryius Thomas sent packing to Houston. But that's the general feel for this group.
Tight end Jeff Heuerman is also having a career year and is a little Vance McDonald light, entering this game with 29 receptions. The pass game, with a guy like Sutton, is explosive. Top ten in completions of 20+ (T-8th) and 40+ (5th). Their red zone offense, however, could use some work, ranked 22nd.
Watch out for dual slants when they go with Twins sets or align 2×2. If your CBs are playing with outside leverage, you might get beat.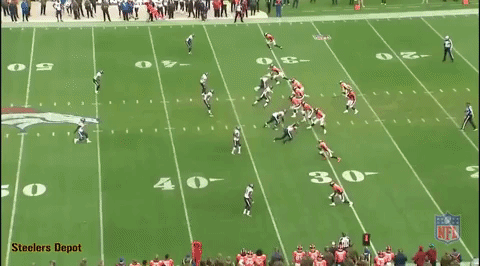 They're a playaction heavy team too. Try to make their passes look like runs. Often go max protect, run a Yankee concept (post/over), and try to take a shot deep.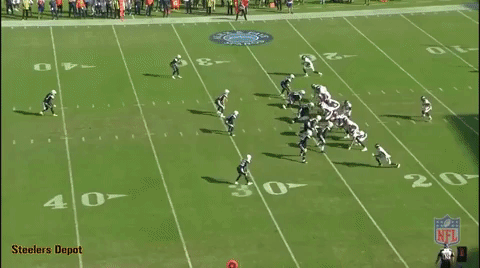 Josh's Individual Report
It's Broncos week, Steelers fans!
Playing at Mile High Stadium in Denver hasn't been kind to the Pittsburgh Steelers as of late, but Sunday's matchup against the struggling Denver Broncos is one the Steelers should be able to take advantage of.
Heading into Sunday's Week 12 game, the Broncos are 4-6 after knocking off the Los Angeles Chargers 23-22 last week in Los Angeles. Popping on the tape, it's quite clear the Broncos are a much better team than 4-6.
Through 10 games, Denver is 11th in the league in total offense, averaging 371.9 yards of total offense a game. The Broncos are also 9th in yards per play (5.9) and 16th in turnover differential (+2). However, Denver is 27th in third down percentage (35 percent), and 19th in points per game (22.8).  The Broncos are 15th in passing offense (247.1 yards per game), and 8th in rushing yards per game (124.8).
It's a balanced offense, but its one that struggles to finish drives, resulting in turnovers or field goal attempts far too often with Case Keenum leading the charge.
Personally, I like Keenum. He's a great underdog story in the league, but after putting up a career season last year in Minnesota, Keenum is struggling with ball security, often forcing throws into windows he has no business throwing footballs into.
Aside from his struggles throwing the football, Keenum is playing behind a dreadful offensive line that has been decimated with injuries, forcing the Broncos to shuffle linemen all over the place. In 10 games, Keenum has been sacked 24 times and hit numerous others.
Despite the struggles with ball security and protection in front of him, Keenum has kept the Broncos in games and given them a shot to win late the last two weeks.
In the red zone, I've really liked Keenum's ball placement to his tight ends, namely Jeff Heuerman, who has emerged as a real playmaker for this offense.
Check out these two throws by Keenum in recent weeks to Heuerman for scores.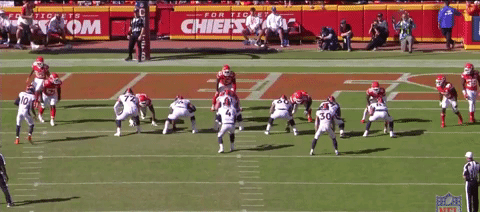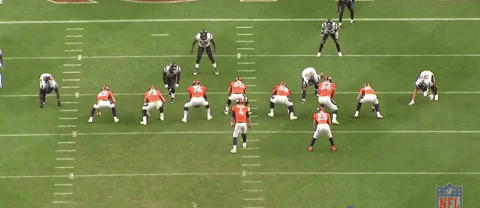 The first one came in Week 8 on the road at Kansas City. Keenum does a great job of putting this throw away from Heuerman's body, allowing him to use his frame to shield the defender away from the football, making a terrific catch for the score.
In Week 9 at home against the Houston Texans, Keenum places this dart to Heuerman low near the third-year tight end's knees, keeping Houston's defenders from being unable to make any sort of play on the football.
Keenum trusts his arm a bit too much, but when he can make plays like this in the red zone you have to live with some of the errors he makes throwing the football.
The veteran quarterback seems to excel when utilizing play-action, working down the field to rookie wide receiver Courtland Sutton and veteran receiver Emmanuel Sanders. Keenum and Sanders have had a strong connection this season, but Sutton has come on strong as of late, utilizing his big, powerful frame to win contested catches down the field, while also serving as a strong possession receiver over the middle.
Following the trade of Demaryius Thomas to the Texans, Sutton and Sanders have thrived as a duo, but Denver has yet to find a consistent third receiver to go with the pair. Rookie DeSean Hamilton is a solid route runner that can thrive in the slot, but Denver hasn't really given him snaps, and Keenum hasn't really shown any trust in the Penn State product.
Tim Patrick seems to be the third option at receiver right now for the Broncos, but he's so frustratingly inconsistent. One week he'll make a great play in the back of the end zone for a touchdown, the next he's dropping short passes that hit him right in the hands.
At running back, the Broncos stumbled into a stud dual-threat back in Phillip Lindsay. Undrafted out of Colorado University, Lindsay stayed home in Denver and signed with the Broncos. Following a strong preseason that saw him make the 53-man roster, Lindsay has broken out in the regular season.
He's a small back on paper at 5-foot-8, 185 pounds, but he runs like he's 6-foot, 225 pounds. Lindsay has a massive chip on his shoulder, and he runs like he has something to prove on every single run or catch.
Despite his diminutive stature, Lindsay can handle the workload as a between the tackles back. He's a decisive runner that puts his foot in the ground and comes downhill in a hurry, and he loves to lower his shoulders to dish out punishment to defenders.
Denver's zone rushing attack is perfect for Lindsay. Aside from thriving between the tackles, Lindsay really seems to rip off some of his big runs off tackle, stretching defenses out before making one cut and bursting up the field.
The Broncos added an interesting wrinkle to the ground game last week in Los Angeles, giving Lindsay a crack at the end zone out of the Wildcat.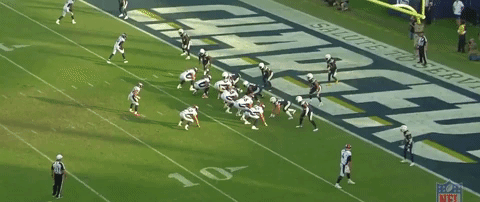 I love Lindsay's patience here. Instead of running straight ahead into the scrum like most backs have out of the Wildcat formation, Lindsay stays patient, lets his blockers get a hat on defenders, and walks into the end zone off the left side of the line for the score.
Outside of Lindsay, Devontae Booker and fellow rookie Royce Freeman give the Broncos three solid backs to work with under offensive coordinator Bill Musgrave.
Freeman returned from injury last week and immediately scored a touchdown in short yardage. That seems to be his role moving forward with Lindsay running away with the starting job.
As for Booker, he has shown he can fill in admirably for Lindsay when the rookie needs a blow. He's arguably the Broncos' best pass-catching back as well.
Look for Denver to try and get Booker some touches on the boundary on Sunday.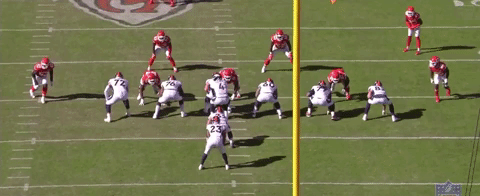 On the road against the Chiefs in Week 8, the Broncos busted out the power sweep left, tossing the ball to Booker with a pulling lineman and a tight end in front.
Booker doesn't hesitate at all as soon as he receives the toss. He runs through an arm tackle for the big gain before getting caught from behind.
Heuerman and Matt LaCosse have developed into a solid pair at tight end after Jake Butt went down with a torn ACL in practice in early October. Heuerman was a guy I was really high on coming out of Ohio State as a true move tight end. Denver hasn't really used him that way, but he's thriving with Keenum as of late.
LaCosse has a knack for getting wide open off play-action fakes. Denver will move him all over the place to try and get a mismatch.
Up front, this group really struggles to protect Keenum, yet will thump you on the ground.
Here's how Denver is expected to line up left to right on Sunday:
LT — Garrett Bolles
LG — Billy Turner
C — Connor McGovern
RG — Elijah Wilkinson
RT — Jared Veldheer
Bolles and Veldheer are pretty poor at both tackles when it comes to protecting Keenum. Bolles is a former first-round pick that has a real problem with penalties. He gets beat off the line quite a bit by pass rushers, leading to Bolles holding very often.
Veldheer struggles with speed rushers off the edge as well. He has banged-up knees, which causes him to move much slower than he has in past seasons.
Turner came into the season as the swing tackle for the Broncos, but a torn Achilles for Ronald Leary, and a torn ACL last week in practice for Max Garcia has forced Turner to move to guard. He played well against the Chargers last week as a run blocker, but he's up and down as a pass protector along the interior of the offensive line.
McGovern had a rough game last week against the Chargers in terms of penalties after taking over for Matt Paradis, who was lost for the season with a broken leg.
In a perfect world, the Broncos are starting rookie guard Sam Jones over Wilkinson. Jones is a mauler in the ground game and can hold his own as a pass protector. That being said, Wilkinson has been around awhile for Denver and is comfortable in the system. He's just not very good.
On special teams, the Broncos are below average.
Kicker Brandon McManus has struggled with consistency in recent weeks after going 7 weeks without a missed field goal or extra point. His two misses in Week 9 against the Texans cost the Broncos the game. He rebounded nicely last week by beating the Chargers as time ran out.
Punter Colby Wadman took over earlier in the season for Marquette King, who was lost for the year with a thigh injury. Wadman doesn't bring much to the table in the punting game. He's averaging just over 43 yards per punt and rarely flips the field for the Broncos like King did earlier in the season.
Last week in Los Angeles, Wadman and the Broncos busted out a fake punt, leading to a first down that set up Lindsay's long touchdown run, putting the Broncos in front 7-6.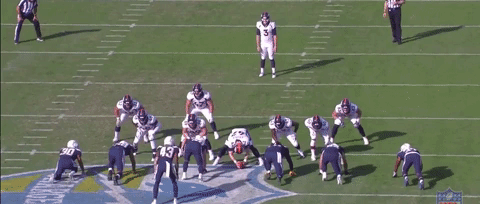 It's not an elaborate fake punt, but it's one that caught the Chargers off guard. Much like the Jaguars last week, it's highly unlikely the Broncos run a fake punt two weeks in a row, but it's important to be prepared.
Booker serves as the kick returner for the Broncos. He's not a game breaker back there, but he's consistent. He gets upfield in a hurry to get as many yards as possible, instead of dancing back there like some other kick returners have in the past for the Broncos.
Receiver River Cracraft is now the full-time punt returner after the Broncos released Adam Jones earlier in the week. Cracraft has yet to return a punt this season, aside from a fair catch last week in Los Angeles.