As we have been for several years now, we'll break down the Pittsburgh Steelers' opponent each week, telling you what to expect from a scheme and individual standpoint. Like last year, Dan Vasko and I will cover the opposing team's defense. I will focus on scheme, Dan on the players.
Today, we're going under the hood to examine the Denver Broncos' defense.
Alex's Scheme Report
Broncos Run Defense
The run defense started hot but faded fast, not allowing 4.7 YPC, sitting around bottom third in the league. Given up too many explosive runs, eleven have gone for 20+ yards, and that's certainly inflating the number.
Starting up front is Derek Wolfe, Domata Peko (you remember him from his Bengals days) and Adam Gostis. Rare for an even front, they run pretty deep along the d-line. You'll see Zach Kerr, Shelby Harris, and Demarcus Walker to check in. Walker, #57, is one guy I'd want to go after. Pretty light at a listed 280 pounds and looks about that on tape. Someone you can push around in the run game.
They will mix up one-gapping and two-gapping. Here, on 4th and 1 against Houston, the RDE shoots the gap, the tackle can't reach him, and blows it up to create the stop.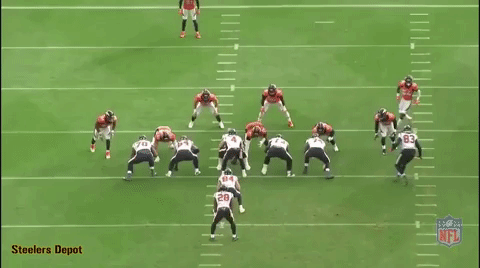 At outside linebackers sits a superstar and a soon-to-be one – Von Miller and rookie Bradley Chubb. They have a talented rookie inside too in Josey Jewell, who stays on the field in their dime defense. Todd Davis leads the team in tackles.
Broncos Pass Defense
A unit that has talent but definitely has disappointed this season. The defense is getting pressure and enough splash but the pass defense has regressed. They rank 24th in YPA allowed, 7.9, a full yard higher than a year ago and allowing too many completions of 20+ yards (27th overall).
Like I said, there are sacks, 31 in total, though they tend to come in spurts. 19 of those are via Miller (10) and Chubb (9). No other Bronco has more than two. Miller also has forced four fumbles while this defense has picked off ten passes, six of those coming from the secondary.
Chris Harris is still the star of the secondary, playing on the outside but capable of sliding to the nickel spot. Bradley Roby is opposite while Tramaine Brock enters in nickel. Justin Simmons is the free safety while Will Parks and Darian Stewart have both seen time at strong. Simmons is a tremendous athlete while I like what Parks is doing in the run game.
They will trot out a six DB dime package with Su'a Cravens serving as the dimebacker, a talented player hindered by a history of injuries. They can run a conventional 2-3-6 or have just one DL and go with 1-4-6, mugging every gap and trying to create chaos up front, getting one-on-one matchups for their top edge guys.
If you want to get man coverage/Cover 1, definitely go 3×1. That's what you most often get against that formation.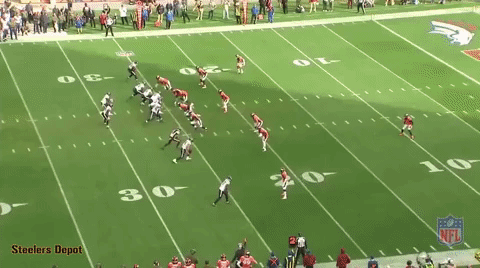 Not a heavy blitz team. Definitely relying on everything from their front four and that's a large reason why Miller and Chubb dominate their sack totals.
One last thing about this defense. Don't sleep on special teams. Denver has blocked three kicks this year, all in different fashion. A field goal, an extra point, and a punt. They'll get after it. Simmons will literally leap over you.
Dan's Individual Report
Defensive Line
LDE Derek Wolfe, defensive tackle Domata Peko, and RDE Adam Gotsis are the starting three for this defensive line.
This line has been gashed on the ground this year giving up 4.7 ypc, but it's definitely not because of Derek Wolfe. He has great size at 6'5" 295 lbs and shows great instincts especially in the run game. Very good at getting off blocks and seems to know where the run Is going every play. Word of advice: don't assign tight ends to block Derek Wolfe. You'll see why below.
Here Wolfe is lined up in the 5-technique just outside the offensive tackle. He's going to explode inside, whereas the tackle moves into the second level, leaving him paired up with the tight end.
Given his instinct and/or assignment on the play Wolfe has an instant advantage in positioning against the tight end. That being said he gives himself the best chance of avoiding the block by extending his left arm across the tight end's chest preventing him from getting a solid push on Wolfe. On top of his positioning, Wolfe is a difficult man to move, so with limited space between him and the running back gives almost no chance for the tight end to interfere. Wolfe traps David Johnson and it's a simple takedown behind the line of scrimmage.
Peko is a stout nose at 6'2" 322 lbs. Not an explosive playmaker, but solid at holding his gap and battling double teams. Gotsis is a great tackler and with his long arms he's pretty solid at disengaging form blocks. Overall it's not one of the top defensive lines they'll face this season, but there's still plenty to watch out for.
Linebackers
Brandon Marshall & Todd Davis are the inside backers, Bradley Chubb is the sam, and Von Miller is the will. Shane Ray rotates in as an outside linebacker as well. Marshall is recovering form a knee-bone bruise and may be unavailable. In that case rookie Josey Jewell would see the majority of snaps at that spot.
Miller has been a top edge rusher for years in the league, and it's no surprise he's a threat anywhere on the field. He may typically start as the will, but he's extremely versatile and, paraphrasing Mike Tomlin, he lines up wherever he wants. On the other end is sensational rookie Bradley Chubb. On pace for 14.5 sacks, which would tie the rookie record, Chubb has blasted onto the scene as one of the league premier pass-rushers. You'll struggle to find a tandem of outside linebackers as dominant as the two. They constantly feed off of each other as shown here below in their Week 10 tilt against the Texans.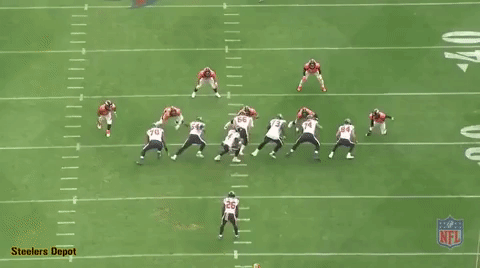 Miller is lined up outside the tight end and it'll be an inside zone run to Lamar Miller. Ideally the tight end would seal the edge rusher paving the way for Miller to go off-tackle. But Von Miller bursts off the snap clearing the tight end forcing the running back to side-step inside. He even gets a hand on the back almost making the tackle. Chubb comes in free off the weak-side, but his job is to contain Miller from breaking to the outside, so once Miller side-steps Chubb squares up to protect the edge. He showcases his acceleration and sheer length as he fires inside once Miller cuts back to the tackle, Chubb brings him down easily for the loss. Sound discipline shown by Chubb here and the athleticism of both he and Miller is on full display.
One of the lesser-known in this unit is Josey Jewell. The rookie out of Iowa doesn't have the flashy speed or athleticism, nor does he have the size of a traditional run-stopping linebacker either. But he's a smart high-motor guy that has been valuable to this group in rotation.
Insert Shane Ray into the mix and you get another speedy athlete off the edge. He's extremely quick off the line, and can be used in a variety of ways as he's played defensive line in the past. They've got a great group with solid depth in the middle of the field.
Defensive Backs
The secondary starts off with one of the best in the game, Chris Harris at RCB. LCB is Bradley Roby. Justin Simmons is the free safety, and Darian Stewart is the strong. Su'a Cravens sees the most work off the bench in sub-packages. At the time of this writing Roby has not passed concussion protocol and has not participated in practice. If he's out expect, a mix of Tremaine Brock and safety William Parks to fill out the secondary.
Harris is a shut-down corner that lamost always shadows the number one, so expect to see him almost exclusively lined up across from Antonio Brown. They run a lot of man and it's easy to do that when you've got confidence that a guy like Harris can win one-on-ones. He does. Often. Combative at the line, he's not afraid to press and run. He's got fluid hips making it seamless in transition particularly on the 9-routes.
Su'a Cravens is the jack of all trades in this defense. He was an outside linebacker in college, so he can line up in a lot of different spots, but he's largely most effective in dime as the sub-linebacker. Cravens plays with great physicality and is quick to get around blocks and make tackles in the backfield. He is in attack mode at all times. You'll find him somewhere in the pile on almost every down. Great in coverage, but can struggle at times in man. He's an important piece to look out for at all times.