If you're a rookie running back, earning a coaching staff's trust isn't through being able to run the football. You don't get drafted if can't tote the rock – that box is already checked. Trust comes through everything else. Catching the ball out of the backfield, being in great shape, taking care of the ball, and of course, being a capable pass protector.
That latter area is where I've seen Jaylen Samuels take promising steps forward. And it's no surprise to see him finally receive some playing time after being invisible for the first seven games. So let's look at how he's improved.
It started in Week Nine against the Baltimore Ravens. Pre-snap, the Ravens linebackers are mugging the A gap, showing blitz. Samuels steps up hard into the A gap and squares up to the linebacker. Like the posture and technique; knees bent, shoulders square, ready to absorb the blow.
Gets some help here from Ramon Foster, who is uncovered and free to chip, but Samuels sticks his face in the fan and makes the block. The entire offensive line blocks this one up beautifully and gives Ben Roethlisberger a clean pocket. Too bad the throw landed incomplete.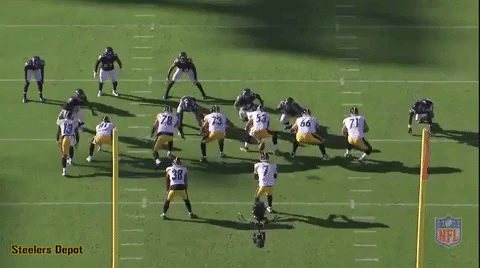 Similar from the Baltimore game, though this time, he's 1v1 on the linebacker. No help at all. This blitz is designed to exploit that matchup. The DL slants down into the A gap, drawing David DeCastro, while the LOLB rushes outside to hold the tackle. So Samuels is out on an island.
Like above, he's square to the block and attacks it with good posture, attempting to seal him inside and into the wash.
He loses it at the very end, in part because Roethlisberger is chased off his spot, but it allows enough time for him to get the throw off, an eight yard completion to Antonio Brown.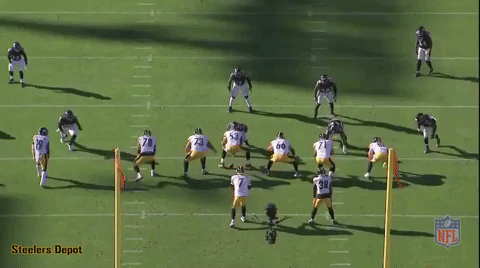 Finally, one more time from Thursday's win. Extra element here. Samuels has to scan and come across the formation to pick this one up. Panthers are bringing a nickel blitz with corner Captain Munnerlyn (#41). Samuels sees it pre-snap, the alignment gives a pretty good hint that he's blitzing, and is square to the block, rebuffing Munnerlynn and locking him down.
And this results in a 19 yard pickup for Vance McDonald.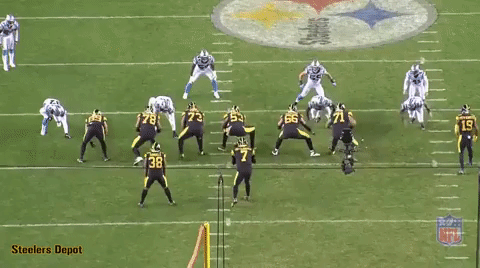 It's my favorite example of the three. His ability to process and make the block on the move, for a positive offensive outcome.
Go back through James Conner's tape and you won't see him make one block like that last year. Really, the only chance he had was his whiff against Jacksonville that caused an interception. That's not knocking him, he just didn't play much and wasn't asked to do it, but it shows Samuels is already a step ahead in that regard. And this is a guy who last pass protected since his sophomore year at NC State.
As a runner, Samuels hasn't looked great though obviously, his sample size is small (10 carries for 26 yards). But he's making himself a factor in other ways and that's all you can hope for in a 5th round pick playing behind a talented back like Conner.