The Pittsburgh Steelers won in a lot of ways Thursday night. Through the run game, defensively, heck Jaylen Samuels scored his first career touchdown. But they got the party started through the deep ball, JuJu Smith-Schuster scoring on the first offensive snap of the game followed up by Antonio Brown's touchdown in the second quarter.
While both had the same result, long touchdowns, they won in different ways. Smith-Schuster was, in part, due to great scheme. Brown, on the other hand, was just individual effort, a Hall of Famer beating up on a poor rookie.
So let's take a look at both.
The Smith-Schuster touchdown was a simple "smash seam" concept, broken down by ESPN's Matt Bowen last year. We know smash conventionally means a two level route; the outside receiver running a short curl route, a slot receiver running to a corner route to the sideline. The goal? Put the cornerback in conflict, making him choose which route to defend.
Smash seam is a similar idea. Instead of the slot receiver running a corner route to the sideline, he runs a seam route vertically. And that's what the Steelers run to the bottom with Smith-Schuster in the slot, James Washington to the outside.
Ben Roethlisberger puts this play over the top with a pump fake, or maybe legitimately wanting to throw to Washington before pulling back. Cornerback James Bradberry begins to drive on Washington's curl route, leaving Smith-Schuster free down the seam.
Against a single high safety look, the safety has the impossible task of getting to the sideline in time. It's Cover 3, that part of the field isn't his responsibility. JuJu does the rest.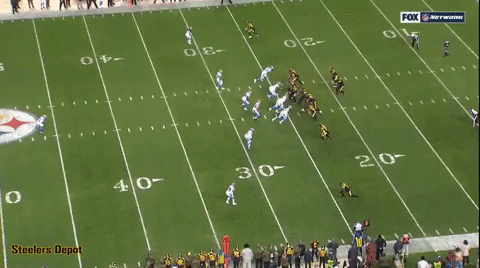 Then there's Brown's touchdown. This is less about scheme, all about an individual winning. He's facing press man coverage against rookie Donte Jackson, who has played well this year. But AB is a totally different matchup.
Brown is known for his route running, his quickness, and ability after the catch. But you see his hand use and strength here. Outside release off the line. From there, he uses his left, inside hand to create space, pushing into Jackson's chest to avoid being pinned along the sideline. At the same time, he's able to run at full speed while turning back to locate the football.
At the top, he gets a little grabby, receivers always get away with this, to swap hips and pin Jackson behind him.
From there, he separates and finishes the play, Jackson sprawling to the ground, and it's a walk-in score from there.
Take a look at the whole thing.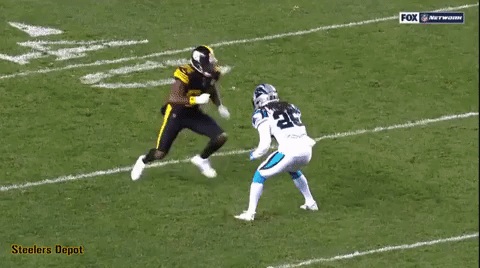 That's not winning because of pure size or speed. That's technique and like I said, a ton of strength to hold back the corner.
Certainly different ways to get the same result. But it's great players, Roethlisberger, Smith-Schuster, and Brown, making great plays. And made for a great night to be a Steelers' fan.