There's little doubt Matt Feiler has done an excellent job filling in for Marcus Gilbert. Despite being viewed as an interior player, and someone who hadn't made a start at tackle since college until this season, he's not only been good enough but an asset for this Pittsburgh Steelers' offense as they continue to thrive.
Teammates regard Feiler as the strongest offensive linemen on the roster. Such strength was on display Thursday night, I want to look at back-to-back plays on the Steelers first real drive, the JuJu Smith-Schuster touchdown aside, and how Feiler helped pave the way for James Conner to find paydirt.
On this run, the Carolina Panthers are slanting everyone down, shooting into each gap to try to get penetration and screw with the Steelers blocking scheme. Feiler adjusts to it well though. Working on the LDE, #96, he works him down the line, using the defender's momentum against him and sealing him down the line.
Feiler works him downfield so much that he actually ends up to the inside of Conner, who runs off his hip, after making a nice move in the backfield, and it goes for a 12 yard gain.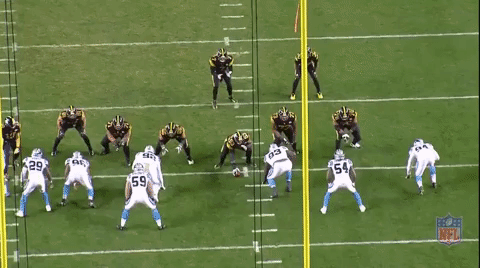 The next play. Great down block against Vernon Butler, a strong initial push to knock the defensive tackle off balance. Conner finds that crease, hits the hole, and barrels into the end zone.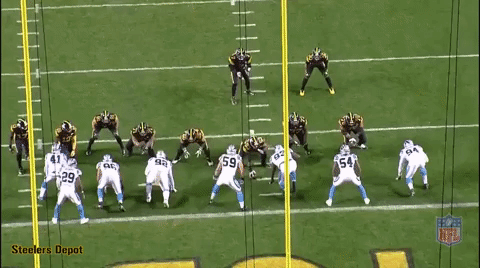 But those, to a degree, are easier players because he's using leverage. So one example of him working vertical on more of a base block. This is actually supposed to be a double-team block with Feiler and RG David DeCastro, carrying the DT to the linebacker. But Feiler gets such a strong push off the line, DeCastro is able to peel off immediately. Feiler stays engaged, keeps his base, and creates the lane for Jaylen Samuels, this gaining five.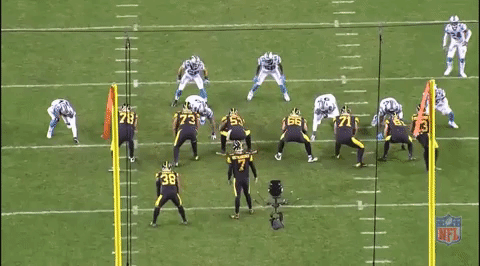 He's played well in every phase. The sack allowed Thursday will probably fall on him, I haven't gotten a chance to watch it yet, but the negative plays are few and far between. He even finished the game at right guard, kicking inside to let Chukwuma Okorafor get his first action at tackle.
It's a discussion not really having until the season is over but with how well he's played coupled with Marcus Gilbert's injuries and salary, Feiler might not be filling in for Gilbert next year. He might be replacing him.