JuJu Smith-Schuster has clearly been sensational this season. But he's made most of his money out of the slot, lining up there the vast majority of the time in 2018, becoming a trustworthy weapon for Ben Roethlisberger on an every down basis.
For the final couple of drives against Jacksonville, and often Sunday against Denver, they took a different approach. Smith-Schuster was used as the outside "Z" receiver. He played there some last season, especially early with Martavis Bryant working his way back, but was ineffective. The biggest issue was trying to create separation with less space to work with, not being an inside/outside threat, and working on bigger cornerbacks who wouldn't give up so much room.
His ability to separate on the outside, especially vertically, has been an awesome improvement from last year to this. And he showed it on his 97 yard scoot and score. There, he lined up as the outside "Z" receiver, matched up on cornerback Bradley Roby.
It's Cover 1. Man coverage, deep middle safety, so the corners don't have much help. Smith-Schuster gets on Roby's toes with a vertical release, using a head and body fake to get the corner to open up to the outside. As he does, Smith-Schuster beats him with a two-hand swipe. That stacks him on top of the corner, letting him blow by and create a ton of space. Top of the screen in the GIF below.
From there, it's all effort and want-to. Gets a great block from Antonio Brown, how cool was that to see (and honestly….rare), but he still outruns two defenders and stiff arms safety Darian Stewart to finish the play.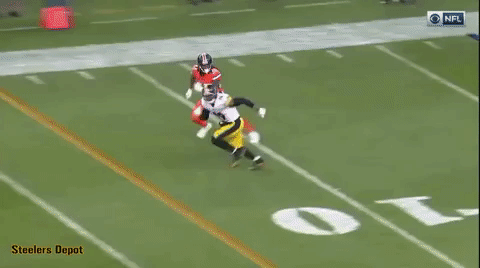 Smith-Schuster has gotta be the fastest "4.54" receiver in NFL history. When he puts the pads on, it feels like few can catch him.
He won a key route down the left sideline on the game-winning drive last week. Double-move on corner A.J. Bouye to create space and stack him on top of the route.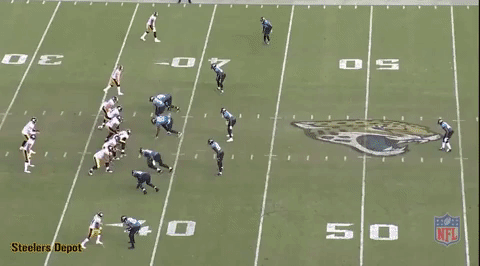 With his development, his ability to create separation on the outside, the Steelers need to continue playing him on there. Ryan Switzer is emerging as the clear #3 receiver and trustworthy option inside, meaning Pittsburgh has their top three receivers. Brown as the "X", JuJu the "Z", Switzer inside. Brown and JuJu are versatile enough to move around so formations and personnel groupings don't become static. That's the most effective grouping for this offense until James Washington is able to turn things around.