Like every other year, defenses are doing their darnedest to take away Antonio Brown. They'll put their best cover corner on him, bracket him, do everything short of picking him up and carrying him to the sideline.
But the Pittsburgh Steelers get to respond in that chess match, too. And Randy Fichtner has done a nice job freeing AB up when teams try to press him. Three times over the last five games, they've run a simple vert/slant concept to get Brown free over the middle.
The first two I'm going to show are identical looks. This comes on the Steelers game-winning drive against Jacksonville, facing 3rd and 10. JuJu Smith-Schuster helped get them down the field but Brown's catch is one of those plays you shouldn't forget about.
Brown aligns in the slot with Jalen Ramsey following him. Off the slant, Vance McDonald runs a seam route with an outside stem. Brown runs the slant underneath, creating a natural "rub" that forces Ramsey to work under and through.
It gives Brown a step of separation and Ben Roethlisberger eventually finds him for a near-touchdown.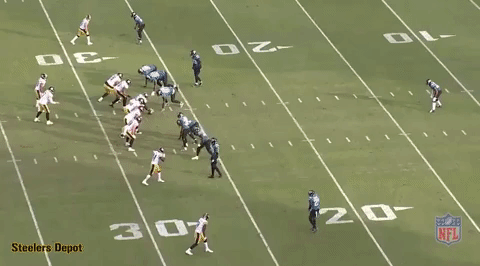 Same exact look on 3rd and 7 in the second matchup versus Baltimore. Man coverage beater, the corner working over the slant this time, but Brown again gets separation. Doesn't take much. Plus, it gets the ball to a playmaker on the move, and that's always an advantage for offenses.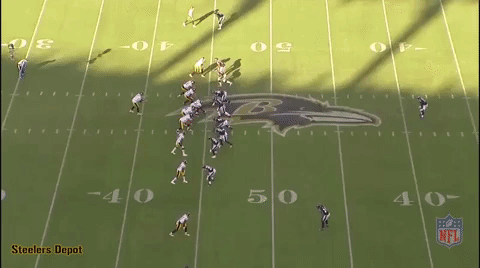 Last one. You've seen this a dozen times already. Little different look but same idea. Game-winner against Cincinnati. Justin Hunter sets the pick, Brown runs underneath. Destroys man coverage and with it being Cover 0 (no safety help) it's a walk-in score.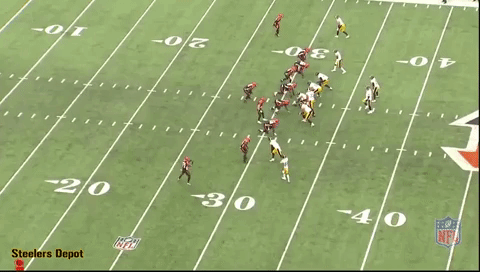 Denver is a pretty man-heavy team and you can expect them to travel Chris Harris, their best corner. It's become a popular third down/big play concept from Fichtner and I can definitely see him using it again this weekend.