Quick examination at the lone sack allowed by the Pittsburgh Steelers on Sunday night against the Baltimore Ravens.
1. 1:44 4th, 2nd and 1. 11 personnel. Five block vs four rush.
Really simple here. Alejandro Villanueva oversets against ROLB Tim Williams, who counters to the inside and beats him cleanly. With Ramon Foster sliding down to help Maurkice Pouncey, Villanueva is on an island.
He's unable to mirror the inside counter and stay in front of Williams. Looked a little tired at this point, to be honest, which makes sense with it late in the game and the outcome basically decided. You'll see it in the GIF below. Down goes Ben Roethlisberger.
If it helps at all, there was nothing available downfield. Ravens playing 2 Man and have everything taken away.
Simple analysis here. Blame goes on Villanueva.
Blame: Alejandro Villanueva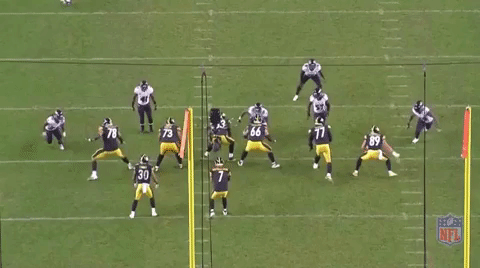 Sack Counter (Game)
Alejandro Villanueva: 1
Penalty Counter (Game)
None
Sack Counter (Season)
Marcus Gilbert: 2
Alejandro Villanueva: 2
James Conner: 1
Ramon Foster: 1
Maurkice Pouncey: 1
Matt Feiler: 1
Ben Roethlisberger: .5
Coverage: .5
Penalty Counter (Season)
Alejandro Villanueva: 3
Marcus Gilbert: 2
Maurkice Pouncey: 1