There's probably still a very bitter taste in the mouths of Pittsburgh Steelers fans after Sunday night's debacle against the rival Baltimore Ravens at home on Sunday Night Football.
I'm not going to make it any easier now that it's a few days after the game, meaning it's time to jump into the missed tackles report.
It wasn't a horrendous game for the Steelers defense as a whole when it comes to missed tackles, but it wasn't a solid game either, especially for a veteran defensive back.
Let's take a look.
Total missed tackles vs. Ravens — 11
Joe Haden – 5
Nat Berhe – 1
Terrell Edmunds – 1
TJ Watt – 1
Bud Dupree – 1
Cam Sutton – 1
Vince Williams – 1
 Total missed tackles through 4 weeks — 50 (12.5 misses per game)
Joe Haden – 7
Mike Hilton — 6 (one on special teams)
Vince Williams – 6
Sean Davis — 5
TJ Watt – 5
Terrell Edmunds – 4 (one on special teams)
Stephon Tuitt — 3
Artie Burns — 3
Cam Sutton — 2
Bud Dupree – 2 (one on sack attempt)
Cam Heyward – 1
Tyson Alualu – 1
Anthony Chickillo — 1
Roosevelt Nix — 1 (special teams)
Coty Sensabaugh – 1
Jon Bostic – 1
Nat Berhe – 1
The Steelers have a new leader in the clubhouse when it comes to missed tackles. Step right up, Joe Haden.
Haden has been the Steelers best defensive back, and arguably the best defensive player when on the field for the Steelers this season, but Sunday night's game from a tackling perspective was a disaster for the veteran cornerback.
At times, Haden went for the big hit with his shoulder and saw defenders bounce off of him. In other instances, he was outmuscled on a strong attempt, or simply lunged and missed in space.
Nat Berhe makes his debut on the list … and he's gone.
Take away Haden's bad night and maybe cut that number in half, turns out the Steelers had an alright night in the tackling department.
That being said, the Steelers missed a whopping 5 tackles on Baltimore's first drive of the game that ended in a 33-yard touchdown pass from Joe Flacco to John Brown, staking the Ravens out to a quick 7-0 lead.
Missing that high a number of tackles on the game's first drive is ridiculous. The Steelers defense came out flat at home in a rivalry game and dropped the ball when it came to details. That's on coaching.
What makes it even worse is that the Steelers elected to play defense first. Where's the fire?
Let's take a look at the top three misses.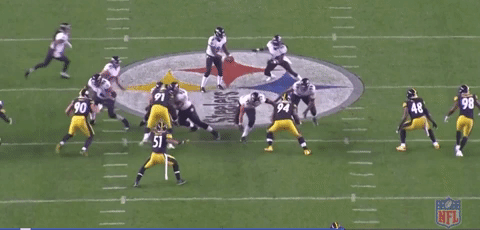 With Lamar Jackson in the backfield, the Ravens try got get the Steelers defense moving all over the place with misdirection and motion. Jackson gives the ball to Alex Collins on the option, only to see TJ Watt penetrate into the backfield.
Watt does have to work around a blocker to get a shot at Collins, and he's a bit off balance, but that's a play he needs to find a way to make in the backfield.
Once Watt misses, Collins sets up Haden for his first miss of the game with a shake outside before bursting back in, leaving Haden sprawled out flat on his stomach with a whiffed tackle.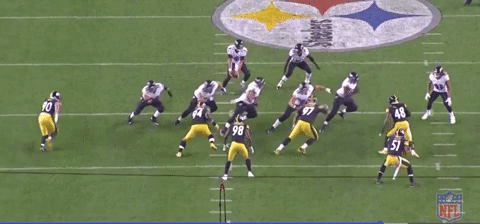 Facing a 3rd and 4, the Ravens call a toss left to Buck Allen hoping to get pulling linemen out in space in front of him against the right side of the Steelers defense.
Bud Dupree blows this play up quickly by getting upfield after the snap, slipping underneath the block of wide receiver Willie Snead IV and crossing the face of center Matt Skura for a run at Allen. He just doesn't take a great angle and is left with just an attempted reach with is right arm at Allen as the back sprints by.
From there it gets worse. Check out the attempt by Cam Sutton. That is plain awful.  One could say he clearly loses his footing and that's fine, but he doesn't even attempt to grab Allen's legs, rather leaning his shoulder into the play in hopes of tripping him up.
That might be the worst tackle attempt that the Steelers will see this season from a defender.
The first mistake by Haden on this play is the failed jam at the line, allowing Snead IV an easy release inside. From there, Haden is playing catch-up the entire play, making for an easy pitch and catch with Flacco and Snead IV.
Once Snead IV secures the football, Haden chalks up another mistake by trying to jump on Snead IV's back for the tackle, rather than going low and wrapping up his legs in space. By going high, Haden makes it easier for Snead IV to shrug off his attempt from behind, adding another 9 yards to the play.
While the Steelers missed 11 tackles on the day, the offense forced 7 misses of its own, making for a -4 day overall for the Steelers. That's not good enough.
Forced misses vs. Ravens – 7
James Conner – 3
Vance McDonald – 3
Ryan Switzer – 1
Forced misses through 4 weeks — 49 (12.25 forced misses per game)
James Conner — 21
Antonio Brown — 9
Ryan Switzer — 7
Vance McDonald – 6
Ben Roethlisberger — 3
JuJu Smith-Schuster — 1
James Washington — 1
Stevan Ridley — 1
Vance McDonald has turned into a tank for the Steelers in recent weeks. Defenders should fear tackling him because there's a good chance they'll wind up on  highlight reels.