Been awhile since we've had to do one of these. We're checking out the lone sack given up by the Pittsburgh Steelers against the Cleveland Browns Sunday afternoon. The first one given up since the first Baltimore Ravens' game.
1. 3rd and 7, 1:15 1st. 11 personnel. 5 block vs two rush.
Yeah….allowing a sack on a two man rush – three, I guess if you count the dropper who came in late – is not ideal.
But that's why the number of rushers don't always matter. You can still get one-on-one matchups and that's what happens here. Alejandro Villanueva is left alone on Myles Garrett. Garrett does a great job of initiating contact and getting into Villanueva's pads and controlling his left, outside arm.
It does look like Villanueva's right left bumps into Foster though I'm not sure how much it matters. Villanueva is already in the middle of losing the fight. He doubles over, Garrett disengages, and tries to strip sack Ben Roethlisberger. Ben hangs on but the Steelers still have to punt.
You'll see it in the GIF below though unfortunately, I couldn't run the whole clip because NFL Game Pass has put the coaching film through through the blender.
The only question is if you put this all on Villanueva. Does Ramon Foster earn some of the blame for not finding work, not helping his tackle out? In the moment, no one knew it'd only be a two-man rush. And the DT to his side does rush so Foster has to check the action on that side too.
There's a good debate to be had about it but since Garrett rushed outside, I don't think Foster is making an impact no matter what he does. So I'll put it all on Villanueva. But I'm all for hearing from you guys in the comments below. Sure there will be some disagreement.
Blame: Alejandro Villanueva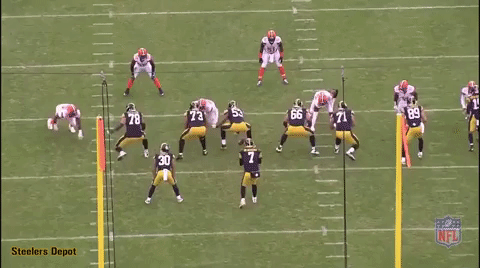 Sack Counter (Game)
Alejandro Villanueva: 1
Sack Counter (Season)
Alejandro Villanueva: 3
Marcus Gilbert: 2
James Conner: 1
Ramon Foster: 1
Maurkice Pouncey: 1
Matt Feiler: 1
Ben Roethlisberger: .5
Coverage: .5
Penalty Counter (Game)
Ramon Foster: 1
Penalty Counter (Season)
Alejandro Villanueva: 3
Marcus Gilbert: 2
Maurkice Pouncey: 2
David DeCastro: 1
Ramon Foster: 1