As we've done in the past, the keys to the Pittsburgh Steelers winning (or losing) today's game. Three things that need to happen for them to end up on the right side of the score and vice versa. My prediction is at the bottom.
The Steelers Will Win If…
1. They don't let A.J. Green beat them.
Real groundbreaking statement there, I know. But with all the injuries they have, Green is going to be even more of the focal point of the offense as usual. Just like Julio Jones last week, you wan to contain Green and force the other weapons to win. Make C.J. Uzomah catch six passes. Make Josh Malone beat you. That's the idea.
It's obviously easier said than done, especially because Green is moved around the formation so much. But that's the mission. Holding him to say, five catches for 55 yards and out of the end zone? Probably going to win.
2. Third down success continues.
The Steelers finally seemed to turn the corner on their third down woes last week against Atlanta, executing well and taking advantage of the Falcons' struggles. Cincinnati is in a similar boat, 31st in third down defense, which is especially weird considering they have at worst, an average pass rush and a talented secondary.
Regardless, they're allowing more third downs than they're stopping and the Steelers need to keep taking advantage of that. It starts with putting the Steelers putting themselves in manageable situations, not third and forever (especially because that's when the Bengals get blitz heavy), and move the sticks.
3. Special teams blocks another punt.
And there's a real possibility that happens. The Bengals already have one blocked this year, shown below, a total breakdown in protection and you know Danny Smith is scheming, the mad scientist he is, to stress them again. Cincinnati has had one blocked punt three of the last four seasons. In comparison, the Steelers have had just one blocked since 2014.
After today, they might make it back-to-back weeks. So don't get up to grab a beer when the Bengals are punting.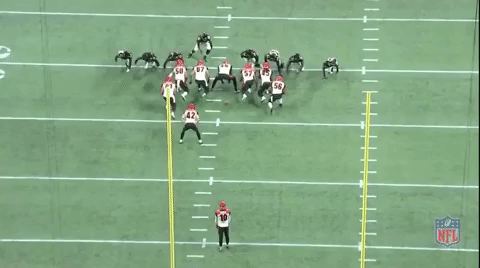 The Steelers Will Lose If…
1. Tyler Boyd kills them on 3rd down
I know up above, I said Green is the guy you have to shut down. Make everyone else beat you. But to the Bengals credit, even if the Steelers accomplish that, they finally have a capable #2 receiver in Boyd. That's something they haven't had in a long time and it's really limited their offense.
Boyd is particulalry dangerous on third down, one of the best weapons out of the slot who soaks up targets and almost always converts. Of his 11 third down receptions this year, the only time he didn't move the sticks was a failed 3rd and 2 bubble screen that objectively had no chance of working.
Bottom line? Key in on #83 on third down.
2. They lose the penalty battle.
Again, a fairly obvious one. But you know how these games go. It's charged, heated, and players generally dislike each other. Although their numbers have come down, the Steelers still lead the league with 49 penalties. Certainly anything stupid, from either side, can make the difference in this game.
But it isn't all about what could happen post-whistle. Expect the Bengals to take some vertical shots with Green, that's pretty much a given, but also the speedy John Ross, who will have to step up with all the injuries they're dealing with. Could force the Bengals to play more 11 personnel than they'd like to.
3. The defense fails to produce a turnover.
In the 22 regular season games versus Cincinnati since 2007, when Mike Tomlin took over, the winning team, for either side, has forced a turnover in 21 of those. The Steelers 23-20 win last season is the only exception.
So when we say turnovers matter, we mean it. And that's the blueprint to this defense anyway. They're not a dominant bunch. Even when they're communicating well, it's probably an average group. That's why splash plays are key. To give the Steelers a short field, an extra possession, a chance to get back into the game or extend their lead. It's nearly a mandate if they want to win.
Prediction
Steelers: 24
Bengals: 17
Season Record
1-3-1