In past years, it's been very easy to predict how the Pittsburgh Steelers would line up against an opponent. If the opposing offense trotted out three receivers, the Steelers would respond with either their nickel or dime sub-package, getting at least 5 DBs on the field. If they came out heavy, with a couple of backs or tight ends, the Steelers would remain in their base 3-4 defense.
2018 has been a slightly different story. Sure, the majority of the time, it's been true, but Keith Butler has been breaking this "rule" more often this year than anytime before.
28 times this season, the Steelers have remained in nickel or dime against a two back/tight end set, whether that's 12 personnel (1 RB, 2 TE), 22 (2 RB, 2 TE) or 21 (2 RB, 1 TE). And eight times this year, they've stayed in their 3-4 defense against a three receiver set.
It seems like Butler has chosen to switch between the two. For the former, going to nickel, it happened 26 times during the first month of the year and only twice the last two games. The latter, staying in base, happened five times against the Cincinnati Bengals.
Here they are against the Bengals, staying in their base 3-4 while Cincinnati has three receivers on the field. To counter, they walk out Vince Williams with inside leverage on the slot receiver with a two high safety look. They also have Bud Dupree aligned off-ball.
That's an interesting wrinkle in itself. Usually when they move a linebacker out wide on a receiver, like on a slot receiver in a twin set, it's the OLB playing with outside leverage. But not here.
The Bengals try to run into the Steelers' front but Stephon Tuitt works off his block and makes the tackle for a minimal gain.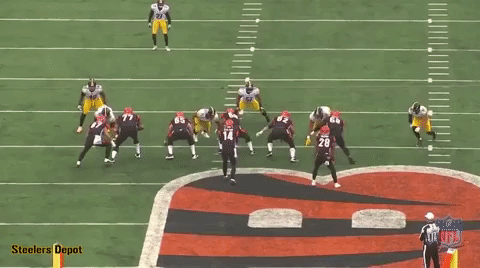 Let's look at the opposite. Nickel against a run-first grouping. 2-4-5 defense while the Ravens still have both tight ends on the field. Instead, the Steelers walk Sean Davis into the box.
And it's successful here too, Jon Bostic knifing in free to force the cutback for no gain.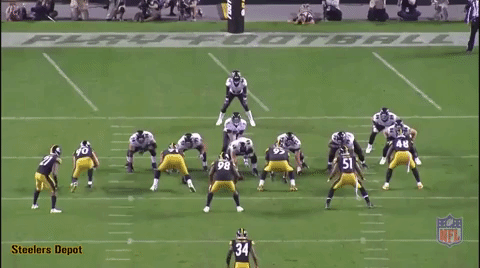 How well has this worked? With the sample sizes so small, it's hard to really know. I would call it a mixed success. It's worth pointing out four completions while in nickel versus heavy packages have gone for 15+ yards and a fifth gained 14. So that's not great when you're in a grouping seemingly designed to stop the pass.
I'm more interested in the reason and rationale behind the change. Like my FICO score or any Post Malone lyric, I'm having a hard time understanding it.
But I would love for Butler to be asked about it one day. I'm not saying it's a bad or good idea. But it's happening and you're going to see it sprinkled in throughout the rest of the season.