Randy Fichtner has had an interesting approach for his first quarter script the last two weeks. He's come out in heavy packages with multiple tight ends or backs in the backfield.
In the first quarter against the Cincinnati Bengals and Cleveland Browns, Fichtner has run 12, 22 or 13 personnel 73.3% of the time. And yes, if you're wondering, that's a stark difference from the first four weeks, where that number sat at just 26.1%.
But the run game hasn't always been particularly effective early. James Conner has averaged 4.4 yards per carry the last two games a number which, on the surface, looks pretty good. But six of his ten first quarter runs have gone for two yards or fewer, meaning the rate of success hasn't been there. Largely, the Steelers have been running into brick walls early on.
So why do it? You have a Hall of Fame quarterback, Hall of Fame wide receiver, and emerging stud in JuJu Smith-Schuster. Why roll out Xavier Grimble and Roosevelt Nix?
Fichtner's goal appears to be wearing defenses down early so that by the second half, Conner can run all over their front seven. The numbers don't lie.
Pittsburgh's yards per carry jumps from 4.4 in the first quarter to a whopping 6.8 in the fourth quarter the last two weeks. Only three of Conner's nine carries have gained fewer than two yards so from an average and success standpoint, the numbers sharply improve.
Cincinnati and Cleveland just looked beaten down by game's end. Especially the Browns, a tank running on empty without a bye week and coming off an overtime loss the week prior. Like here, Conner breaking into the third level totally untouched, a big 4th quarter run.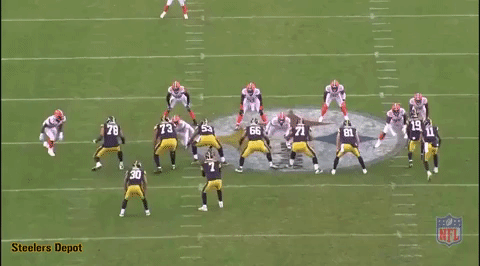 Or Conner's final carry, a 22 yard touchdown run, linebacker Jamie Collins (#51) hardly attempted to bring him down. Looking more like two-hand touch, Conner skirted past him and free into the secondary for a walk-in touchdown.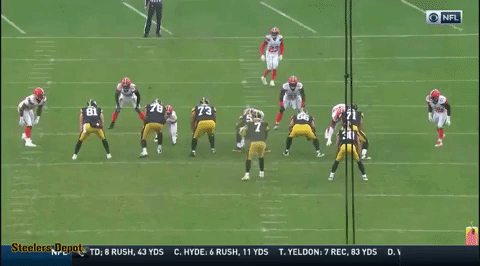 That's what it looks like when the defense you're facing doesn't have anything left in the tank. It's not fun trying to tackle a big back like Conner all game long. Or take on a punishing offensive line like the ones the Steelers have. Getting double-teamed up front by Maurkice Pouncey and David DeCastro. Getting kicked out on a trap play by the 340 pound Ramon Foster time and time again. It drains you, demoralizes you, and the offense can get sense it.
The Steelers didn't just win the battles of the trenches. They won the war. That's made possible by great execution up front but also from Fichtner's mindset to open the game. Set the tone early. It'll play off when you need to close out a game.