It's a play that'll go on all of the NFL highlight reels when the 2018 season wraps up. Vance McDonald is Chris Conte's daddy after that nasty stiff arm en route to his 75 yard touchdown Monday night. A play that knocked Conte out of the game with I assume was an injured soul, not a bum knee as the team reported.
Post-game, McDonald said his mission was very clear: destroy the defender. And that's what he did.
McDonald spoke to a predictable gaggle of reporters as tweeted out by ESPN's Jeremy Fowler.
"Just punish him," he said when asked what the mindset was on that play. "Inflict as much force on him as possible. That's the first thing I think of…just crush him, that's what I was aiming for."
Crush he did. Let's took a look at it again and marvel at how insane of a play it was.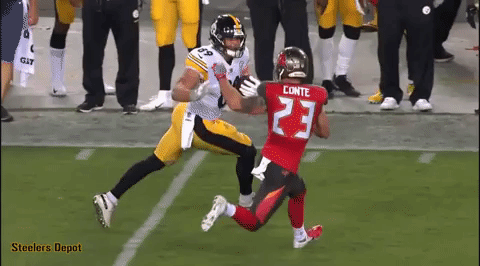 And Cam Heyward was definitely all of us witnessing what happened.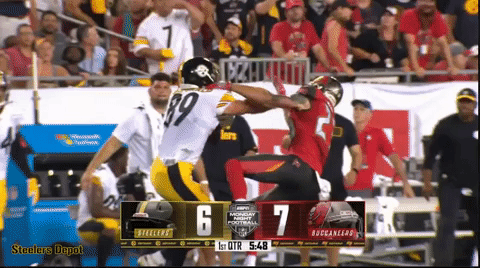 Not to get too in the weeds of how the play happened because you know, that stiff arm, but a quick look of what went down. It's what we talked about from literally Day One of training camp. 3×1 but instead of isolating the X receiver backside, they isolate the tight end. McDonald is the lone man to the left here.
McDonald runs an out route with tons of space, the Bucs' secondary drawn to the trips side. That leaves Conte all by himself against McDonald and…you know the rest.
Good scheme. And a heck of a finish by Vance. Photo of that really needs to be hung up somewhere in the Steelers' locker room.