As we have been for several years now, we'll break down the Pittsburgh Steelers' opponent each week, telling you what to expect from a scheme and individual standpoint. Like last year, Josh Carney and I will cover the opposing team's offense. I will focus on scheme, Josh on the players.
Today, the Tampa Bay Buccaneers.
Alex's Scheme Report
Buccaneers Run Game
As explosive as the passing game has been, the run game has been stagnant. It's dominated by Peyton Barber, who has 35 of the 44 carries by Tampa Bay running backs. However, he's averaging only 2.6 yards per carry and as a team, they're sitting at 2.7, worst in the league.
Barber's longest run this year is 23 yards and that came on his secondary carry of the season in Week One against New Orleans.
Jacquizz Rodgers and rookie Shaun Wilson are behind him though mostly used as passing down options.
Mix of inside zone and duo/base blocks. More of the latter. Double-teams at the point of attack, center/guards climb to the 2nd level. If the Steelers are in nickel, going to be important – and difficult – to hold the point of attack. Hope to stay in base as much as you can.
Example of duo.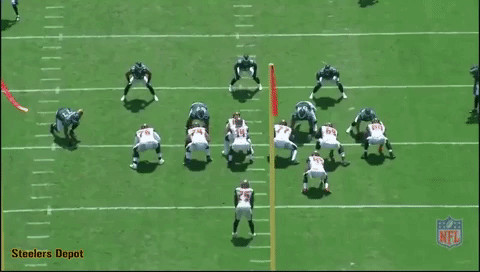 They do use a fullback though not frequently, 26 snaps through two weeks. That's Alan Cross, a TE coming out of Memphis.
Keep an eye out for the read option. Ryan Fitzpatrick kept one against the Saints on the goal line for a touchdown. Josh has that clip below for you guys to check out.
The offensive line is solid and definitely has size going for them. At center is ex Baltimore Raven Ryan Jensen, an athletic player that they trust to make reach blocks with, like here, to run some of their zone game.
Buccaneers Pass Game
Now it starts to get interesting. Fitzpatrick has been nothing short of immaculate this season. Completing over 78% of his passes to 8 touchdowns and just one interception. The pick was 100% not his fault; it was a complete pass over the middle that go knocked into the air and then picked. Averaging an absurd 13.4 yards per attempt and sacked just twice.
Some big-time weapons and they'll move these guys around. No one is static. Really worried about all the slot matchup nightmares. Have seen Desean Jackson line up there (speed), O.J. Howard (size), and Mike Evans (both).
Chris Godwin is also a threat at receiver. Combine what those three wideouts have done: caught 34 of 38 targets for six touchdowns and 11 receptions of 20+ yards. Lethal stuff.
As a team, the Bucs have 12 catches of at least 20 yards (O.J. Howard went 75 yards last week), tied for 2nd in the NFL.
One of the most notable concepts they run is the slot fade. Especially when they get the big tight end Howard aligned in the slot. Two examples below, one from Godwin, the other by Howard. Both completions.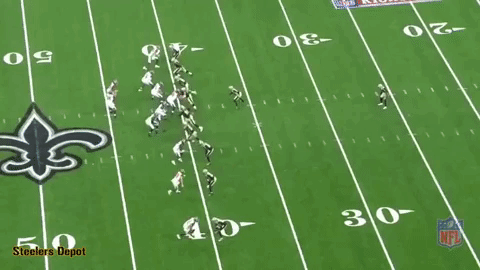 Despite not having a great run game, playaction can still be effective. All about selling your keys. Bucs like to run this post + dig off it, getting the LBs suckered up to hit the dig or the post if the safety creeps up and/or takes the dig.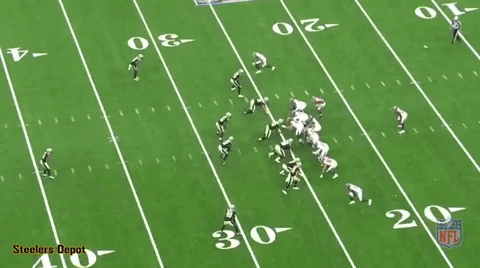 Just as the Chiefs did to the Steelers' defense, the Bucs will run 4 verts. Get #3 bending back to the middle. Sight adjustment by the X receiver; he can run vertical if he's even/beating the corner or break it off to a comeback if there's still a cushion.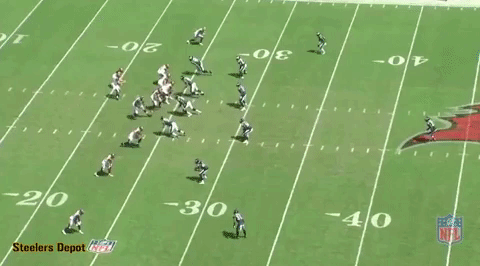 With the speed, size, and talent this offense has, they will be a handful for a reeling Pittsburgh secondary.
Josh's Individual Report
It's Buccaneers week, and with it comes yet another difficult offensive test for the Pittsburgh Steelers.
Through two weeks of the 2018 season, the Tampa Bay Buccaneers rank first in nearly every major offensive category, thanks to the resurgence of Ryan Fitzpatrick, playing in place of the suspended Jameis Winston.
"Fitzmagic" is the highest graded quarterback through two games in Pro Football Focus' history since they started grading games back in 2006. That means Fitzpatrick beat out guys like Tom Brady, Peyton Manning, and Ben Roethlisberger. That's rarefied air.
Now, it's completely fair to wonder when "Fitzmagic" will come back to Earth, but it's important to remember he's just two years removed from a career year with the New York Jets when he threw for 3,905 yards and 31 touchdowns, nearly leading the Jets to the playoffs.
The Harvard product is playing with a ton of confidence in his age-35 season. He's playing fast and loose, slinging the ball all over the yard, unlocking another level of Tampa Bay's offense that hadn't been reached under Winston in recent years.
In his first pair of starts this season, Fitzpatrick is completing nearly 80 percent of his passes, throwing for nearly 410 yards per game, adding 8 touchdowns in those 2 games.
What's been most impressive with Fitzpatrick is his ability to throw the deep ball with touch and accuracy. He's found another level as a passer late in his career.
Twice against New Orleans to open the season, Fitzpatrick connected on deep shots down the field, one to DeSean Jackson, and one above to Mike Evans. The first throw to Jackson was an easier throw for Fitzpatrick to make, considering how open Jackson was, but I was most impressed with this dime to Evans.
Evans has separation on this go route, but the throw from Fitzpatrick is dropped right into the bucket, keeping Evans from breaking stride for the score. At times last season, this type of throw from Winston caused Evans to have to slow do and rise up to get it. Not with Fitzpatrick this year.
Not only is he excelling with explosive plays this season, Fitzpatrick is fitting some balls into tight windows with arguably the best ball-placement of his career.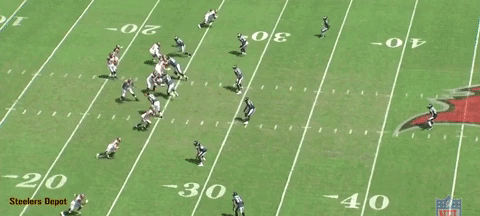 That's a heck of a throw across the middle, hitting OJ Howard in stride. The run after catch here by Howard reminds me of his National Championship game exploits for Alabama against Clemson a few years ago, racing down the left sideline to help Alabama pull away.
But that's a terrific throw by Fitzpatrick. The ball placement couldn't be better, hitting Howard's hands just past the outstretched hand of the Eagles' linebacker.
Aside from relying on Fitzpatrick's red-hot right arm, the Buccaneers have turned to him as a runner as well, including busting out the read-option in the red zone.
Now, I'm not a huge fan of putting your 35-year-old quarterback in harms way with a read-option at the goal line, but Fitzpatrick is still an impressive athlete for his age. I love the way he lowers his shoulder here, but before that you can see the Saints weren't even expecting this. Cam Jordan runs way up the field trying to get to Peyton Barber before he realizes Fitzpatrick has it.
Speaking of Barber, he's given the Buccaneers a reliable running back who runs with power and has some juice in his legs that can stress defenses side to side. That being said, he's a tried and true between-the-tackles power back that wants to punish defenders.
Behind Barber, Shaun Wilson gives the Buccaneers an intriguing dual-threat option. He's been able to hold off second-round pick Ronald Jones through the first two weeks, causing Jones to be inactive on game days. Wilson runs hard and has some serious speed in space, but he's not getting many snaps in relief of Barber right now.
Jacquizz Rodgers is the veteran presence at running back for Tampa Bay. Just don't expect to see him receive many touches Monday night unless an injury ahead of him occurs.
Along with Evans and Jackson at receiver — both of which can stretch defenses vertically and horizontally — second-year pro Chris Godwin is emerging as a legitimate star receiver, thanks to his ability to win at the point of catch. He's a physical weapon, providing the ideal third option to Evans and Jackson.
Godwin allows Jackson to play primarily out the slot, but he has the versatility to slide into the slot in certain situations while still maintaining the ability to win with separation and physicality.
Not much needs to be said about Evans or Jackson, considering we know how great they are, and what they bring to the game. The one guy that gets overlooked on this offense though is Adam Humphries. The shifty slot receiver is a nightmare on screens due to his ability to run after the catch, and has a knack for winning on the boundary through the first 2 weeks of the season.
At tight end, the Buccaneers are loaded with Howard emerging as a big-play threat in his second season, while Alan Cross and Cameron Brate are back for another year with the Bucs, giving Tampa Bay at least 3 consistent playmakers that can block and catch.
Up front, it doesn't look great on paper, but Tampa Bay's offensive line is really coming together this season. They're expected to line up like this left to right Monday night:
LT — Donovan Smith
LG — Ali Marpet
C — Ryan Jensen
RG — Caleb Benenoch
RT — Demar Dotson
The one guy that really stands out up front for the Buccaneers is guard Marpet. Marpet is a small-school guy coming out of Hobart. He's moved all over the Tampa Bay offensive line throughout the early stretch of his career, but seems to have found a home at left guard. He's a violent run blocker, and has really seemed to find his footing as a pass blocker at left guard.
Smith still struggles with speed off the edge, but he's figured out how to be passable on the left side of the line, while Jensen brings the mean-streak this line needed, pairing nicely with Marpet along the interior.
On the right side, Benenoch is underrated at guard, serving as a good run blocker and a stout pass protector. Dotson could have a tough time on Monday night against TJ Watt. He's just not much of an athlete at right tackle, laboring to move in his pass sets at times.
Special teams are hit or miss for the Buccaneers. After the debacle at kicker last season, Tampa Bay signed Chandler Catanzaro this offseason. Folks should remember him for his struggles in Arizona and New York the last few years. He has a big, powerful leg, but he's so inconsistent with his accuracy.
Punter Bryan Anger has a big leg, averaging over 43 yards per punt so far this season. He rarely outkicks his coverage, allowing coverage teams to shut down returns quickly, helping set up Tampa Bay's defense in good field position.
Jackson holds down the punt return job, while Wilson handles kick returns. Jackson isn't his game-breaking self on punt returns much anymore, but he's still a danger with the ball in his hands.