As I did in the preseason, I'll continue to take a look at the 5 biggest plays that changed the game from my perspective.
Sunday afternoon's debacle at FirstEnergy Stadium in Cleveland was filled with plays that changed the game, but I'll narrow it down to 5. Let's take a look.
Play 5 — 1st & 10 at CLE 18 (5:32 – 1st) (Shotgun) B.Roethlisberger pass short right intended for A.Brown INTERCEPTED by D.Ward at CLV 10. D.Ward to CLV 10 for no gain (J.James)
After two rough drives to start the season on the road, the Steelers offense finally got rolling after starting near midfield, as JuJu Smith-Schuster picked up 27 yards on a shot down the right sideline. Following the hookup between Ben Roethlisberger and Smith-Schuster, Roethlisberger tried to extend a play in the red zone and forced a throw into Antonio Brown, where Browns rookie cornerback Denzel Ward read the play and jumped the route.
By picking off Roethlisberger, Ward helped the Browns hold the Steelers off the board late in the first quarter.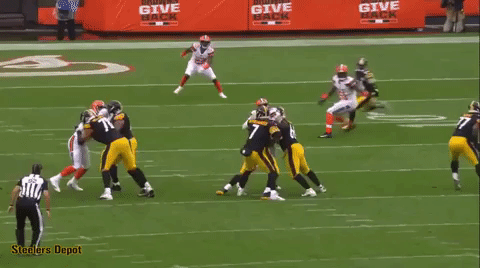 Play 4 — 3rd & 2 at PIT 20 (0:32 – 1st) (Shotgun) B.Roethlisberger pass deep right to J.James to CLV 43 for 37 yards (D.Randall)
One drive after throwing an interception in the red zone, Roethlisberger came right back slinging the ball around, keeping a play alive in the pocket to find Jesse James slipping down the right sideline behind Cleveland's Christian Kirksey.
James' 37-yard catch-and-run came on 3rd and 2, helping the Steelers keep the drive alive. Seven plays later, James Conner scampered in from 4 yards out, giving Pittsburgh a 7-0 lead.
Play 3 — 2nd & 10 at CLE 37 (0:51 – 2nd) (Shotgun) B.Roethlisberger pass short right intended for J.James INTERCEPTED by D.Ward at CLV 29. D.Ward to PIT 45 for 26 yards (J.James)
Play 3 is another play involving James, albeit in a negative light.
Holding a 7-0 lead, the Steelers were marching late in the second quarter for points once again. Seeing a mismatch with the Browns defensive setup, Roethlisberger switched James and Smith-Schuster, getting James in position for a little RPO. The ball was well thrown by Roethlisberger, hitting James right in the hands. A slick ball and wet gloves by James caused the ball to slip right through the veteran tight end's hands, right to Denzel Ward, who returned the ball to midfield.
The interception was another one that cost the Steelers a chance at possible points in an overtime tie.
Play 2 — (7:44 – 4th) J.Conner right guard to PIT 16 for -2 yards (M.Garrett). FUMBLES (M.Garrett), RECOVERED by CLV-J.Peppers at PIT 17. J.Peppers to PIT 1 for 16 yards (B.Roethlisberger)
Holding a 21-7 lead midway through the fourth quarter, things took a disastrous turn for the Steelers, as Conner fumbled on first down deep in Pittsburgh territory. Conner attempted to fend off Myles Garrett, who burst into the backfield right off the snap. While attempting to shove Garrett off of him, Conner lost security on the ball as Garrett's right arm swung up from behind and punched the ball out.
Cleveland's Jabrill Peppers recovered the ball and returned it to the 1-yard line before Roethlisberger knocked him out of bounds. One play later, Cleveland made it a 21-14 game as Carlos Hyde pounded one in from the goal line.
Pittsburgh's next drive resulted in another fumble as Roethlisberger was stripped by Garrett. Cleveland then went ahead and tied the game at 21-21, forcing overtime.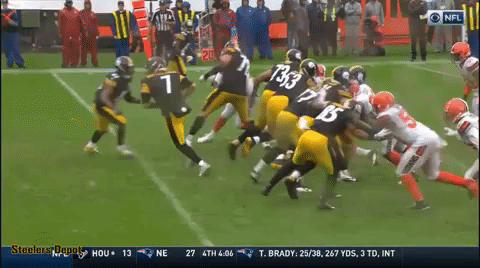 Play 1 — (0:13 – OT) Z.Gonzalez 43 yard field goal is BLOCKED (T.Watt), Center-C.Hughlett, Holder-B.Colquitt
This might be an obvious one, but without TJ Watt getting a hand on this field goal attempt by Zane Gonzalez, Pittsburgh is likely burning to the ground in anger because the Steelers would have lost this game.
Instead, Watt – who played superstar all game long with 11 tackles and 4 sacks – slipped through the Browns' line to get his right hand on the field goal try, blocking the kick, preserving the tie.