Finishing up the third week of the preseason by breaking down the lone sack allowed by the Pittsburgh Steelers in their win over the Tennessee Titans.
1. 2nd and 7, 9:56 4th. 12 personnel. 5 block vs 4 rush. 
This one is pretty simple. Not the best game for rookie right guard R.J. Prince. Gets hit with the club/swim combo by #72, leaning forward, eyes down, and beaten. Pressure up the middle and Mason Rudolph is sacked shortly after reaching the top of his drop. Wouldn't have even had time to hit Jaylen Samuels leaking out as the checkdown option.
If you want to be a little nit-picky, which is totally fair, I would like to see Samuels get out of the backfield with a little more urgency to make himself available to Rudolph.
Still, putting the blame on Prince, who didn't have the game who needed to in order to secure a practice squad spot.
Blame: R.J. Prince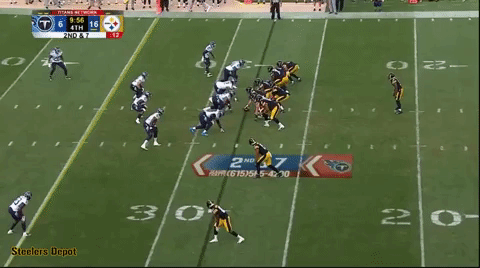 Sack Breakdown (Game)
R.J. Prince: 1
Sack Breakdown (Season)
Mason Rudolph: 2
David DeCastro: 1
R.J. Prince: 1
Jake Rodgers: 1
James Washington: 1
Defensive Scheme: 1
James Conner: .5
B.J. Finney: .5
Penalty Breakdown (Game)
Chukwuma Okorafor: 1
R.J. Prince: 1
Penalty Breakdown (Season)
R.J. Prince: 2
Larson Graham: 1
Chukwuma Okorafor: 1