Saturday's game against the Tennessee Titans at Heinz Field was one of the cleanest games for the Pittsburgh Steelers in quite some time, namely in the tackling department.
In the first half, Pittsburgh missed just one tackle, a special teams gaffe, meaning the first team defense didn't miss a single stop in a half in which they allowed just two first downs.
While it's still just a preseason contest, the Steelers have to be very pleased with the performance in the tackling department top to bottom. Let's take a look.
Total Misses vs. Titans — 7
Ola Adeniyi – 2
LJ Fort – 1 (special teams)
Keith Kelsey – 1 (special teams)
Jordan Dangerfield – 1
Coty Sensabaugh – 1
Damoun Patterson – 1 (special teams)
Total Misses through 3 weeks of preseason — 44
Ola Adeniyi – 7 (one on special teams)
Malik Golden – 4
Anthony Chickillo – 3 (one on special teams)
Brian Allen – 2 (two on special teams)
Dashaun Phillips — 2 (one on special teams)
Tyler Matakevich — 2
Artie Burns – 2
Nat Berhe – 2
Jordan Dangerfield – 2
LJ Fort – 2 (one on special teams)
Coty Sensabaugh – 2
Jon Bostic — 1
Morgan Burnett — 1
Farrington Huguenin — 1
L.T. Walton — 1
Xavier Grimble — 1 (one on special Teams)
Keion Adams — 1
Marcus Allen — 1 (one on special Teams)
Terrell Edmunds – 1
Stephon Tuitt – 1
Jordan Berry – 1 (one on special teams)
Lavon Hooks – 1
Darrius Heyward- Bey – 1 (one on special teams)
Damoun Patterson – 1 (special teams)
Keith Kelsey – 1 (special teams)
Seven missed tackles! That's one of the lowest marks the Steelers have recorded in the missed tackles department in the three-and-a-half years I've been with Steelers Depot charting the misses.
 Three of the seven misses came on special teams, which is concerning in its own right. However, two of the misses on special teams were from guys that likely won't make the 53-man roster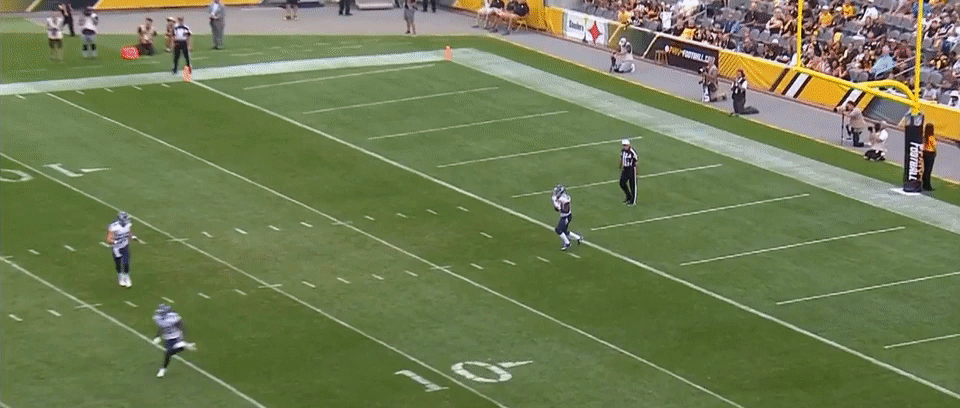 Early in the first half, the Steelers kicked the ball away to the Titans following Justin Hunter's 32-yard score.
Pittsburgh's coverage units were pretty stout on Saturday, but LJ Fort came up with the first miss of the afternoon for the black and gold, overrunning rookie returner Cameron Batson on the play.
It looks ugly at first, but these are typical misses on special teams. Fort is flying full speed down the field to try and make a stop. It would be nice to see him try and break down on these types of plays, but fortunately for the Steelers Fort's miss doesn't cost them.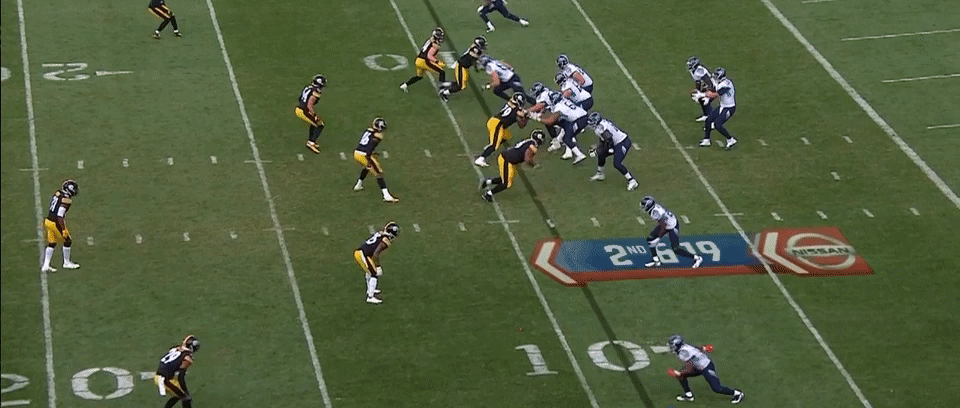 This is the controversial one on my list.
I'm just so frustrated with this play by Jordan Dangerfield. Known as a physical, punishing safety with a big-hitter mentality, he has a chance to dislodge the ball from Anthony Firkser on this seam route. However — maybe due to latest rule changes in the NFL — Dangerfield banks on this ball sailing over Firkser's head, hoping to make the interception.
Play the man! It shouldn't be that difficult for Dangerfield. He's the last line of defense. Fortunately for him, Firkser isn't fleet of foot, because if that's a receiver they might still be running because of Dangerfield's decision.
That's why I put it down as a missed tackle. Hopefully he learns from this gaffe. Let me know in the comments below if you agree or disagree with me marking it as a missed tackle.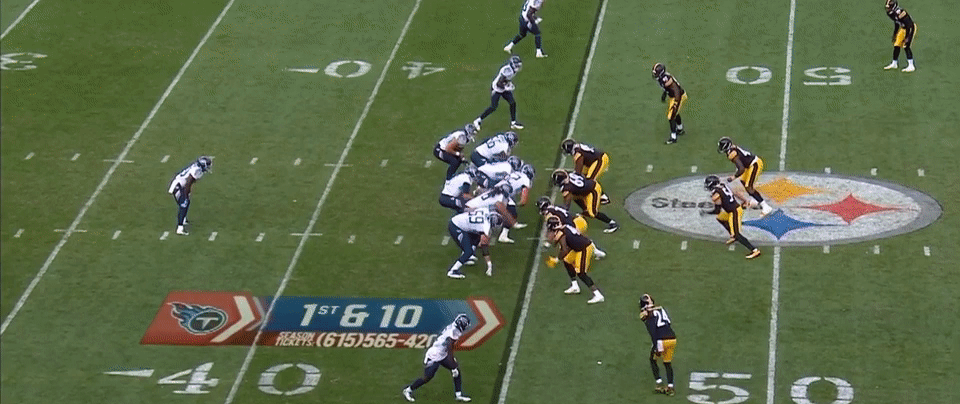 This one isn't up for interpretation.
Coming on a corner blitz following a play-action fake by Blaine Gabbert, Coty Sensabaugh gets an opportunity that cornerbacks dream of when blitzing the quarterback:  a free run.
Sensabaugh just takes a very poor angle and allows the mobile Gabbert to get to the boundary around him, throwing the ball to Deontay Burnett on the sideline for an impressive catch.
Angles are an issue with the Steelers, especially in pursuit. This needs to get cleaned up before the start of the regular season.
Forces Missed Tackles
Quadree Henderson – 4
Jaylen Samuels – 3
James Conner – 1
Offensively, the Steelers had a great day forcing missed tackles of their own. Against the Titans, Quadree Henderson was terrific in that department, forcing a team-high four misses, including three on punt returns.
Jaylen Samuels was outstanding with the ball in his hands, forcing three misses. The rookie would have six total forced misses, but the three on his touchdown catch negated by Marcus Tucker's holding cut his total in half.
James Conner added one forced miss in limited action.
If you're counting at home, that's eight forced misses offensively, against seven recorded misses defensively, good for a +1 rating.