Throughout any football game — whether a preseason game, regular season game, or playoff game — there's a handful of plays that make or break the game for each team.
This year, I'm going to take a look at the five most important plays of each game that helped shape the outcome.
Let's take a look at the five most important plays in the Saturday afternoon preseason game between the Pittsburgh Steelers and Tennessee Titans.
Play Five — 2nd & 9 at TEN 32 (6:11 – 1st) D.Henry up the middle to TEN 40 for 8 yards (J.Haden)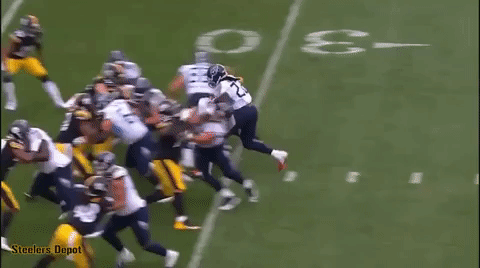 This might seem like an innocuous play to start this list off, but it was quietly a huge play for the Steelers early in the game.
Facing a 2nd and 9 at the Tennessee 32-yard line, Derrick Henry bounced off of his own lineman and found daylight outside. However, Steelers cornerback Joe Haden came up to meet him off right tackle. Haden misses the stop at first, slipping off the big back in Henry, but the veteran cornerback is able to get Henry on the ground late in the play thanks to an ankle-biting tackle.
If Haden doesn't get Henry on the ground, the Alabama product is likely still running. It completely changed the drive for the Titans.
Play Four —  4th & 1 at TEN 43 (11:18 – 2nd) (No Huddle, Shotgun) B.Roethlisberger pass incomplete short right to J.Smith-Schuster (A.Jackson)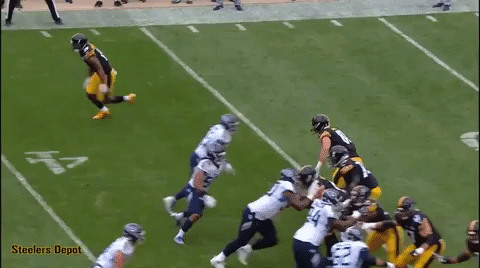 On 4th and 1 on the Titans' side of the field, the Steelers were looking for the kill shot on their third drive of the game with the first-team offense.
However, Ben Roethlisberger threw behind JuJu Smith-Schuster, forcing the second-year receiver to try and make a very tough catch with second-year cornerback and former USC teammate Adoree' Jackson in tight coverage.
Although Smith-Schuster got his hand on the ball, Roethlisberger threw well behind him on fourth down, resulting in a turnover on downs inside Titans territory.
Play Three — 3rd & 6 at TEN 20 (2:33 – 2nd) (Shotgun) L.Jones pass short middle intended for J.Hunter INTERCEPTED by R.Spillane at TEN 15. R.Spillane to TEN 17 for 2 yards (J.Conner)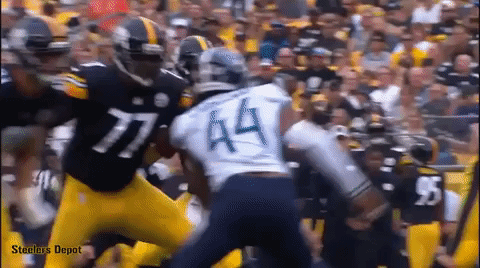 Terrell Edmunds did a great job setting the Steelers up in the red zone following his interception and return of an errant Marcus Mariota throw. However, the Steelers botched that opportunity in just three plays.
Landry Jones and Justin Hunter weren't on the same page, and Hunter was simply outmuscled on a ball in traffic, resulting in an interception by Robert Spillane.
This interception wasn't on Jones in the slightest, but it did cost the Steelers a chance at points in a 7-0 game late in the first half.
Play Two —  2nd & 19 at TEN 9 (0:21 – 3rd) (Shotgun) B.Gabbert pass deep right to A.Firkser to TEN 42 for 33 yards (C.Sensabaugh)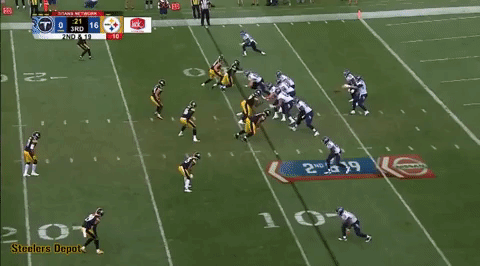 This one was ugly for the Steelers, especially Jordan Dangerfield.
Starring at a 2nd and 19 deep in their own end, Tennessee pulled off a miracle, as Blaine Gabbert found Anthony Firkser down the seam for a 33-yard catch and run that came about due to Dangerfield overrunning the throw in hopes of getting an interception.
Instead, Firkser made a leaping grab and converted the first down, helping the Titans drive 82 yards for a touchdown, in which Firsker caught a 3-yard touchdown to cap off the drive.
Play One — 2nd & 10 at TEN 32 (1:28 – 1st) Justin Hunter 32 Yd pass from Ben Roethlisberger (Chris Boswell Kick)
Prior to this throw from Roethlisberger to Hunter, the Steelers' first-team offense didn't look good at all, especially Roethlisberger.
One play after firing high over a wide open Jesse James, Roethlisberger came right back and dropped a dime into the hands of Hunter streaking down the right sideline into the front corner of the end zone for the game's opening score.
Hunter did a great job of gaining separation late on Jackson, catching up to a terrific ball from Roethlisberger before tapping both feet inbounds, giving Pittsburgh a lead it would never relinquish.