Back at it breaking down the three sacks the Pittsburgh Steelers allowed against the Green Bay Packers. Three of them this week, all in the first half on Mason Rudolph.
1. 6:44 2nd, 1st and 10. 13 personnel. 5 block vs 5 rush. 
This one I might want to crowdsource on. A sack that's a lot harder to explain than the others. Watch the play full and most – understandably – will put the blame on RT Jake Rodgers. The LOLB rushes in free and drills Rudolph, forcing a fumble the Steelers are lucky to recover.
Here's what I struggle with. Pre-snap, every gap covered. ILB from the weakside shows blitz at the last second. That's where Rodgers' eyes go, sliding down as the inside rusher takes priority over the edge rusher.
Yes, the Steelers end up blocking five on five with a free rusher, the LOLB. But in the moment, Rodgers doesn't know if the ROLB is dropping or blitzing (he drops). If the ROLB blitzes, then Rodgers has definitely done his job. That makes the ROLB "hot" and Rudolph has to get the ball out.
So what's the protection? Is Rodgers in the right or the wrong here?
Another option. Should the back, rookie Jaylen Samuels, have picked it up after the ILB came? Again, hard to say if he's part of the protection here or if he has a free release.
Point is, there's a lot going on here to consider. Could be on Rodgers, could be on Rudolph, could be on Samuels.
If you made me guess, I'm going to assume Rodgers was in the right here. He saw the ILB blitz, picked it up like he should, and couldn't have known who was dropping on the other side of the formation. And I'm guessing Samuels was ok to release because he did it so quickly and if he was part of the protection, it's much more likely he takes the ILB than the OLB. He's easier for the back to block. Less space and a less skilled rusher, generally speaking.
That means that although the Steelers are "even," same number of blockers versus rushers, the QB needs to throw "hot" and get the ball out quick. Hit Samuels there and he has some space to run.
Again, great debate we can have about this one. But I'll put it on the QB.
Blame: Mason Rudolph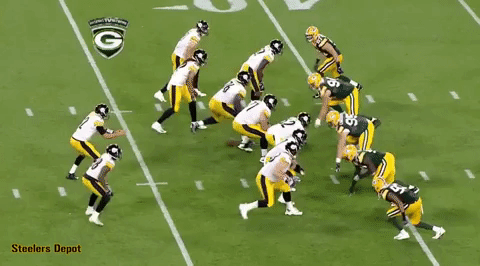 2. 5:16 2nd, 3rd and 17. 11 personnel. Five block vs four rush. 
Stunt pickup. It ain't pretty in the preseason, even if Mike Munchak reps it pretty much every single day of camp. And that seems to be the culprit for this sack. Jake Rodgers and B.J. Finney don't pass the DT/DE twist here and it leads to a sack.
They just never pass it off. Rodgers can't mirror and ends up leaning, hands moving before feet, and he gives up the inside really easily. Sack is split but he allows the pressure first that moves the launch point and takes Rudolph's eyes off the field.
One problem why it didn't get passed off? Stunt pickup means the OL need to play on the same level. Here, as you can see below, Rodgers is lower than Finney. Not going to be able to carry the crasher to your help and he's going to squeeze through the crack between tackle and guard, wrecking the play.
I'm guessing this is more on Rodgers than it is Finney but I'll still put the blame on each of them.
Blame: Half on Rodgers, half on Finney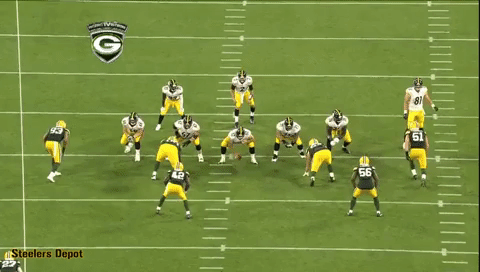 3. :38 2nd. 1st and 10. 11 personnel. Five block vs four rush.
4.5 seconds from snap to sack. Lot of time for the QB to get the ball out. It's hard to say exactly what he had downfield, there's no good look at it. Checkdown option Fitzgerald Toussaint appears open on the right and I think Rudolph was going to hit him right before getting taken down. Marcus Tucker's route seems off. Man coverage but he settles down instead of running through, taking him out as an option.
On the line, we're circling back to Jake Rodgers. Faces a bull rush off the edge. Gets pushed back and tries to reset but his base narrows (watch his feet below) and his punch is bad. Creates soft inside shoulder that gets him turned and a lane for the QB.
So we're putting half on Rudolph, almost a given anytime the QB has the ball for nearly 5 seconds, and on Rodgers for a bad reset.
Blame: Half on Rudolph, half on Rodgers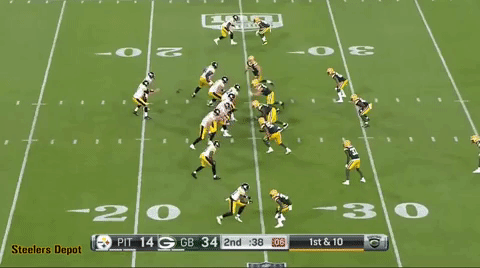 Sack Counter (Game)
Mason Rudolph: 1.5
Jake Rodgers: 1
B.J. Finney: .5
Penalty Counter (Game)
R.J. Prince: 1
Larson Graham: 1
Sack Counter (Preseason)
Mason Rudolph: 2
David DeCastro: 1
Jake Rodgers: 1
James Washington: 1
Defensive Scheme: 1
James Conner: .5
B.J. Finney: .5
Penalty Counter (Preseason)
R.J. Prince: 1
Larson Graham: 1