We know it's a make-or-break year for several key Pittsburgh Steelers. Artie Burns has to get rid of the crippling mental mistakes, Sean Davis needs to make more splash plays, and Bud Dupree needs to sack the QB in under 14 seconds for once.
Lower down on the "needs" list is Xavier Grimble. If he doesn't produce, it's unlikely to hurt the Steelers in any meaningful way, but on a personal level, this might be a last chance for him.
Grimble has always had that word – potential – but hasn't done enough with it. 16 receptions over the last two years and in 2017, his catches dropped to five, despite the injuries to Vance McDonald and Jesse James already hitting his ceiling.
One look at him and you'd think he was an All-Pro. There aren't many guys on the team who are built like him. That's a credit to his work ethic; every year, Grimble seems to train harder than the last and if you've followed him on social media, he's always running up hills, lifting weights, or bringing his JUGS machine into the house. Effort isn't the issue.
Still, it's been curious his conditioning has seemed to take a hit during training camp. In each of the last two seasons, there's been at least one practice where he had to bow out early, succumbing to the scorching Latrobe heat. For a position that demands availability, James played through some apparently serious injury last year and didn't miss a practice, it's hard to get the coaching staff to commit to him.
All that said, there were positives from last season. Grimble took a big step forward as a blocker. That much was evident in training camp and it carried over into the regular season.
Against New England, watch him drive and pancake the LOLB to help free up Le'Veon Bell for a big run off the right side.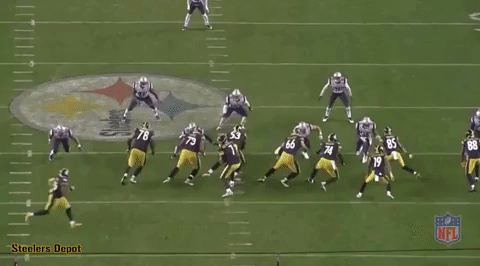 Or this one, my favorite, a combo block on the DE before working to the LB, getting square, and driving his feet all the way through. Bell reads it, cuts off his inside hip, and it's a nice gainer.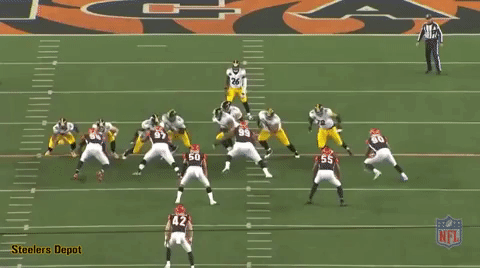 We know the flashes he's shown as a receiver too, even if they were more difficult to spot a year ago. That was his calling card coming out, someone who can make plays downfield.
In a perfect world, Grimble becomes the #2 tight end. But he's gotta earn the confidence of the coaching staff the way Jesse James has, who, for better or worse, has displayed continued toughness as a player and a receiver. The time for Grimble to make that move is now.