The old saying tells us: "History is the greatest teacher." It helps us identify times, places and contexts when significant moments and events have taken place. Those moments and events can be a guide for what to expect or what to do in the present. History also helps us identify trends, mistakes or even weaknesses. In this playoff matchup, perhaps the Pittsburgh Steelers best ally to beat the New England Patriots is history.
In his iconic line in The Godfather: Part II, Al Pacino tells Robert Duvall: "If anything in life is certain, if history has taught us anything, it is that you can kill anyone." To be far less literal, recent seasons in NFL history has taught us that the Patriots can be beaten at Gillette Stadium, if opponents meet the right criteria. Some have succeeded in the past, and recently the Houston Texans came close for the first 30 minutes of the Divisional Playoff round. But the blueprint has been drawn to "slay the dragon" as Ben Roethlisberger has defined it.
– Get ahead, or at least keep in step: The Seattle Seahawks were the only team to beat the Patriots at home this year with Tom Brady on the field, and the way they did it was by their offense moving the ball deep into New England's end and getting points. Steven Hauschka kicked four field goals and Russell Wilson threw three short touchdowns passes to Doug Baldwin because of the Seahawks repeatedly getting within striking distance. Scoring touchdowns will have extra emphasis for the Steelers because of their failure to do so in Kansas City last week, but having to punt only once was a step in the right direction.
The most critical of Seattle's scoring plays came in the fourth quarter after a Julian Edelman fumble. The Seahawks launched an eight-play, 48-yard drive that resulted in Wilson's 15-yard pass to Baldwin for the eventual game-winning score. The Steelers have already proven their offense can put themselves in position to score points frequently, and they must do that at an even better clip in Foxborough.
– Get pressure on Brady early and often: This is the one area the Texans excelled at last week, but their offense wasn't efficient enough to profit from it. The trio of Whitney Mercilus, Jadeveon Clowney and Brian Cushing made Brady's job much more difficult by getting in his face in a variety of ways, but the most effective was from heavy pressure in the A-gap (between the center and guards).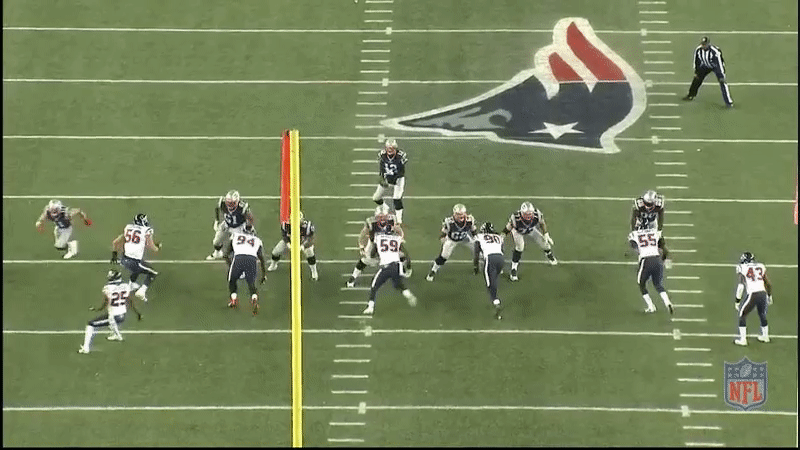 On this 3rd and 6 from the Texans' 33-yard line, Mercilus lines up on top of the center, David Andrews. Mercilus spins off Andrews and gets to Brady for the quick and easy sack, pushing the Patriots out of field goal range and forcing them to punt. But equally as important as getting in Brady's face and pushing him out of the pocket is eliminating his options downfield when he rolls out.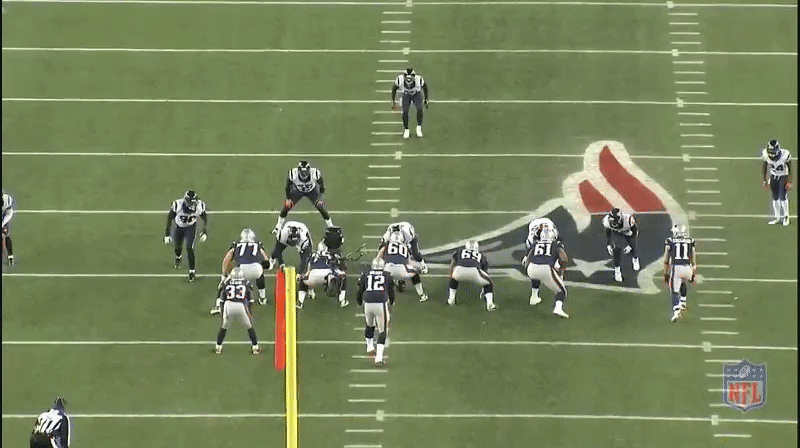 On a 2nd and 10, Brady sends four receivers and running back Dion Lewis into routes, but the pocket contracts around him and he rolls out. Mercilus does two significant things on this play: he knocks Lewis off his underneath route within the five-yard contact zone, and then closes in on Brady, forcing him to throw the ball away. Winning plays like this on 1st and 2nd down can create 3rd and long situations, ideal for any defense, which brings us to the next key part of the blueprint.
– Key stops on 3rd down: The Baltimore Ravens beat the Patriots in the AFC Championship Game in Foxborough four seasons ago, aided by their defense holding New England to only 13 points. They didn't sack Brady once, but shut down the Patriots' offense on six out of eight 3rd down opportunities inside their own 35-yard line. Considering the Steelers had one of the best road red zone defenses in the league, this is a critical element that is very realistic.
– Take advantage of Brady's mistakes: The few home losses by New England in recent years have been highlighted by the same thing: interceptions by Tom Brady. While Brady has thrown only two interceptions this season, both came at home against Seattle and Baltimore. But defenses that play smart and disciplined football can influence mistakes. The San Francisco 49ers followed the same example in December of 2012. Brady was sacked three times and threw two interceptions, one of them leading to a 49ers touchdown on the ensuing drive that provided San Francisco's needed margin in a 41-34 win.
History says beating the Patriots at home is difficult, especially in the playoffs. But if history has showed us any clues over the years, it's that there are ways for it to be done. The Steelers have the personnel capable to meet each of those requirements to beat New England and reach Super Bowl LI.