It's those three little words everyone wants to hear.
Football is back.
Day One of the 2016 Pittsburgh Steelers' training camp, and their season, kicked off today. For a Day One, it was a pretty solid practice and like I said in the morning, the day, for me, was to really get a feel for where everyone was lining up.
So let's hop into today's notes. Hopefully I can read them.
– On the injury front, it seems like only Xavier Grimble was unable to finish practice. Mike Tomlin told the media he cramped up and is hopeful the intriguing tight end will be available tomorrow. Of course, we'll monitor his status and let you know tomorrow afternoon.
– Ladarius Green and Shakim Phillips were the two PUP guys. They did some light work on the far field under the careful eye of a trainer. I don't believe Devaunte Sigler got any reps in team drills, I don't think NFI rules allow it anyway, but he did go through the stretch line with the team. The sooner he can get back out there, the better.
– Couple of Steelers paid homage to old faces today. Ben Roethlisberger began practice with a Heath Miller 83 jersey and Greg Warren wore Shaun Suisham's #6.
– Saw a jersey I've never spotted before. A Sidney Crosby/Ben Roethlisberger "Crothlisberger" hybrid, worn by a fan sitting in the row of bleachers in front of me. The "8" was in Penguins' block with the "7" in the Steelers. Pretty cool.
– Richard Mann and James Daniel, the two wisest coaches on the team, were the first coaches on the field. Golf cart drove them down to the field. Daniel always wearing his famous straw hat.
– We gotta find out who this year's training camp BFFs are. No more Archer/Wing. This year, it might be Sammie Coates and Demarcus Ayers, who were the first two players onto the field today. Artie Burns was quick to follow and they all got work on the JUGS machine before practice.
– So did Grimble, working on the other side. Daniel fed the footballs to him. David Johnson hopped on after Grimble. Johnson actually looked a bit leaner but maybe that's because they weren't in full pads.
– Eli Rogers walked down the stairs in front of Alejandro Villanueva. Funny sight to see,  5'10 in front of 6'9.
– Maurkice Pouncey seemed pretty amped to get back to practice. A hurried walk down the stairs and onto the field, wearing his helmet. Know he's been itching to get back to it.
– James Harrison did practice today but donned his usual grey sweatshirt and sweatpants. The guy is crazy. And that's why we love him.
– Ok , now to more football-centric news.
First Team Offensive Line: Alejandro Villanueva-Ramon Foster-Maurkice Pouncey-David DeCastro-Marcus Gilbert
Second Team Offensive Line: Ryan Harris-Chris Hubbard-Cody Wallace-B.J. Finney-Jerald Hawkins
Third Team Offensive Line: Brian Mihalik-Cole Manhart-Quinton Schooley-Matt Feiler-Jerald Hawkins
I didn't keep a focused track of it but Mihalik may have been picking up some reps as second team right tackle. He did a little bit in the "on air" drills at least. Maybe in an attempt to keep Hawkins fresh, a rookie dealing with the rigors of being on two lines to start his NFL career. We'll look more closely tomorrow. There's more of a shuffle with the team having just 14 linemen.
– In the first "on air" series, Darrius Heyward-Bey and Antonio Brown were the outside receivers with Markus Wheaton in the slot. In two receiver sets, it was Wheaton and AB.
– As expected, Jesse James served as the #1 tight end with Green sidelined.
– Eli Rogers got work in "on air" with the first team, replacing Markus Wheaton in the slot.
– Brown made one catch in warmups. A fan behind me screamed out, "Pay the man!" AB jogged back, beaming.
– Random note on some of the backup receivers. Rogers in the slot, Levi Norwood as the left outside receiver and Canaan Severin as the right outside. Guys moved around throughout the day though Severin always stayed on the outside, Rogers always on the inside.
I believe Marcus Tucker spent most, if not all, of practice on the outside. That's a little disappointing. But we'll check back tomorrow and throughout camp. It's only Day One, after all.
– Kick return line. The usual suspects. Eli Rogers, Demarcus Ayers, Levi Norwood in that order. Wheaton jumped in part-way through. Danny Smith had the returners do a little something extra than what is the norm. Instead of just catching the ball cleanly and making a quick move upfield, for a few minutes, he was having them catch, move laterally across the field for about 5 yards, and then cut upfield outside of a cone.
– First thing the offensive line did today once they broke into indivdual work? Pass sets and stunt pickup. Center-guard-tackle all working on passing things off, staying on the same level, and communicating. Mike Munchak has really repped that hard since coming onboard and the results show it. This team is much better in stunt pickup than they were the year before he got here.
– Senquez Golson and Shamarko Thomas ran together warming up. Shark looks jacked, like always. Biceps bigger than my head. He blocked me on Twitter so also biceps he'd probably like to punch me with.
– Gotta love Cam Heyward. He's one of the guys who can be serious when he has to, loose when he wants to. Did a little jig during the stretch line and capped it with a mid-air split, touching his toes. Not too shabby for a guy around 300 pounds.
– Ben Roethisberger had a really cool moment, playing a quick game of catch with a someone in the military, who was standing in the "Fan Pass" section on the field.
"You got a heck of an arm," Ben called to him.
– WR order the first time they ran through their drills. Brown, Wheaton, DHB, Coates, Rogrs, Blakeney, Ayers, Norwood, Tucker, Severin.
– Tight ends had a rough day on the sled. Grimble, Paul Lang, and Mandel Dixon all struggled to say low and explode up. Grimble got a little better the second time Daniel made him go through but Lang and Dixon still had a lot of trouble. No leverage, power, feet go dead. A clearly frustrated Dixon, Mike Tomlin was watching the group, sort of pushed the sled at a 45 degree angle on his last rep.
– If you're curious about the order the tight ends went through in drills: James, David Johnson, Grimble, Lang, Dixon.
– Back to receivers. In that 'first group," the ones who get to catch passes from Ben, were: Brown, Wheaton, Coates, Rogers, and Norwood. This was the time where DHB had to go change shoes so I'm guessing that's why Norwood was part of the bunch.
But if you're looking for a super early indication of pecking order, Eli Rogers is above Demarcus Ayers.
– Rogers also made a nice catch on air, diving back to his route running a curl in the middle of the field.
– Offensive line worked on some inside zone drills, pairing up (center/guard, guard/tackle). All about getting movement on that first level defender before peeling off to attack the second level linebacker. They ran it against different alignments and run fills by the linebacker.
If it's center/guard against a one tech and three tech linebacker (30 tech), after combo blocking the one tech, the guard will work to the linebacker after the center is secured, for example.
– Couple other small things before getting into our 11 on 11 notes. There was no OL/DL one-on-one work today so nothing to report. Maybe they are waiting until the pads come on.
– Issac Blakeney is a big guy but a pretty easy mover. Also had a nice diving adjustment in 7 on 7, running a comeback. Ball was thrown a little behind but he stretched out for the grab.
– Robert Golden still served as the upback on punts. He was flanked by Roosevelt Nix at left wing and Fitzgerald Toussaint at right wing. Nix played LW last season but looks to be flipping over to fill in for Will Allen.
Early look had Vince Williams and Arthur Moats as the left "tackle" and "guard" on punt coverage.
Danny Smith wasted no time and was in true form today, very animated and a little big PG-13.
"We don't get no second chance. I want this s*** done right."
He saw something he didn't like with Jordan Zumwalt and Steven Johnson, they were running the first five yards as the left tackle and guard, and immediately let them know about it.
"Stop! F****** stop!" And then went through exactly what he wanted.
Lots of guys went through work as a gunner, including Sean Davis, who you can expect to play some role on the punt coverage this year.
– James Harrison and Antonio Brown did some running on the middle field during the special teams period. Two of the hardest working guys in the NFL.
– After practice, Rogers/Coates/Norwood all ran together to cool down. And right on cue, AB made his way over to the JUGs machine, where he caught passes for 15-20 minutes. Several receivers followed, as they should.
– Ok, let's get to the 11 on 11 notes.
First Session
– You know what's coming. Seven shots, a now-staple of Steelers' practice. Hey, it's paid off. Ball placed on the two.
1. Daniel McCullers was the starting nose tackle. Mike Mitchell and Robert Golden started at safety with Ross Cockrell at LCB, William Gay at RCB. Steelers in an empty set, Le'Veon Bell split out. Roethlisberger fires incomplete to Brown with Mitchell providing strong coverage in the right corner of the end zone.
2. Steelers in nickel with Senquez Golson playing in the slot, Cockrell/Gay outside. Again, in empty with Bell split in the slot. Ben fades it to Heyward-Bey but I'm pretty sure Cockrell was able to break it up as the two fell into the back right pylon.
3. 11 personnel, David Johnson split out in the slot. Ben sees nothing he likes and sneaks it in over the goal line. No one is trying to touch him, of course.
4. Arthur Moats and James Harrison (in his sweats, mind you) rotate in at OLB. Artie Burns lines up at RCB, Doran Grant at LCB, for the second-team corners. Ben fires over the outstretched arms of Grant to hit Wheaton in the end zone. Not sure if he got both feet down but definitely a toe. We'll count it anyway.
5. Landry Jones subs in as the #2 QB, where he served all day. There's pressure and Jones goes to his second read, finding Paul Lang cutting across under the goalposts. Lang bobbles it but brings it in for the score, though had their been contact allowed, he would've been lit up.
6. Anthony Chickillo and Travis Feeney at OLB. Jones fires a speed out to the left, hitting Levi Norwood in front of a trailing Sean Davis. Touchdown.
7. Lavon Hooks in at nose tackle, Giorgio Newberry at RDE. Jones fires incomplete, his pass landing between Marcus Tucker and David Johnson.
Second Session
Ball on the Steelers' own 42.
1. Defensive line of Stephon Tuitt, McCullers, and Mathews. Jesse James ran to the flat but Roethlsberger threw behind him.
2. Dupree/Jarvis the first-team outside linebackers, as expected. Lawrence Timmons and Ryan Shazier inside. Empty set. Ben quickly finds Xavier Grimble on an out route but someone knocked the ball loose and Mike Mitchell picked up the fumble.
3. Roethlisberger heaves the ball deep down the right sideline for AB. Brown has a step on Ross Cockrell but Cockrell plays it well, staying in-phase and keeping his eyes on the receiver. Looks like he's able to poke the ball loose and the pass falls incomplete.
4. Golson fires in on a nickel blitz but DeAngelo Williams, in his silver shorts, alertly picks him up. Antonio Brown runs a deep out to the left sideline but Ben misses wide left, the pass falling out of bounds. No chance for 84. Gotta get the timing back down.
5. 12 personnel. Coates and Norwood your WRs, Jones in at QB. Fires to Coates on a slant but Artie Burns makes his first NFL play, knocking the ball out.
6. Steelers showing their faux 4-3, rolling the ROLB up and dropping James Harrison off the ball. Sign that scheme is still in the cards for Pittsburgh this year. Jones' pass for Norwood is too high along the right sideline.
7. Sean Davis and Shamarko Thomas are the second team safeties. Tyler Matakevich blitzes but Jones fires down the right seam complete to Grimble, who hauls the pass in over Anthony Chickillo. Nice grab. Chickillo makes the first tackle of camp, dragging him to the ground.
8. Travis Feeney, working at ROLB, drops into coverage. Jones checks down to Daryl Richardson and Feeney is right there to square him up. But it ends as a light tap, since no hitting is permitted.
9. A pass to Wheaton from Jones down the right seam just clangs off the receiver's fingertips. The more interesting part of this play was seeing Sean Davis in the slot, the third safety with Jordan Dangerfield and Ross Ventrone on the field behind him.
10. Davis still in the slot, blitzes in free. Ben fires underneath to Grimble but the pass is dropped.
11. Montell Garner at LCB, Donald Washington at RCB. 21 personnel. Playaction with Roethlisberger firing a bullet over the middle to Antonio Brown, in between Dangerfield and Garner. Stars of the league beating up on the third team. Poor guys.
12. ILB blitz. Dustin Vaughan fires an out route to Marcus Tucker. But Dangerfield reads it the whole way, buzzing to the flat, and bats the ball down. A step away from an INT.
13. Vaughan complete on a curl to Grimble. Vince Williams is right there, wishing he could smash someone's face in. That'll have to wait for another day.
If I'm Grimble, I don't blame him. I'd cramp up too if I knew a guy like Vince Williams was patrolling the area.
14. Empty set. L.J. Fort working at ILB. Vaughan complete on a slant to Eli Rogers.
15. Defensive line of Walton, Hargrave, Mathews. Vaughan fires a comeback to the left side but the ball dies at the end. Issac Blakeney slides for it but can't retrace his steps in time and the ball lands incomplete. Vaughan was a little frustrated.
Third Session
1. L.T. Walton, Javon Hargrave, Ricardo Mathews working as the second team DL. Again, a 4-3 look with Moats off the ball. First run of camp. Hey diddle diddle, Le'Veon Bell up the middle.
2. Lead strong to Bell, running behind Roosevelt Nix. Breaks into the second level, running out of the arm tackle of Ricardo Mathews.
3. 12 personnel. Split zone with David Johnson coming across the formation. DeAngelo Williams gets the carry up the middle.
4. Daniel McCullers drops into the flat, basically blocking out Williams. Roethlisberger fires a rainbow to his back and man, I don't know how D-Will ever saw the ball. Totally blocked out by a McCullers' eclipse. But he somehow makes the grab.
5. Bruce Gradkowski dropping back to pass. LBs all get a ton of depth so Gradkowski just takes off up the middle, a quick whistle to follow.
6. Stretch play to Fitzgerald Toussaint. Arthur Moats does a nice job as the force defender and turning the ball back inside.
7. Cameron Stingily receives his first carry and shows some explosiveness to his game, tearing up the middle. He gets into the third level and barrels through Ryan Harris, who tumbles to the ground. He'd be ok.
8. Third team DL. Johnny Maxey at LDE, Roy Philon at nose, Caushaud Lyons at RDE. Not sure who the QB was but the pass fell incomplete. Matakevich got some pressure.
9. Sean Davis in the slot, Ross Ventrone as the deep safety. Inside zone to Bell who bends his run to the left side.
10. Garner/Washington in at CB. Ventrone/Dangerfield at safety. Brown goes to his belly to make this catch from Ben. Saw Maxey get his hand up to try and disrupt the passing lane. Appreciate the effort.
11. Motion Eli Rogers off the right tackle's hip. Steelers fake like it's a zone run to the left, Rogers selling like he's blocking backside before pivoting and making the catch from Ben in the right flat.
12. 21 personnel with Nix at fullback. Vaughan playaction and he shows nice touch on this fade down thee right side, Coates getting behind Zumwalt. Dropped right in the bucket. Probably his best throw of the day.
13. Jacob Hagen creeps up to the line of scrimmage. Daryl Richardson receives the handoff but runs into the void, a pile of bodies with absolutely nowhere to go.
14. Playfake to Brandon Brown-Dukes and Vaughan finds Nix in the right flat.
15. Blakeney/Severin at WR. Looked like a muffed handoff between Vaughan and Brown-Dukes but BBD picks it up off the bounce.
Fourth Session
1. End around right to left to Brown who explodes up the left sideline, getting a block from Jesse James.
2. Handoff off the left side. Cam Heyward gets penetration versus Ramon Foster, forcing Bell to bounce laterally and to the perimeter. Just another day in the office by #97.
3. Roethlisberger playaction. Finds James in the flat and Cockrell touches him up to end the play.
4. Hargrave and Mathews in a nickel set. Chickillo at OLB. Ben finds Heyward-Bey quickly on a slant to the left side.
5. Toussaint gets the carry. I think it was Chickillo who got penetration and helped shut the play down.
6. Defensive line of Walton/McCullers/a late subbed in Lyons. McCullers runs through Cody Wallace and into the backfield. Richardson had the carry. Nice hustle by Big Dan to give a little extra chase at the end of the play.
7. Brown-Dukes weaves his way left and right on an inside zone, making his way into the third level. Nice seal by Chris Hubbard and good vision by the back to read the hat and make his cut.
8. Gradkowski in at QB. Feeney at LOLB, Mike Reilly at ROLB. Screen left to Toussaint, who gets a great block by Maurkice Pouncey on Steven Johnson. Toussaint finishes the run hard, sprinting all 50 yards into the end zone. Gradkowski jogs down with him and the two share a half-hearted chest-bump.
9. Inside zone to the right. Classic Bell play. Waits…waits…waits…explodes. He darts into the second level in an instant and, perhaps testing himself, weaves left and right versus Shamarko Thomas for a good 20 yards. Bell sure looked like his old self, no ill effects of his injury.
10. D-Will bounces a run to the left. Lawrence Timmons does a nice job scraping over and is in position for the tackle. But he gives him the ole through in this non-contact session.
11. Lead strong with Rosie Nix at FB. Jarvis Jones shoots down his gap and Mandel Dixon does a nice job to seal him off. DeAngelo Williams shows his vision and cuts outside of them, then upfield, and into the second level.
12. Vaughan complete to Paul Lang over the middle on a ten yard dig.
13. Stingily up the middle and again, shows a pretty good burst. At a glance, all that lost weight is paying off.
14. Vaughan playaction. Rolling to his right, he tries to hit Jesse James but there's no window. L.J. Fort picks the pass off, the first interception of camp. Threw it right into the 5 and the 4.
15. Carry to the right side. David Johnson with a nice block on Zumwalt, who can't shed. Brandon Johnson follows through up the alley and down the right sideline.
Final Thoughts
– Again, it's Day One, so I don't want to think about this in terms of "winners" and "losers." I thought Grimble showed some athleticism and he's quick to the tuck, putting the ball away quickly. But he has to be more consistent as a catcher and his blocking could be an issue.
– Feels like Gradkowski didn't get many reps, according to my notes. We'll have to monitor it again tomorrow and see what's up.
– Again, I think Rogers has the early leg up on Ayers. But it is so early. If you're a fan of Ayers, do not freak out.
– Senquez Golson looks to be your early favorite to play in the slot. We'll see if that changes.
– I get the feeling the team is really excited about Sean Davis and Keith Butler is going to find all kinds of ways to get him onto the field. We saw him wear a lot of hats today, which is unusual for a Day One rookie.
– Random last thing. Don't have it in my notes but I know Al-Hajj Shabazz got some work at left corner today. Not many snaps but they were there.
Twitter Question Of The Day
We're real far out and obviously, that story will be told through the next month. I don't think Burns will – the competition is too tough for him to beat out as a rookie who doesn't have much playing time under his belt (fewest college starts of any CB drafted under Tomlin).
Like I wrote for Davis, I don't think we'll see him jump Robert Golden right away, but I think it's their goal to find sub-packages for Davis and get him onto the field. The specifics, we'll see, the snaps, I'm not sure, but I think that's what they want to do. And with good reason. Not having your first two picks play would be unusual in today's game.
Coach McGuirk's Best Quotes 
"Hi. I'm John McGuirk, and I am a professional soccer coach at the elementary school level. The kind of woman I'm interested in is the type that is still watching this tape. I also have a very nice car, although technically I don't have legal access to it at this time."
2015 Steelers' Highlight To Get You Amped For 2016
AB being the best receiver in the league and doing best receiver things.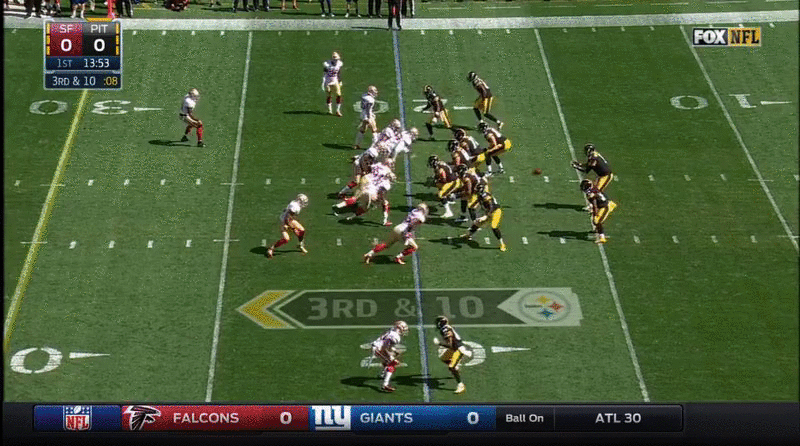 St. Vincent College Is Beautiful Photo Of The Day
Thanks everyone for following today and we'll talk again tomorrow. I'll do my best to answer everything I can in the comments below.