A breakdown of another Pittsburgh Steelers' UDFA. Miami (FL) outside linebacker Tyriq McCord.
#17 Tyriq McCord/OLB Miami (FL): 6'2/4 239
The Good
– Long frame but shows some bulk in his lower half
– Above average athlete and get-off initially, can beat the tackle off the ball
– Solid motor/effort guy who gives equal chase in the pocket and past the LOS
– Versatile, played all over Miami's front, and has frequent experience dropping into zone coverage
– Shows enough strength on the edge against TEs in the run game
– Production was below average but steady despite fluxuations in playtime
The Bad
– Underdeveloped pass rusher who lacks an initial plan and has almost no counters
– Poor punch, tendency to lean on tackles initially, and has loads of trouble shedding and getting past if he can't win with his initial step
– Tight-hipped off the edge and in coverage, pushed up the arc too often, even after winning initially, and looks stiff flipping in coverage
– Needs to show quicker recognition versus the run, late filling his gap which creates big runs
– Did not appear to play consistently in 2015, often rotated out, never had a breakout season
Bio
– 20 career starts, 12 in 2014 and 8 in 2015
– 2015: 7.5 TFL, 3.5 sacks, 1 FF
– Career: 21.5 TFL, 14 sacks, 4 FF, 3 INTs
– Four star recruit out of HS, 18 sacks his senior season
Tape Breakdown
McCord was one of the bigger names in this ho-hum UDFA class. There's evidently a highlight video that, naturally, makes him look like an All-Star. He does have an above average get off and explosiveness to his game, matched by his 36 inch vertical at his Pro Day. It's enough to beat tackles initially off the edge.
But it's difficult for me to show a positive here without a negative either. In the clip below, McCord beats the Florida State left tackle initially, but is run up the arc with the QB easily hitching up into the pocket.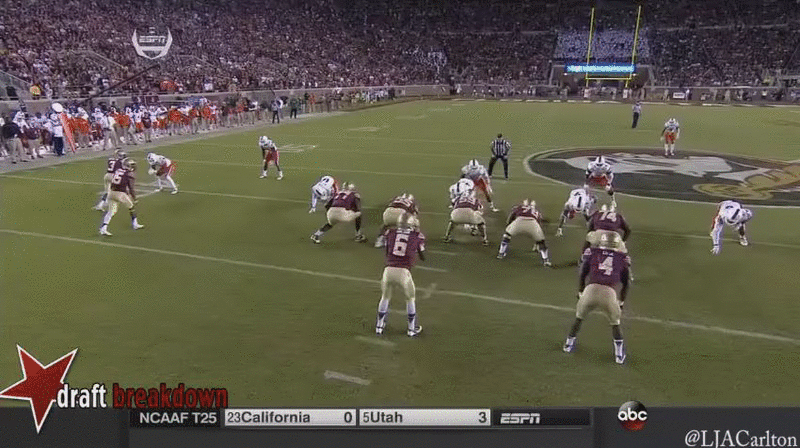 His best quality might he his versatility. The U moved him all over the team's front seven. Left and right end with his hand down, ditto with OLB, off-ball work, and detached from the box to play over #2 in coverage. That's an attractive trait not a ton of players have experience doing.
But when he can't win initially and give the tackle at least some degree of problem, McCord really struggles. Punch is weak, plan limited, and counters non-existent.
Too often, he just leans on the tackle, unable to shed. Here he is off the left edge below in 2014 vs Cincinnati.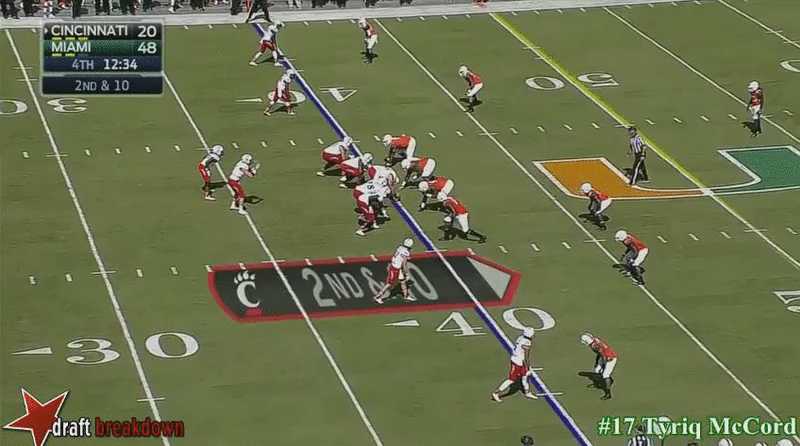 And again, in the same game, this time for the right side. Little more active with his hands here but he fails to shed and his counter is easily mirrored.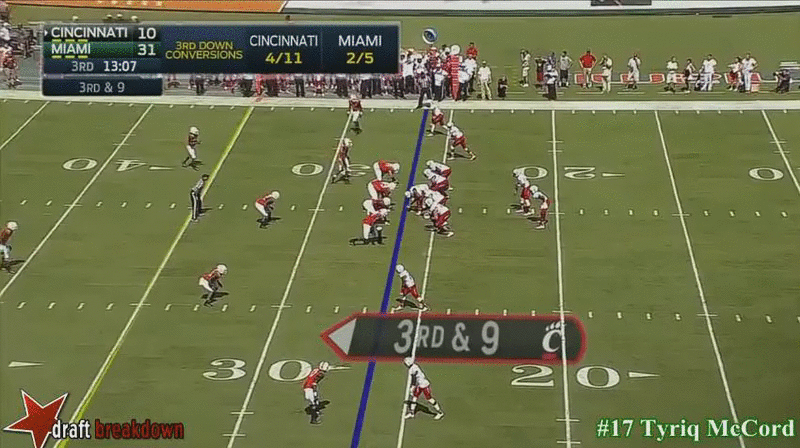 He also needs to process info faster against the run. Feet are late to flow down the line against this zone run and he fails to fill the B gap. Sealed by the guard while Dalvin Cook breaks through for a big gain. In a game with the Hurricanes up by one mid-way through the 4th quarter, it was a major blunder.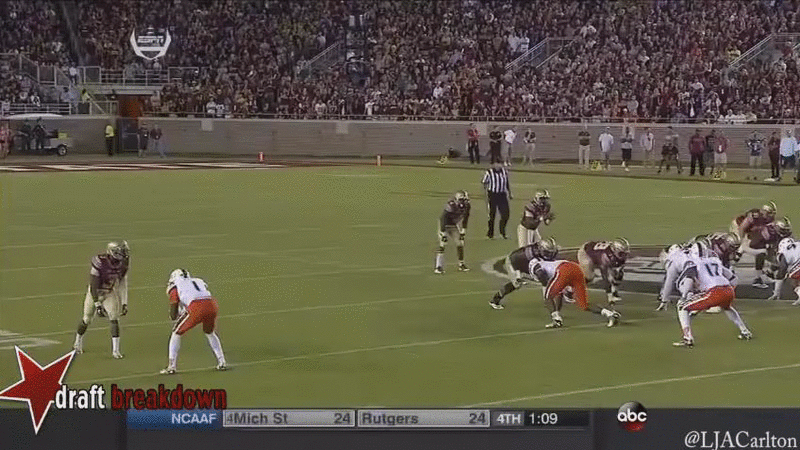 While there should be some slight credit given to McCord's consistency, he ranged from 3-4.5 sacks in all four seasons, his production was overall minimal. And it's not too often someone goes from only a slight amount of college production to explode for big-time NFL production. That, at a very basic level way of looking at a prospect, is concerning.
The best way he'll get pressure, is by a strong interior rush that won't allow the QB to climb, or by the sheer effort I saw on tape. His transition to the NFL may be a bit smoother because of his usage at the U, but his underdeveloped hands and stiffness in his hips could make him a quick out in the NFL.
Also, stop looking at highlight videos, Steelers' Nation. They just give false expectations. Blogger demerits awarded.
Games Watched: vs Cincinnati (2014), at Florida State, at Duke
https://www.youtube.com/watch?v=_3DxP8hglJo