The final week of the regular season but ideally, not the last scouting report. Since the Pittsburgh Steelers played the Cleveland Browns only a couple weeks ago, we'll abbreviate this report just a little because there aren't a ton of differences. Be sure to check out our first reports, too.
And now, your lowdown on the Browns' offense.
Browns' Running Game
Overall, the per-carry numbers between Isaiah Crowell and Duke Johnson don't look much different. Crowell at 3.8, Johnson at 3.7. But Crowell has come on strong and become the team's lead dog, with a 5.5 per carry average in three of the last four games and as a result, getting 10+ carries in just as many.
Johnson has had 10+ over that span just once though he has 13 receptions and is still out-snapping Crowell each week. Last week against the Kansas City Chiefs, Johnson had a 60/41 percentage advantage.
Both backs have done a great job of taking care of the football as runners. Just one fumble between them.
The offense hasn't changed much since these two team's Week 10 matchup. They pair their zone and gap runs well. No longer are the exclusive zone team they were last year under Kyle Shanahan. Generally, and I stress this is not true 100% of the time, when the Browns run out of the gun, they'll use power runs with the backside guard pulling and when under center, run zone.
They lost fullback Malcolm Johnson to a groin injury and have supplemented him with tight end Jim Dray. He played 47% of the time at fullback and tight end in last week's loss.
The Browns have 38 runs of 10+ yard runs, in the bottom third of the NFL. It is slightly better than where they were ranked in the first matchup (26th) and have seemed to have found their footing in the run game a little better overall.
Their offensive line has shuffled a little bit since Week 10. Cameron Erving is expected to be the starting right guard while Austin Pastzor is in at left. Erving has struggled mightily and I expect Stephon Tuitt to eat Sunday. Rest of the line hasn't changed. The superb Joe Thomas and Alex Mack at left tackle and center and the "meh" Mitchell Schwartz at right tackle.
Browns' Passing Game
Austin Davis will start, the latest in the "who?" players this team has trotted out during the final week of the season. Other recent names include Thad Lewis, Connor Shaw, and Seneca Wallace. Davis has one start this year, a 37-3 thrashing by the Cincinnati Bengals. In 48 attempts, Davis has completed 66.7% of his passes, thrown one TD, and one INT.
Watched Davis' game and last week against the Bengals and didn't see much of a difference in how the offense will be run. And in the final week of the year, don't expect it to be much different now.
Gary Barnidge still leads this bunch in receptions and yards. His 13.8 yards per catch is third among tight ends, trailing only Rob Gronkowski and Greg Olsen.  He's an every down tight end, playing 84.4% of the snaps this season.
Travis Benjamin got off to a scorching hot start but his impact has shrunk with the loss of Josh McCown. Since Week 3, he has only 1 TD and since Week 6, one 100 yard game (which came against Pittsburgh). Over the last month, he has recorded just 87 yards receiving and zero touchdowns.
Duke Johnson basically functions as their #3 WR, especially after losing Brian Hartline – who was coming on strong – and Andrew Hawkins. There is little talent elsewhere at WR. Taylor Gabriel has been invisible, Darius Jennings actually played 90% of the snaps last week as a diminutive Hawkins-like threat, and Terrelle Pryor has yet to record a catch this season. He's played only 31 snaps on offense all season and seems likely to be Davis' backup Sunday. Dwayne Bowe is also playing more to serve as a visual reminder of the terrible decisions management has made. Their passing attack has suffered and are close to the bottom in 20+ yard completions.
The Browns like to use playaction. Try to get the defense to bite and clear some space. And there is still speed at receiver to win vertically.
One important tendency I picked up on is when they decide to roll out playaction. When the Browns line up in a 2×2 set under center, it's a strong indicator they're going to fake it. Ran only rarely out of that look and in one instance, it came on third and very short. Usually get a sail concept out of it, or fake a split zone look and hit the tight end in the flat. Watch for #1 to have a reduced split to the left, usually the boundary, because the boots are always to the right.
Here's an example of their playaction. Most of these are coming on 1st and 10.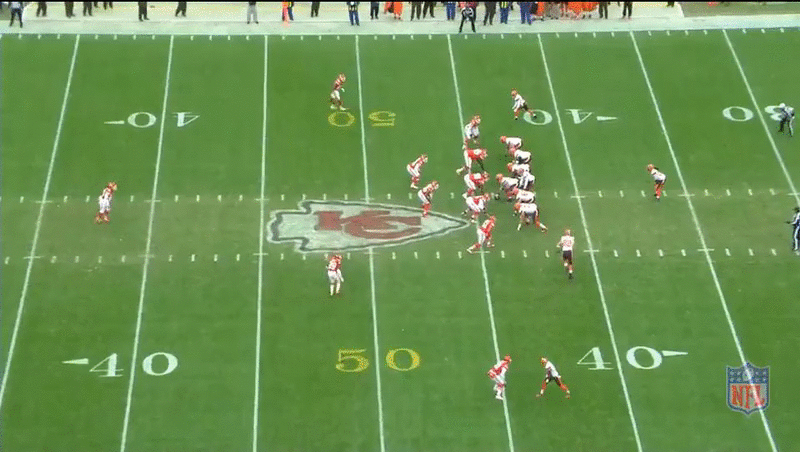 And another.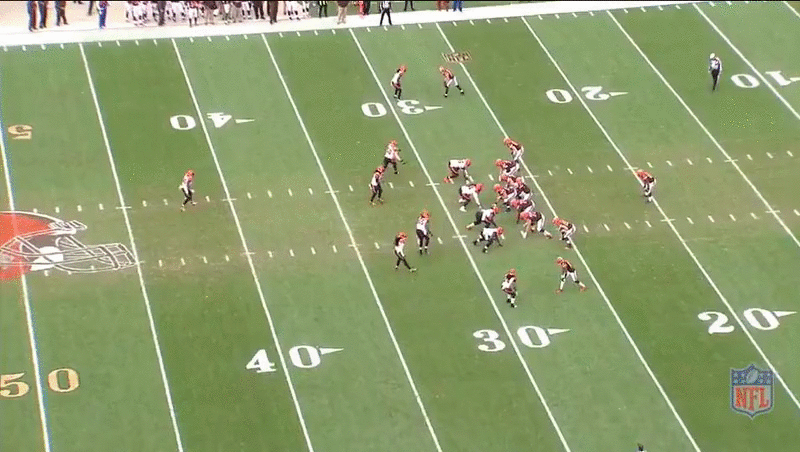 Still a good deal of shifts and trades pre-snap to try and throw you off defensively.
Browns' Special Teams
Running back Raheem Mostert had been serving as the kick returner but had an ugly muff last week and was benched by Jennings. Benjamin has been a threat as the team's punt returner, averaging 11.6 per return including one touchdown. He's a guy the Steelers' need to contain.
Their kick return formation is a 6-1-1-1-2 look with Jordan Poyer serving as the upback.
Kicker Travis Coons is enjoying a pretty good year. He has missed two extra points and is 0-2 from 50+, one of which was the game-losing block against the Baltimore Ravens on Monday night.
Andy Lee is the holder and a minimal fake threat, just one pass in his career (2014 with the 49ers) but it's worth pointing out the Browns have two tight ends – Barnidge and Dray – as wings on field goals. Two threats to catch the football.
I'd love to know the reason why but the 5'9, 169 wide receiver Darius Jennings got work as a jammer on the punt return unit. Not the kind of guy I'd throw out there. If the team is without wide receiver Marlon Moore (concussion), they'll miss an important special teams' piece.