Your brief final regular season game notes from the Pittsburgh Steelers' 28-12 win over the Cleveland Browns.
First Half
– Kick return unit. Front 5: Ross Ventrone, Sean Spence, Vince Williams, Terence Garvin, and Shamarko Thomas. Robert Golden behind. Jesse James, Matt Spaeth, and Will Johnson creating the "wedge." Fitzgerald Toussaint opened up as the upback for Markus Wheaton.
– First play of the game was the team's drag + screen + out route to #1 combination play. Ben Roethlisberger hit Darrius Heyward-Bey on the out.
– Steelers used this "three down" front five times Sunday. Trying to combat some of the issues they've had defending the run out of nickel by putting an end over center.
– Mike Mitchell could have scored if he had held onto this INT. Lot of open space.
– Way too much confusion on the Browns' initial 4th down play. Browns have two receivers open. Luckily, Austin Davis didn't throw to either of them.
– Alejandro Villanueva's length allows him to create separation between him and the defender. Love it.
– Initial kick coverage from left to right: Shamarko Thomas-Robert Golden-Ross Ventrone-Terence Garvin-Vince Williams-Chris Boswell-Sean Spence-Jarvis Jones-Fitzgerald Toussaint-Darrius Heyward-Bey-Brandon Boykin.
– Like this stick by Antwon Blake. Haven't seen a powerful blow like that from him in months.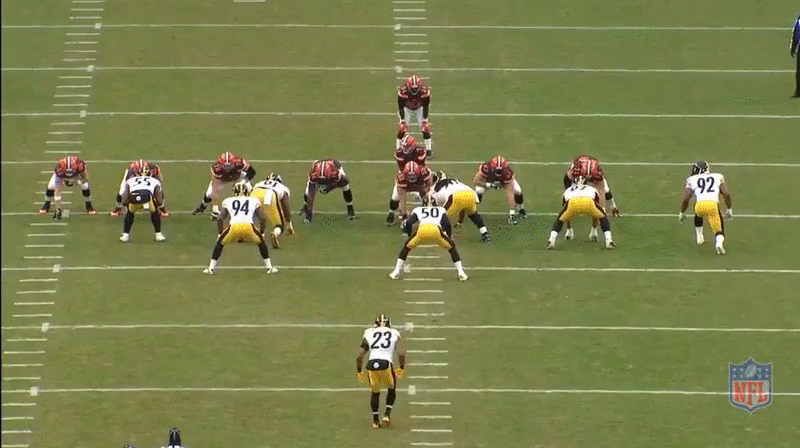 – Punt return team: Blake/DHB and Boykin the jammers. On the line: Anthony Chickillo, Williams, Bud Dupree, Johnson, Garvin, Shark, Golden.
– Martavis Bryant did land awkwardly on his head making the tackle on Roethlisberger's first INT. So neck injury checks out, though I still bank on his poor play being a large factor in his lack of playing time.
– David DeCastro too wide on his pull. Misses the linebacker who makes the tackle.
– But he makes up for it on the next series with a fantastic reach block without any help, though like our Zach Grasinger pointed out, the DT still got some penetration. Shows a really incredible burst off the snap with nimble feet.
– Fitzgerald Toussaint struggled early, missing this stunt in pass pro. He and Cody Wallace attack the same gap.
– Steve McLendon doing what he does best. Get upfield, penetrate, get in the way of the pulling tight end, and blow the run up. Doesn't make the tackle but makes the impact.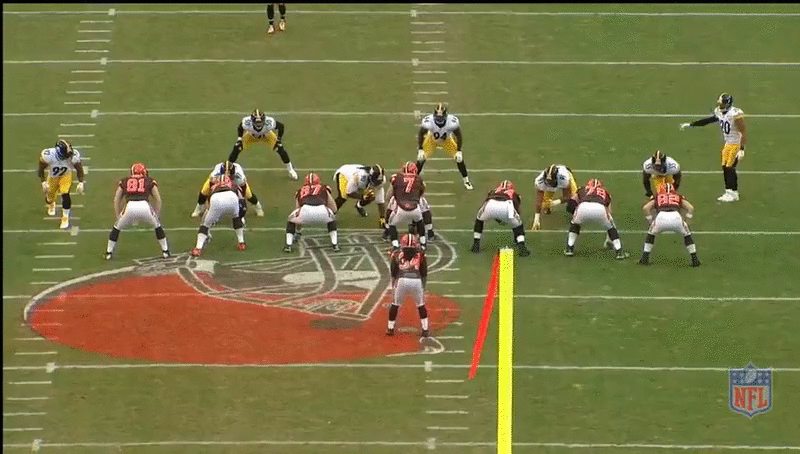 – Jarvis Jones spikes inside and there's no edge contain here. Breakdown.
– Top of your screen.  Blake taking forever to break down and transition to drive on the football. Way too many false steps, wasted motion.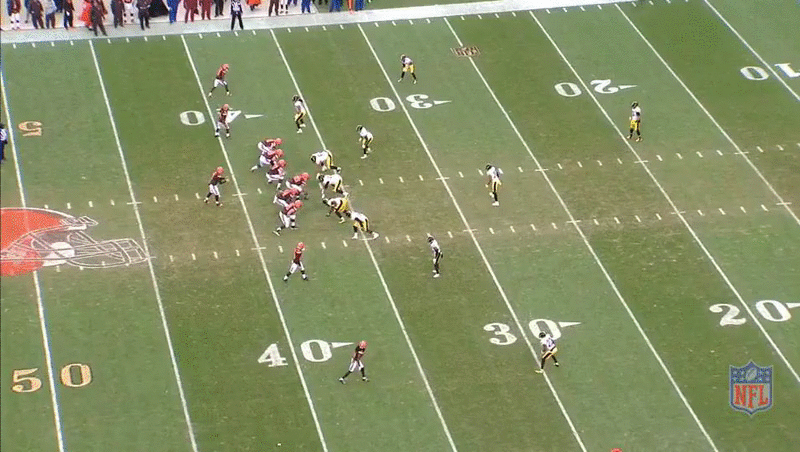 – Terrific adjustment by Markus Wheaton on his 40 yard catch.
– I do admire Blake's mental toughness. Definitely an attractive trait. One play after giving up the long ball to Terrelle Pryor, he breaks the pass up against him on the goal line. Short-term memory.
Second Half
– With the injuries to Jarvis Jones and DeAngelo Williams – thrusting Toussaint into the starting running back role – the Steelers had to do a lot of shuffling on their kick return unit. Anthony Chickillo replaced Jarvis Jones and Will Johnson replaced Toussaint. Ross Cockrell would later jump onto this unit. First time he and Johnson have played all year long and the coverage unit didn't miss a beat, even forcing a fumble. Testament to Danny Smith's coaching.
– Another blocking scheme breakdown. #53 free. Terrible day for the offensive line. Failed to execute their assignments properly and just failed to actually stick to their blocks. Gotta be better Saturday.
– Big sign of respect for Ben. After chasing down his interception, the ENTIRE teams goes to get in the face of the Browns' player who tussled Ben to the ground.
– Kudos to Arthur Moats for getting off this block, making the tackle. Saved six.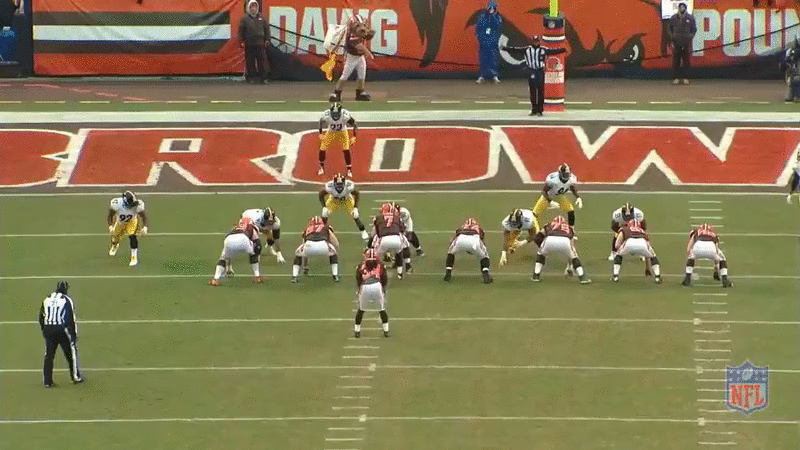 – DHB's 66 yard catch was the 62 Indy Z Post the Steelers ran on Antonio Brown's TD to beat Denver.
– Ryan Shazier technically makes the tackle but the running back barely went down after a good sized gain. Has to fill the hole better, square up, make the tackle. Taken out for Vince Williams after this play.
– Villanueva has really improved in stunt pickup. Flawless here while chopping the hands of the looper, knocking him off balance.
– Texas/follow concept on the 2 point conversion.
– Love how aggressive Keith Butler was even in the waning moments of the game. Barrage of fire zones even on the Browns' final two drives.
– The line blocked like garbage but thought Toussaint ran the ball well. Tough guy who can get skinny through the hole. Runs hard. Got better in pass pro as the game went on.