Let's start your weekend off right by getting back into some All-22 film. We're not going to use the whiteboard today. Instead, we're going to delve into a specific technique that was partially born out of a brief discussion in the comments of our last All-22 article.
In it, we went over how linebackers read run/pass. Linebackers are always taught to assume run first, not dropping into coverage until they are sure it's a pass. Their keys come through the offensive line. For the inside linebackers, the look to the interior lineman – guards and center.
It's more difficult for a lineman to give false run/pass keys than say, a running back. To execute this read, we're looking for the "hat" of the player. "Low hat" is the lineman firing off the ball to run block while "high hat" is a lineman pass setting.
Examples of both, respectively.
With how fast-paced the action is, the one thing linebackers must avoid is what's known as false stepping. Taking an initial step that puts yourself out of position from making the play. It can come in a couple different ways like stepping laterally the wrong way. Or as we're going to show, playing the run like it was a pass with a backwards step.
It's a cardinal sin and will take you out of every play at the NFL level.
We're going to show a similar mistake from two young linebackers; Jacksonville Jaguars' rookie Telvin Smith and the Pittsburgh Steelers' own Sean Spence, in what was essentially his first year playing in the NFL.
Linebackers must be patient and not be too quick to assume pass. Better to be slightly late dropping into coverage than filling your gap against the run.
In our first example, Smith needs to read the hat of center Maurkice Pouncey. Low hat, exploding off the line to combo block the DT before working to the second level.
Instead, Smith begins to drop into coverage. His heels on the 46, he starts to pedal.
And winds up backing up a full yard before finally realizing it's a run. This is 1st and 10, not 3rd and 15. His false steps allow Pouncey to effortlessly chip the tackle and work to Smith. Linebacker is out of position to fill and Le'Veon Bell picks up a couple extra yards.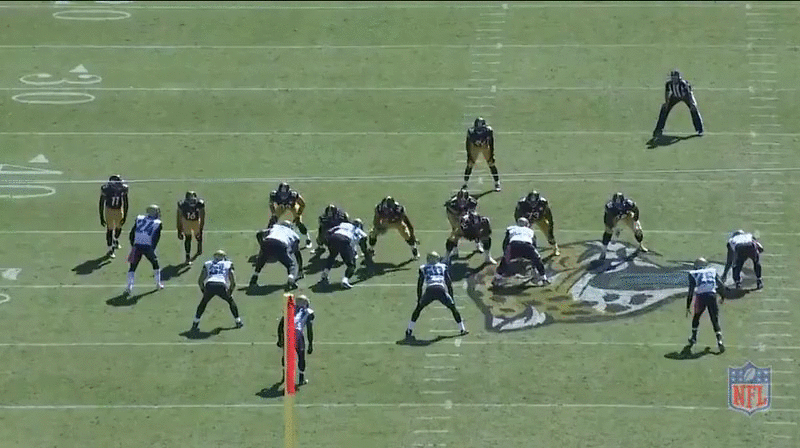 Sean Spence does similar in Week 17 versus the Cincinnati Bengals. Instead of being patient and reading for the run, watching the hat of the lineman, Spence starts to drift back. It's clear center Russell Bodine and right guard Kevin Zeitler are playing with "low hat," a clear giveaway to run. But Spence doesn't react to it quickly enough and is out of position.
The center is able to work to him and seal without much issue. Had it not been for the defensive line doing an excellent job getting off blocks and winning at the line, this had the potential for a big gain.
We're going to look at the aerial view in the GIF to really show how much ground Spence loses. It'll happen to a young linebacker but is going to kill a defense whenever it happens. With reps and eye discipline, it'll improve, and is something to look out for in 2015