By Alex Kozora
Throughout the rest of the offseason, we'll examine specific plays from the Pittsburgh Steelers 2013 season. We won't be focusing so much on individual play, though that inevitably comes with any breakdown, but instead, we will focus on concepts used in the pro game to show not just what happened, but why it happened.
This will be an X's and O's series focusing on both sides of the ball. The good and bad of the Steelers of last season.
A breakdown of Cover 2 man, one of the most effective coverages the Steelers' employed in 2013.
Personnel: Posse (1 RB, 1 TE)
Defense: Dime
Coverage: Cover 2 Man
Result: Incompletion, punt
Overall, the Steelers' are a passive coverage team in the secondary. They use a lot of Cover 3 with off coverage from their cornerbacks, responsible for protecting the deep third of the field. It's the driving force behind Dick LeBeau's defense and the reason why they rarely allowed splash plays up until 2013 (and why they give up underneath routes so much).
But every so often, they mix up their coverages. Especially on third down. When not in Cover 3, the team ran a lot of Cover 2 man. As I wrote above, it was their most effective coverage. Although, its primary use on third and long was an influencing factor.
Third and nine for the Oakland Raiders. At first glance, the Steelers' show single high safety with the corners rolled up to the line. Pay extra attention to the bottom of the screen with Ike Taylor matched up against Denarius Moore. That's where the pass is heading.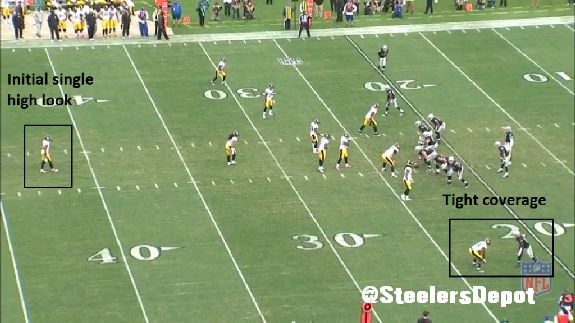 Heady quarterbacks would be able to sense the coverage doesn't look right. The Steelers rarely play tight coverage with a single high look, especially on third and long. But a young signal caller like Terrelle Pryor, someone known to make mistakes mentally? Less apt to to do so.
The Steelers' shift to a two deep shell, providing safety help over the top and allowing the cornerbacks to play man coverage.
So how does the corner play it? It's called "trail" technique. Let the receiver win off the line, or "swap hips". Play to his inside hip and protect against any breaking routes. Let the safety protect against anything you'd find at the top of the route tree – posts, corners, and fly routes. Moore breaks back to the ball on a curl, directly into Taylor.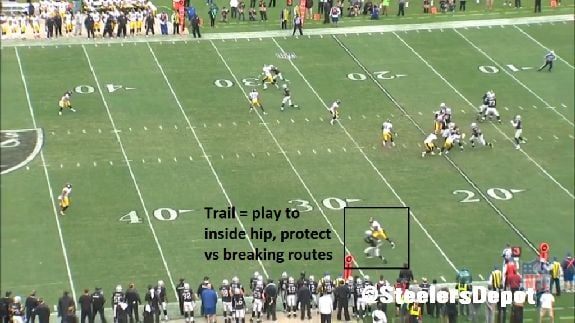 Pryor, probably expecting Taylor to protect against anything deep thus Moore capable of running him off with speed, locks onto the route and forces the throw.
Taylor watches the receiver until he turns, gets his head around to locate the ball, and disrupts the throw.
Pass falls incomplete and the Raiders punt.
It's a combination of scheme and technique that makes the play possible. When both those aspects are effective, you're tough to beat defensively.