As the Pittsburgh Steelers approach free agency, there are more than a few questions of who will be re-signed. As a relatively young team on offense, the Steelers have production from many players on rookie contracts. In fact, they did so far more than any other team in the league on offense. In an article about which NFL teams are set to lose and gain the most in free agency, Brad Spielberger of PFF delved into each team's previous and current offseason.
"The Pittsburgh Steelers have a bevy of key playmakers on rookie contracts," Spielberger said. "Including quarterback Kenny Pickett, wide receiver George Pickens, tight end Pat Freiermuth and running backs Najee Harris and Jaylen Warren, among others. They made a few key free agency additions last offseason, most notably guard James Daniels, and will look for growth from young internal players to improve their offense in 2023."
According to Spielberger's article, the Steelers are set to lose around 1,000 offensive snaps to free agency, which is by far the lowest in the league. The entire offensive line for the black and gold is set to return, as are many of their skill players. Notable free agents include receiver Miles Boykin, fullback Derek Watt, running back Benny Snell Jr., and tight end Zach Gentry, among others. Needless to say, none of them are significant contributors, and the Steelers are set to have their entire starting lineup on offense back in 2023, with the exception of possibly Watt at fullback.
"The Steelers are then represented in the exact opposite position in the below chart," Spielberger continued. "Which again shows the snaps and cumulative WAR earned by rookie contract players on offense who will return in 2023. Because of their very young and talented offense, they almost break the scale here."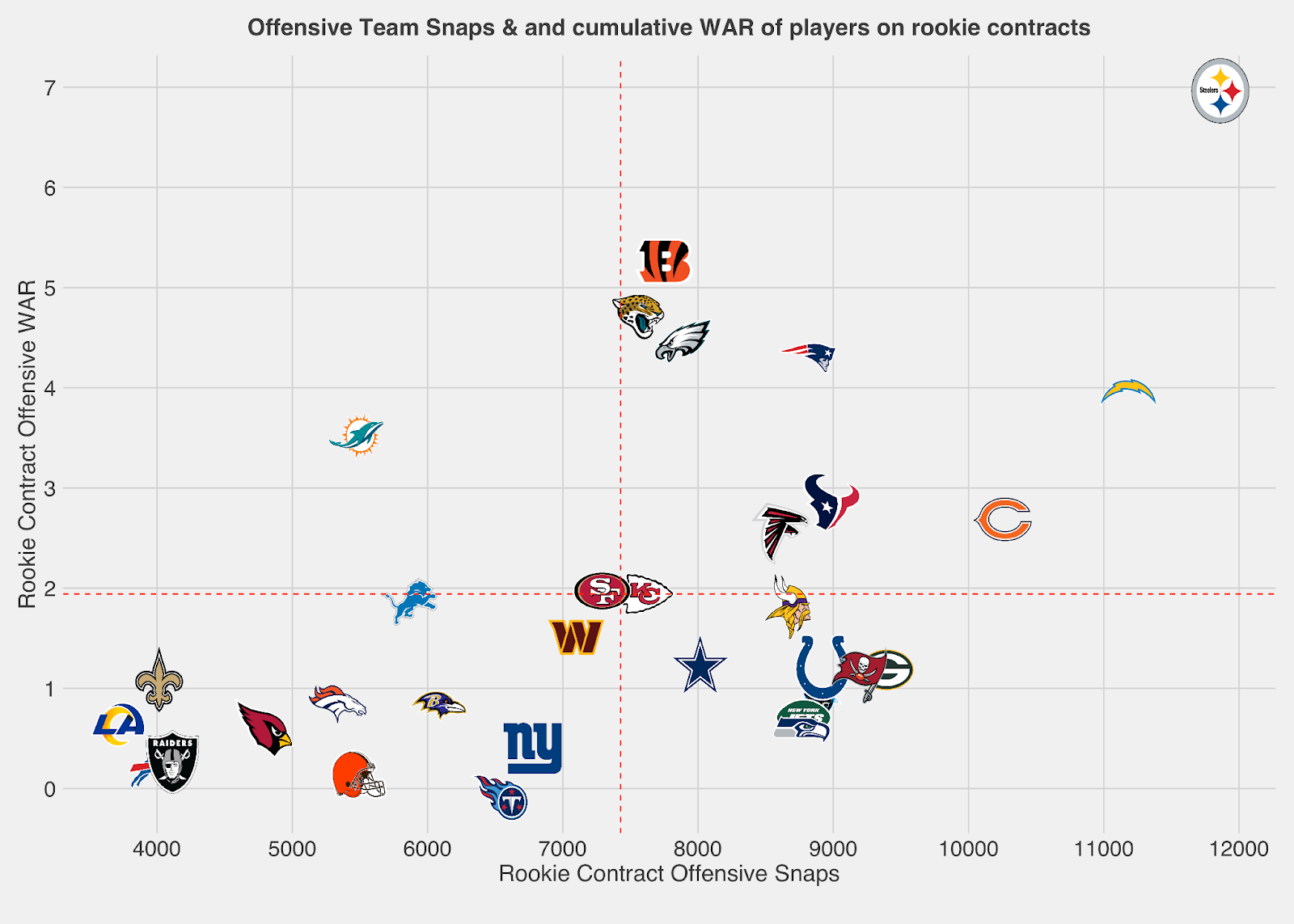 In the last few drafts, the Steelers invested their top picks into skill positions. Indeed, their top two picks in 2021 were running back Najee Harris and tight end Pat Freiermuth, and two of their top four in 2022 were receivers in George Pickens and Calvin Austin III. The team also got quality value in the mid-rounds of recent drafts, drafting guard Kevin Dotson and tackle Dan Moore in the fourth round, both of whom are still on rookie contracts.
While the Steelers rank first with production from rookie-contract players on offense, they rank virtually last in the same category on defense. After picking a defensive player every first round between 2013-2019, the Steelers' last three drafts have featured exclusively offensive picks in the first two rounds.
On defense, the Steelers are set to lose over 5000 snaps on free agency, which is among the most in the league. This is not surprising, as several starters are slated to hit free agency. That is, linebacker Devin Bush, cornerback Cameron Sutton, safety Terell Edmunds, among others. How the Steelers handle this will be telling, as the team arguably does not have ample talent at the linebacker position or the defensive backfield.