As we have been for several years now, we'll break down the Pittsburgh Steelers' opponent each week, telling you what to expect from a scheme and individual standpoint. Nick Farabaugh and I will cover the opposing team's offense. I will focus on scheme, Nick on the players.
Today, examining the Baltimore Ravens.
Alex's Scheme Report
Ravens' Run Defense
The numbers don't paint as potent of a defense as Steelers' fans are used to. It's a unit undergoing a facelift. No Terrell Suggs. No CJ Mosley.No Eric Weddle. But there's a lot of talent here and they're more impressive on tape than what the numbers may show.
While they are top ten in yards per game, they're much worse when you look at it in context. 27th in football allowing a 4.9 YPC. But they have bottled things up well enough, Nick Chubb's 88 yard TD aside, allowing just nine runs of 10+ yards.
Nick will talk more about the individual names below but NT Brandon Williams' status will be something worth monitoring. He missed last week and I think that's one key reason why Baltimore got gashed on the ground. If he can't go, #42 Patrick Ricard will see lots of action. Ricard is one of the most interesting names in football. Perhaps the only legitimate three-way player in the game. He's their FB, DT, and gets work on special teams. His snap count through the first month.
Off snaps: 68
Def snaps: 78
ST snaps: 29
Just a unique player that's worth mentioning in these things.
The Ravens have plenty of speed at off ball linebacker and they use it to attack gaps and get penetration. #40 Kenny Young is the dude to worry about. If you're trying to pull guards, combo blocks, or anything that could create gaps in your run blocks, they're going to shoot and try to wreck the play.
So gotta make sure those linebackers are covered up and they're not able to hit the A/B gaps off the snap.
Two other stats. 11th in third down defense (37.2%), 22nd in red zone defense (64.3%). Their 3rd down strength is a weakness of the Steelers so winning possession downs will be critical and unfortunately, not an easy task.
Ravens' Pass Defense
Numbers don't look great. Decent amount of pressure, eight sacks and led by Matthew Judon's three, but no elite threat at pass rusher. Only three interceptions and two forced fumbles. Allowed too many chunk plays, 17 completions of 20+ yards too, so the Steelers have a chance to get the big play going.
Broadly speaking, even if they're a less effective unit, they're still one that can create chaos. Especially on a young QB. They had to come up with a gameplan to try and slow down Patrick Mahomes. Dealing with Mason Rudolph is easy. Tons of guys with their hands up, different personnel groupings, fake blitzes, and they do a great job of disguising and holding coverages. That's my #1 concern with this defense.
Check out how they played this single high look against Miami in Week One. Slot defender drops and bails to MOF. This will be the most chaotic defense Rudolph will probably face all season and it's going to test his reads and mind.
One area where this team can win? Man beaters in the red zone. Baltimore runs a ton of man-to-man inside the 20. Don't banjo and pass things off and it creates issues against bunch and slant/flat combinations. Check out the bottom of the screen in the Chiefs' clip for the example of it. Well-covered there but I think you can pick those guys.
So if the Steelers can get into the red zone, dial up your best routes to beat man coverage – mesh will be high on the list, as you saw in the TD to Ricky Seals-Jones last week – to win down there. That's my #1 coaching point.
Nick's Individual Report
The Ravens defense, on paper, looks absolutely smothering and that was what they were expected to be this season, but there have been a few winds in the road and they have not been nearly as effective as they should have been. The Browns carved them apart largely due to inexperience at the second level. This is still a supremely talented defense, but that does not mean the Steelers do not have a shot to exploit some weaknesses on the defenses, especially if Randy Ficthner can carry over some of his creativity. 
On the defensive line, the Ravens boast a solid, but not overbearing unit. Brandon Williams has been injured and missed last week's game, but should he play this week he will make his presence felt, especially in the run game. He is a fantastic run stuffer with some power to flash in the pass rush. Michael Pierce is his running mate and brings the same type of heat in the run game, but his tools in the pass rush game make him more of a threat to get some sacks. His explosiveness jumps off the screen and he and Williams are fantastic at stunting. Patrick Ricard is the de facto back up along the line and has some really nice tools. His pad level and heavy hands stick out. Daylon Mack is a rookie looking to put everything together, but he is an absolute blur off the line. He can be a bulldozer on any given play if he puts it all together. Chris Wormley has become a starter and while maybe not overly impressive explosive athlete, his quickness and ability to control the line of scrimmage makes him valuable.
The incredibly underrated Matt Judon sticks out at first when you look at the Ravens' outside linebackers. Judon is explosive, fluid, and powerful. He has really solid bend and understand how to manipulate lineman's angles in their pass sets. Truly one of the most underrated out there. Tyus Bowser is a hybrid of sorts. This year he has been almost exclusively used at outside linebacker where he showcases some nice burst but lacks a ton of bend. However, he can drop out and be a really good SAM linebacker who is proficient in coverage.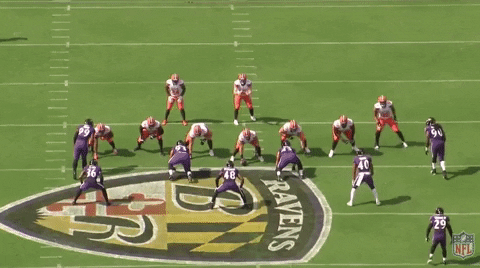 The return of Pernell McPhee has been much appreciated on outside zone runs for the Ravens. McPhee lacks the extra juice he once had, but he is still an excellent run defender who sets the edge with authority. He did it well against the Browns, but his limitations still could make it possible for him to be an exploitable guy. 
The young ILB corps is really where the Ravens got attacked last week. The Browns confused them on purpose. Kenny Young, in particular, was subject to those ploys by Freddie Kitchens. Young is a speedy, rangy ILB who is learning to read through his keys, but he is a rising young star. He is a fantastic blitzer and a guy who has the athleticism to keep pace with some receivers. L.J. Fort was recently signed and it is unclear how big of a role he will have, but if he does, he is a decently rangy ILB with coverage ability. But exploitable as a depth piece should he come in.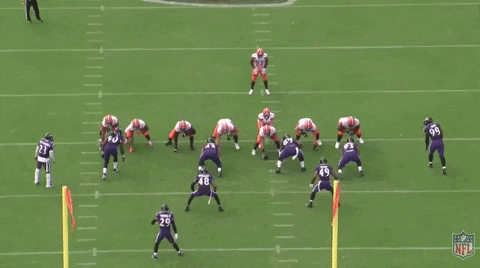 Patrick Onwuasor is the de facto leader with C.J. Mosley now in New York. Onwuasor, like Young, has some impressive range, but his instincts are much further along than Young's are at this moment. Onwuasor has shown the ability to shoot gaps in the run game and cause disruption underneath in the passing game. He could be a problem. 
The secondary, as always, is the strength of the Ravens. New addition Earl Thomas is who he has always been. A rangy, splash playmaking single-high that will be an issue in the deep half of the field. He could take advantage of Mason Rudolph if he is not careful. Tony Jefferson is a fierce competitor down there in the box. He has been known to be able to man up guys with ease over the slot as an overhang defender as well, but he has lost a step and could be exploited in man coverage. Brandon Carr is one of the best depth corners out there and with Jimmy Smith likely out, Carr still has the ball skills, fluidity, and mirroring skills to shut down anyone across from him. Anthony Averett has been working a lot of the slot, and has not been sterling. The slot is a place I expect the Steelers to attack this week. Averett is overaggressive and still learning some technical aspects of the position, but he will bring the heat. Just good, technical route runner can beat him.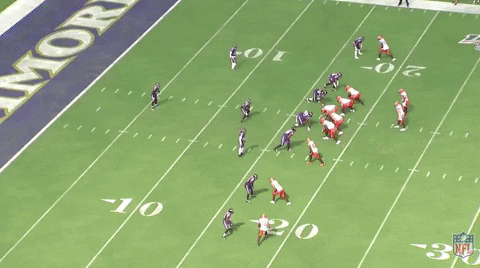 That leaves Marlon Humphrey as their number one corner and he is grabby. But he does a fantastic job of describing it and leveraging himself to make plays at the catch point. I expect nothing less this week, as Humphrey made Odell Beckham Jr pretty much disappear last week. Humphrey is one of the best corners in the league, so his side of the field will be a challenge to conquer this week.