Pretty low-key practice today out at St. Vincent, as to be expected coming off a physical (not to mention wet and rainy) Friday Night Lights practice. No pads today, just shorts and shells, gearing up for tomorrow's Family Fest that should return to being pretty physical, including the famous goal line drill that's live tackling through and through. Let's talk about what happened Saturday.
Proud again to have Touring Plans as a yearly sponsor of Steelers Depot's training camp coverage. If you're planning a trip to Disney, this is the team you want to work with. Hit them up on their website at the link here. 
– Not practicing today were: Ben Roethlisberger (rest), Ramon Foster (rest), Anthony Chickillo (hamstring), Vince Williams (hamstring), Sean Davis (left ring finger), Artie Burns (unknown), and Diontae Johnson (hip). Saw all the players and they all seem like relatively minor stuff. I believe Mark Barron was in pads but not team for unknown reasons.
Donte Moncrief did a little more work in individual sessions today but largely caught everything with his non-injured right hand and didn't participate in team. Coming back in full today were: Maukrice Pouncey, Alejandro Villanueva, Sutton Smith, Bud Dupree, and Johnny Holton. Dupree hadn't been in team the last two days and Holton went full for the first time since injuring his hamstring on the second day of practice. Good to see that especially as injuries begin to hit WR, opening up more reps for guys like Hilton.
Kameron Canaday did snapping on the side today. Hard to call him "full" because the ST sessions weren't dedicated to field goals but he had helmet in hand, suggesting his MRI for his injured groin didn't reveal anything concerning. Bullet dodged.
TEs Xavier Grimble and Christian Scotland-Williamson were noticed with wraps on their leg, as seen here, but both appear minor and the ills of this grindy part of camp. Scotty hurt it in one-on-ones but both players had helmet in hand and stood around without any trainer by the end of practice. Nothing I'm worried about.
Last thing. TJ Watt, still on PUP with that left hamstring tightness suffered during the conditoning test, went through the team's stretch line today, including stretching out that injured hamstring. So he looks on track to return soon. Perhaps Tuesday following Monday's off day.
– Two jerseys I spotted today for the first time all camp. Barry Foster and a young fan had a Diontae Johnson one, which the crowd compelled Johnson to come over and sign prior to practice.
– Josh Dobbs, Devlin Hodges, and Trey Griffey the first three down the stairs at 2:37.
– Refs still at camp. Should be here through tomorrow.
– First team OL: Villanueva-Feiler-Pouncey-DeCastro-Okorafor
– Second team OL: Hawkins-Hassenauer-Finney-Johnson-Banner
Fred Johnson, and I don't know why, ended up jumping to play – of all positions – left tackle at the end of practice. Okorafor and Hawkins were on the sidelines and appeared healthy. So that's what was a weird one. He didn't look good there, predictably so, as I'll outline later.
– While Canaday was working at long snapper, Trevor Wood and Vance McDonald snapped too. And Casey Sayles, who has been circling around the long snappers for several days, standing around while the d-line do their thing on the far field, finally attempted one snap. So Sayles is your emergency emergency snapper, for those scoring at home.
– Return line: Diontae Spencer, Ryan Switzer, Cam Sutton, and Eli Rogers.
– Defensive line working on getting their arms extended to create space in the run game. Extend and shed the block.
– Punt return challenge: Cam Sutton tied his record with six balls (for perspective, here is Switzer the other day trying to catch five) caught. Switzer serves as a great hypeman, helping the guy trying figure out how to configure himself and alert the JUGs machine "coach" when to stop and when to let it fly. Switzer jumped in glee when Sutton came down with the 6th.
– Bigger crowd on hand today. Gotta be honest, on most days, the crowd has been as light as I can remember. Still a lot of people but less than than previous years. 9-6-1 record and no playoffs with the offseason drama will do that, unfortunately.
– Danny Smith trying to butter up the refs. He was cracking them up telling some story. To be a fly on the wall…
– James Washington showed body control and hand-eye coordination, albeit running on air (no defenders), making a one-handed snag behind his body and getting both feet inbounds along the sideline.
– Emphasis on ball security for the running backs. Drill new RBs coach Eddie Faulkner put them through. RBs form a line. Walking slowly and deliberately, they hand the ball off to the other, the one receiving the handoff making a wide pocket before tightly securing the ball.
– New OL coach repping the line's punch and first steps, the latter a critical element Mike Munchak taught. Working hands and feet together.
– Caught a couple reps of WR/DB after the backs and backers finished up. Justin Layne gave up a TD to Diontae Spencer but it was one-on-one and he did a great job mirroring the route, Spencer going inside/outside/inside before making his break. Layne did well to sink his hips and nearly knock the ball away.
– Special teams session. Kick returns. Switzer, Spencer, Washington, and Holton got reps as the return man. Roosevelt Nix and Jaylen Samuels were the first two up men. Maybe a different formation, a 6-2-2-1 look instead of last year's 5-1-2-2-1 setup.
– Justin Layne got some coaching points from Teryl Austin today. Mike Hilton seems to spend a lot of time around the new coach, a good mind to pick the brain of.
– Some notes from LB vs RB/TE coverage drill.
LB vs RB/TE
1. Ola Adeniyi showing some discomfort in coverage. Very grabby on Kevin Rader, even grabbing the dude's shorts, as Rader breaks away on this 7/corner route. Pass skips off his fingertips.
2. Ralph Webb on a wheel but Ulysees Gilbert III disrupts it enough for the incompletion.
3. Tuzar Skipper falls down, letting Trevor Wood make an easy, open reception.
4. Trey Edmunds quick out route to the left to beat Robert Spillane.
5. Sutton Smith bumping a good bit against Zach Gentry, breaking up the throw but drawing a flag.
6. Malik Williams snatches the ball away from Tegray Scales, who just missed the breakout closing in on an out route.
7. Backshoulder throw intended for Christian Scotland-Williamson incomplete against JT Jones.
8. Spillane, like Scales, misses an attempted breakout and Travon McMillan makes the grab.
9. Marcus Allen can't play the pocket against Vance McDonald on an out route.
10. Benny Snell beats Devin Bush on a short out route. Had to wait for the ball after Devlin Hodges dropped the "snap," a toss from an assistant coach to the rookie QB.
11. Bud Dupree can't sink and snap with Xavier Grimble on a 10 yard dig, Grimble making the grab.
12. Jaylen Samuels beats Tyler Matakevich really bad on a double-move though the throw missed him by a half step. QBs (Hodges and Rudolph) weren't great here.
13. Scotland-Williamson tries to run an out 'n up but slips and falls, getting up slowly, and probably why he was spotted with that wrap around his groin later in practice.
14. Matakevich able to plant and drive downhill to breakup throw intended for Snell running a curl.
15. Nice snag by Zach Gentry, jumping over Sutton Smith to pluck the ball down the seam. That's definitely where he wins.
16. Nice drive and close by Ulysees Gilbert III to break up short throw for Webb.
17. They go again. Webb makes a diving catch but Gilbert came super close to breaking the pass up again.
– Let's talk team sessions.
First Team Session (Seven Shots)
1. Tyler Matakevich opens up next to Devin Bush. Ola Adeniyi and Bud Dupree the OLBs. Rudolph hits a wide open Xavier Grimble on the left side. Coverage bust.
2. Rudolph first looks in the left flat but Steven Nelson takes that option away. Comes across the field to hit a diving JuJu Smith-Schuster on the right side against Bush. Another TD.
3. Rudolph climbs the pocket with nothing there. Scrambles to the end zone, Hargrave tagging up up shy of the goal line. Still counts as a win for the defense.
4. Matakevich/Scales at ILB. Rudolph hits Snell just over the goal line, holding onto the ball despite Kameron Kelly slamming him to the ground. TD.
5. Gilbert III/Spillane at ILB. JT Jones/Sutton Smith at OLB. Devlin Hodges checks in. Throw at the goal line incomplete to Spencer, Layne providing the coverage.
6. Scotland-Williamson wide open in the right flat but drops the ball. Oof.
7. 4 WR sets, Switzer isolated as the X receiver. Brandon Reilly, Trey Griffey, and James Washington bunch left. Hodges hits Washington on a crosser for a TD, outrunning Marcus Allen.
Offense wins the day 4-3. Making one adjustment from yesterday, taking one offensive win and giving it to the defense. Dobbs' scramble should've been a defensive win. Here's the camp tally:
Seven Shots
Offense: 32
Defense: 23
Second Team Session
1. Ball at the offense's own 42. Javon Hargrave/Cam Heyward along the d-line. Ola Adeniyi at LOLB, Bud Dupree ROLB. Matakevich and Bush inside. Joe Haden, Steven Nelson the outside corners with Mike Hilton in the slot. Terrell Edmunds and Kameron Kelly at safety. No contact being in shells. James Conner carry, putting his head down as he bumps into Heyward and Bush, both men trying to rip the ball out. Matakevich touched him up first for a gain of two.
2. Conner left side. Heyward chases him, trying to punch the ball out from behind. Gain of three.
3. Out route complete from Dobbs to Smith-Schuster working on Haden. Haden chases him to the sideline and like the first two plays, throws a right fist from behind to try and pop the ball out. Gain of 13.
4. Jaylen Samuels carry left side. Lavon Hooks clogs the lane. Goes for four. Coaches calling out "rip that ball! rip that ball!"
5. Ryan Switzer with another carry. Bursts off tight guard before the hole closes. Nice angle by Jordan Dangerfield to tag him up after a run of ten.
6. Snell run right side. Spillane set the edge to force the ball back inside. Goes for five.
7. Snell again right side. Nice shed by JT Jones on Rader, Rader dropping to a knee. Goes for four but like every carry, Snell runs to the end zone and jogs his way back, joined by William Gay.
8. Diontae Spencer the Z opposite Tevin Jones. End around to Spencer, motioning to a reduced split before the snap. Layne sniffs it out after a three yard run.
9. Layne and Derrek Thomas the outside CBs. Scales/Gilbert III the ILBs. Trey Edmunds left side. Nice block thrown by Derwin Gray, who has been quiets in our notes lately. Henry Mondeaux makes the stop after a four yard rush.
10. Last rep, another reminder of how shortened today's work was. Travon McMillan carry. Rader had a key downblock and Wood kicked a defender out, opening a big lane. PJ Locke finally runs him out of bounds after a run of 20.
Third Team Session
1. Ball at the offense's own 23. Jaylen Samuels split out with Conner in the backfield with a Pony set. Low throw in the left flat and Smith-Schuster can't get his hands under it. Bad throw Rudolph's gotta make.
2. 4 wide. Empty set. Complete to Switzer right side in front of Haden.
3. Tyson Alualu and Daniel McCullers the nickel d-linemen. Haden and Cam Sutton as the outside corners. Another Pony set. Rudolph checkdown to Samuel, Adeniyi touching him up. Conner picked up Hilton's nickel blitz. Play went for four.
4. Rudolph hits JuJu on a cross but Haden is right there to tag him up. No gain.
5. Josh Dobbs fires the ball over the middle, Eli Rogers making a nice catch in traffic. Goes for 17.
6. Really nice throw and catch here. Dobbs hits Tevin Jones on a backshoulder fade. Rips it away from Brian Allen, who falls to the ground, and it's a 22 yard reception.
7. Screen right. Dropped by Edmunds, fighting the ball and it hitting off his hands. Dobbs had the throw.
8. Mondeaux/Sayles the nickel linemen. Sutton Smith and Tuzar Skipper the OLBs. Hodges complete in the right flat complete to Wood for eight. Gilbert III tags.
9. Hodges hits Holton on a corner route against zone coverage for a 17 yard pickup. Smith won the edge to beat Banner.
10. Brandon Reilly not sure where to line up, woes of being a new guy, and a coach gets him and Trey Griffey set up properly. Hodges hits Griffey on a crosser. Layne half step slow from knocking it out. Run after makes it a 16 yard gain.
Fourth Team Session
1. Red zone work, ball on the opponent's 19. Dobbs wants to hit JuJu deep down the left sideline. Nelson does well to pin him to the sideline and the ball ends up too far inside, incomplete.
2. Good coverage. Dobbs hits Rader left side for five, Matakevich covering.
3. JuJu slot left. Quick out route from him and Dobbs completes it, a pass of four. Sutton tags him up.
4. JuJu and Tevin Jones on the outside, Jones at the Z. Switzer in the slot. Dupree good jump off the line. Dobbs tucks and runs, outracing Alualu to the goal line.
5. Washington and Holton on the outside, Switzer in the slot. Hodges throw on a post to Holton is incomplete, Layne breaking it up, and Holton pulls up before running into the field goal post.
6. Hodges to Griffey on a crosser against Layne. Gain of 14. Smith ran the arc to beat Banner.
7. Empty set, Webb split out wide. Hodges hits Rader left side, Layne active this session with another stop. Gain of four.
8. Sheehy-Gilmore-Craig the defensive linemen. Marcelis Branch and Marcus Allen the safeties, Thomas and Layne the corners. Hodges flushed and tucks the ball out of bounds.
Fifth Team Session
1. Super situational football and really felt like a walkthrough. Hail Mary/end of game stuff. I won't count these for stats because of how relaxed the period was, for the record. Rudolph wants to hit Jones on a crosser but Nelson jumps it and picks it off (actually, will count this Nelson INT because it did happen at full speed, unlike the rest of the plays).
2. Quick throw in the right flat complete to McDonald for three.
3. Hail Mary. Incomplete, the ball falling between everyone.
4. Dobbs comes in. Hits Gentry on an over route for 20.
5. Deep 20 yard out from Dobbs to Switzer right side.
6. Hail Mary. Switzer, uncontested, makes the grab in the end zone with a Gronk-like spike to celebrate.
Sixth Team Session
1. Dobbs at QB. Hurry up offense, more situational football. Hits JuJu for 14.
2. Dobbs to Vance complete on a wheel right sideline for 18.
3. Doesn't take long for the offense to cash in on its two minute drill. Maybe Dobbs' best throw of camp, placing it over Nelson's arms, Smith-Schuster making a contested (or as Tomlin told the refs after, "combat") catch at the front left pylon for a 20 yard score. Great play.
4. Now Rudolph comes in. Crosser to Switzer beating Gilbert III for a 14 yard pickup.
5. Dig route is a little throw but Washington adjusts for what would've been a nice gang. But refs throw the flag on Fred Johnson, now at LT.
Mike Tomlin walking back said: "Drive killer." True that.
6. JT Jones whips Johnson off the edge, knocking the ball out of Rudolph's hand.
7. Miscommunication between Rudolph and Spencer, the ball thrown outside as Spencer breaks inside. Incomplete.
8. They make up for it. Spencer shows hops, leaping between four defenders to make a tough grab over the middle and coming down with it. Team had Rader chip on Johnson's side to help him out. Gain of 25.
9. Rudolph end zone shot right side incomplete. Banner shoved Smith upfield, who grabbed his lower back after hitting the ground. Remained in the team drill.
10. 2nd down. Rudolph hits Gentry down the left seam working on Dravon Askew-Henry. Completion of 15.
11. Rudolph spikes the ball.
12. 2nd down. Rudolph scramble drill left side. Benny Snell reaches back for the ball and makes a great grab but apparently didn't get both feet inbounds. Incomplete. I would've thrown the red flag.
13. Checkdown to Rudolph for a five yard gain.
14. 4th down, the offense scrambling with time running out. Rudolph hit Washington on a crosser right to left, Jones got more pressure off the edge, but Sutton tags him up short of the end zone to end practice.
Final Thoughts
– Was not the most exciting practice today but a good time to get in situational work. Everything focused on that. Goal line, red zone, two minute, end of game/Hail Mary stuff. Valuable reps, especially for the young guys.
– Justin Layne has put together a couple nice practices. Still a step slow on batting away those crossers but they come with time. He's reading the play and driving on it and already looks more comfortable in practice. Making strides.
– Tevin Jones more active too. Really quiet start and he's showing his speed and contested catch ability.
– Josh Dobbs better now than how he started but neither he nor Rudolph are at where they need to be right now. Rudolph didn't have a very good day today. Stalling out in no huddle was specifically disappointing.
---
St. Vincent Snapshot
Shot of the offense/defense working.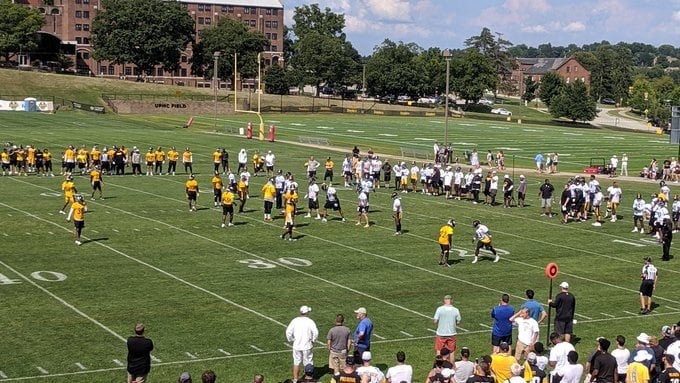 Twitter Camp Question
Definitely need to get in stadium. Returns/special teams are the hardest thing to simulate in practice. Games can be messy, you have a ton of new guys in roles they haven't done before, but that's where guys win jobs. Not at Latrobe.
Steelers Highlight (You Probably Don't Remember)
Ernie Holmes destroying some poor RB's life.
Bob Belcher Quote Of The Day
"Love you, cutie pie. Sorry, I'll think of a better one than 'cutie pie.' You're my angel…dust. Sorry, that's a drug. I'm gonna go."