Go back inside your mind on a little bit of a journey. Before Week 1 of the 2018 season, everyone expected Le'Veon Bell to report and then it would be business as usual for the Steelers and Bell. The only thing is that day never came. Bell did not show up at all in 2018 and it came a young running back from Erie McDowell High School and the University of Pittsburgh the opportunity to start on a team who was expected to return to the playoffs. Second year RB James Conner, who had been a standout in both the preseason and training camp, would start in lieu of the absent Bell.
The opinions throughout the season of Conner seemed largely positive. However, some doubters, mostly those from the national media outlets, labeled Conner as overrated or overhyped just because of Bell's absence sensationalizing his accomplishments. That disrespect has continued into the offseason and it is complete bogus, as shown by the stats and film. 
The main criticism is that he was just a product of this offensive line and the offensive system. There is one main stat that, to me, determines he was not even close to a product of the offensive line. It is the fact that of his 973 rushing yards, 617 of those yards came after contact per Pro Football Focus. That alone shows he created yards for himself, and I thought on film, he created yards for himself before the carry as well. But we will get back to that later.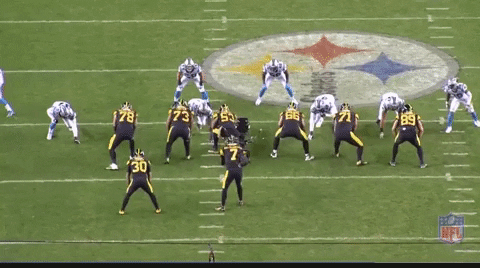 I hate to mention the dreaded #26 again, but Conner learnt a lot from Bell in his first season. Knock Bell all you want, but when he is there, he is a great teammate, works hard, and even mentored Conner. This is a peak trait of Bell, his patient and that slight hop and hitch in his footwork to allow blockers on pulls to set up. Conner does just that and allows Foster to seal off this edge and turnout the defender. Then, it is a simple foot in the ground and he explodes through the hole for a first down. It is the little things, but that patience and ability to work off your blockers is what the best of them do.
You see lead draw all the time, and Conner just has to follow DeCastro up the hole and through the double team here. Easy read and ability to do so, he runs into a bit of wall since he thought DeCastro was gonna keep heading upfield, but the most impressive part of this play is what Conner does for himself. He lowers the shoulder into Shawn Williams and then shrugs off the next tackler as well with that duck. It is fantastic power and contact balance that made this play truly possible. Not many guys in the league can do something like this, but Conner can and it is part of a dynamic skillset. 
The other part of that dynamic skillset? A good set of hands and the surprising ability to actually run sharp routes. This is a pick play on 3rd and short out of a bunch formation, but Conner catches this away from his body effortlessly. The hands are there and he can be split out wide or into the slot. That is what you have to be able to do as a modern day running back, and Conner has more than enough of that ability. If the pony backfield sticks, I think Conner will also see reps out in the slot with Jaylen Samuels beside Ben Roethlisberger. He is that good of a receiver to do that.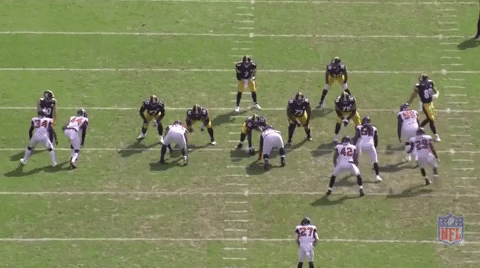 Conner is a bowling ball in the open field, that much is clear, but his elusiveness and shiftiness are underrated aspects of his game. It all comes from that quick footwork and lateral agility he has. The spin move is great, he used it a good bit last year as well, but he can accelerate quickly having making cuts or moves such as a spin. That is a big NFL trait to have. Right out of this spin, Conner is looking to explode through somewhere or try to do more. So, he barrels forward to gain more yardage. Always being aware and able to do things on the fly is the reality of being an NFL RB.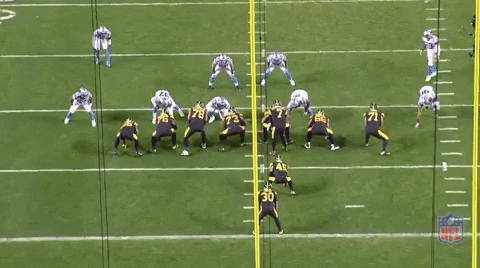 This right here is what I mean by 'creating yards for yourself before contact' folks. It is perhaps the most important trait a RB has and guys that don't have it fizzle out all the time. Watch how Conner presses a step away from the line of scrimmage, baits the defenders towards the flow of the blockers, and then hops right away. The real beauty is him baiting the defender in C gap down and then turning it outside. One quick step towards that hole brought the defender down and allowed him enough space to turn it outside. The short area burst to get down the sideline and a first down are also on display. This is great stuff that great running backs simply do. 
I know a lot of Steelers fans love Conner, but they might not realize just how truly gifted this guy actually truly is. The little nuances he has and the complete skillset he has are fantastic. There are little areas, such as ball security, that I am sure Conner is working on especially hard, but the framework for a top flight running back is there. It isn't a system or the offensive line, James Conner is simply that darn good.