Series we're bringing back to Steelers Depot that we began last year. A snapshot of the Pittsburgh Steelers 2018 season, a look at the singular best and worst play from each player on the roster. If I wanted to sum up a players season in 30 seconds, these are the plays I would look at.
Easy one today with RB James Conner.
Best Play – Third Down Screen Against Atlanta
A high ankle sprain left Conner's sophomore year on a sour note but let's not forget how good this guy was the first eight games of the season. Over that span, he rushed for over 700 yards, 4.7 per carry, and nine touchdowns with an additional score as a receiver.
We're focusing on the latter here, though not his touchdown. He made one of the defining plays in the win against the Atlanta Falcons back in Week 5. Though the score ended lopsided, 41-17 good guys, it was just a three point Steelers' advantage midway through the third quarter.
3rd and 13, the Steelers seemed to call a let's-just-punt screen to Conner. But he was determined to pick up the first down, breaking six tackles and never taken to the ground, shoved out of bounds after picking up 28.
Instead of a punt, they were in field goal range. Four plays later, Ben Roethlisberger hooked up with Antonio Brown for a nine yard touchdown and made it a two possession game. Atlanta went three-and-out on the following drive, Roosevelt Nix blocked the punt, the Steelers crossed the goal line again and pretty much wrapped up the game then and there.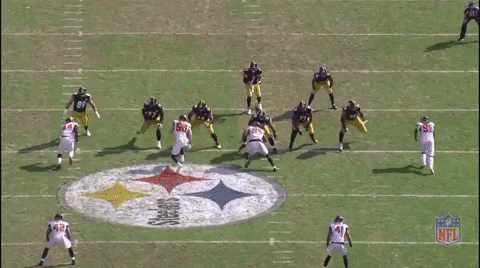 Worst Play – 4th Quarter Fumble Leads To Tie With Browns
Sure, there's plenty of blame to go on Alejandro Villanueva for missing this block on Myles Garrett. When we get to Villy, there's a good chance you'll see this one again. But the running backs number one job is to secure the football. Even in moments like this because hey, plays are going to get blown up from time to time. Don't make a bad one worse.
Up 21-7 mid-way through the 4th quarter, losing a couple yards here wouldn't have been a killer. But a fumble that sets up a Cleveland score? Yeah, that one stings. And it allowed the Browns back into the game, tying it before heading into OT where the game remained knotted.
As long as Pittsburgh didn't screw themselves, they weren't blowing a two touchdown lead against Tyrod Taylor, who could barely get the ball downfield (he completed 37% of his passes and sacked seven times). If there's one recurring complaint with Conner through two years, it's his fumbles.