Series we're bringing back to Steelers Depot that we began last year. A snapshot of the Pittsburgh Steelers 2018 season, a look at the singular best and worst play from each player on the roster. If I wanted to sum up a players season in 30 seconds, these are the plays I would look at.
Let's work our way into the trenches with OG David DeCastro.
Best Play: Drive Block On LB Vincent Rey
It's hard to choose a favorite play from DeCastro's absurdly impressive 2018 season. But this one best embodies the type of player he is. Tough, physical, a man who wants to finish the play and steal your soul. That's what he does to Bengals' linebacker Vincent Rey on this play.
Quick combo on the defensive tackle to make sure Maurkice Pouncey secures the block, creating movement up front. Immediately works to the 2nd level to engage Rey. Sticks, drives, and blows him out of his run fill. Creates a giant run lane for James Conner to take advantage of and it goes for a big gain.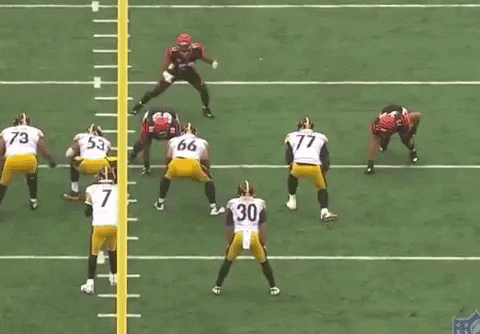 Worst Play: Pressure Allowed Versus Falcons
Finding a negative play from DeCastro is a needle in a haystack. If he had to face the Eagles' Fletcher Cox, the only man I've watched repeatedly get the best of him, there'd be a lot more plays to choose from. According to our sack breakdown, DeCastro didn't allow a single sack and none of his penalties were particularly egregious or costly.
This pressure allowed in Week 5 though did hurt a bit. 3rd and 4, a down/distance where defenses get creative with how they align their pass rushers. Here, the Atlanta Falcons kick DE Brooks Reed inside, giving DeCastro a smaller, quicker pass rusher to deal with (and one that's gameplanned/studied less than DTs).
Reed hits DeCastro with this nasty inside spin move that totally fools him. Creates interior pressure and while Ben Roethlisberger still should've made this throw, it creates an incompletion to a wide-open Antonio Brown. If it's an on-target throw, it's going a long ways.
Instead, an incompletion. Very few ugly reps this year from DeCastro but this was near the top.