Series we're bringing back to Steelers Depot that we began last year. A snapshot of the Pittsburgh Steelers 2018 season, a look at the singular best and worst play from each player on the roster. If I wanted to sum up a players season in 30 seconds, these are the plays I would look at.
Let's flip over to the defense and check out CB Cam Sutton.
Best Play: Interception Vs Browns
Tying with the Cleveland Browns in Week One was bad enough. But blowing a 21-7 4th quarter lead and losing would've been ten times worse. Sutton saved the Steelers from potentially suffering such a fate, recording the first INT by a corner on the year. Unfortunately that trend didn't continue.
But here, a really nice job tracking the ball on this nine route intended for Josh Gordon. Find it, box out, time his jump, finish the play. Impressive sequence in a clutch moment and redemption after allowing a 38 yard catch late in the 4th quarter.
Good bounceback and why I think the team needs to play him at outside corner. Defending anything vertical is where he excels on the football field.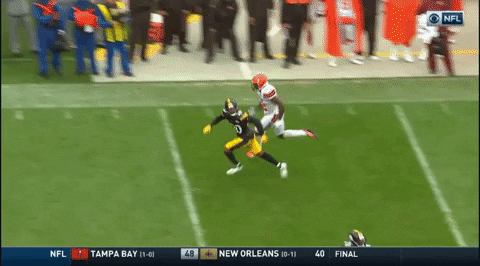 Worst Play: Touchdown Allowed To Baltimore
To be honest, I'm not sure Sutton is entirely at fault for this one. Clearly, there are serious communications at play, but if I had to guess, it was Joe Haden's responsibility to carry this slot fade by John Brown. Steelers were in a Cover 3 shell.
But Sutton staying with the route may have given Haden enough pause to let Brown get by. And even then, Sutton's technique is poor. This is why defenders can't look back for the ball as much as fans want them to. Lose speed, lose sight of where the ball is headed because I promise, the QB isn't trying to throw it to you. It's a long touchdown. in a 26-14 loss.
Sutton's spot and role in 2019 is honestly up in the air. With Mike Hilton seemingly staying at his nickel spot, it makes sense for the team to give Sutton a long look at backup free safety. As of today, Jordan Dangerfield is Sean Davis' backup.