With the 2019 NFL Draft in the books, we're wrapping things up by offering player profiles on all the UDFAs signed by the Pittsburgh Steelers. The franchise's history is strong with diamonds in the rough though in recent years, the classes have been weak. Hopefully this crop changes that trend.
#74 Fred Johnson/OG Florida – 6'6" 330
The Good
Smooth operator in the open field, great movement skills for his size

Powerful hands, never passive in any aspect of his game

Good at reaching into the second level and in space

High IQ lineman who can exchange stunts easily

Solid feet that are quick

Very sturdy anchor
The Bad
Pad level can swell at times, needs to be more flat-backed

Would like to see him vary his sets more

Length not ideal, can get caught up with short arms

Hand placement can be off at times

Leans too much instead of being patient, can get off-balance
Fred Johnson was a surprising UDFA who I fully expected to get drafted this year with his size and movement skills, but it turns out that never happened. The Steelers thus picked him up as a UDFA after he started at Florida the past two years and did incredibly well for himself on film. Johnson was a very solid pass blocker that could stand to improve far more in the running game. His technical issues affect him in both areas, but he has more to compensate in pass protection than he does in run blocking when he is actively trying to get a push on the line.
Johnson's weaknesses show up especially in his pad level due to his massive height. He swells and leans, which causes his base to get off-balance and can cause him to whiff on his block when he is stack or gap blocking on runs. His length hurts him and he tries to make up for that by overextending and getting trapped. It also does not help that his hands can get outside and he gets a bit too grabby at times, which means holding penalties are unfortunately an issue here. Lastly, it is a nitpicky thing, but his sets are very routine and alike, which means against better pass rushers, they are going to be able to beat his repetitious set, so varying that up for mind games would be nice.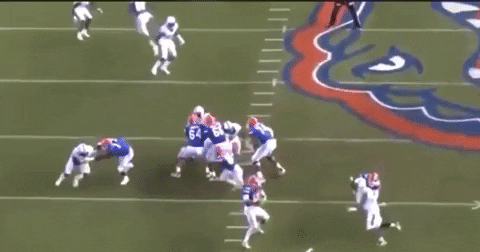 The very first thing on film that jumped out to me about Fred Johnson were his hands. They are absolutely violent. Pass protection is never passive with him as he knocked this ILB who was blitzing right back into his center. It was a beautiful blow and punch to the guy. Subtly, he has very smooth footwork and a solid base here as well. It allowed that punch to really connect for him to not be overpowered. More so though it showcases his high IQ level of play for exchanging stunts, which is heavily advanced for any UDFA.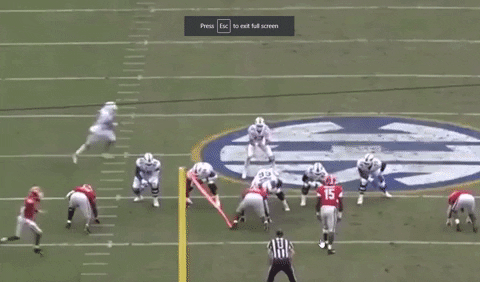 Perhaps his most impressive trait is his movement. At Guard here Johnson effortlessly reaches the DB on the screen and does manage to get his hands on him enough to at least aid the ball carrier to get a few extra yards as he was headed to the sideline. Johnson's moving about as well as you can for a dude at his size and that movement skill is exactly the same type of movement skill Ramon Foster had coming out of Tennessee.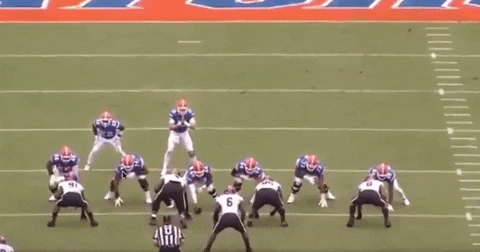 This one was just silly. Watch #74 here, he is an absolute tank coming in the open field ready to destroy anyone he encounters on his way. His fluidity and straight line speed are incredibly impressive.
Fred Johnson is an impressive player for a UDFA. He is one of those guys that should have been drafted as a late round flier simply because the guy is so talented for his size even with his limitations. He will need some coaching, but there is no reason why he should be able to make a contribution. If there were a UDFA I would bet on making the roster at this time, Johnson is the guy I would bet on.
Chance of Making the Team: 50%
Games watched: vs Georgia, vs South Carolina, vs Kentucky, vs LSU, vs Michigan