It's been bugging me for awhile. So last night, I went back through videos, photos, and articles and am confident Kevin Colbert attended Michigan State's Pro Day last month.
A trip I don't believe has been reported anywhere, Colbert ducked under the radar at the event that still housed several intriguing prospects. There was this photo I found that showed someone who sure as heck looked like Colbert sitting down during the vert.
Sitting through a post Pro Day interview with Spartans' head coach Mark Dantonio, you can see Colbert pop into frame on the right side here.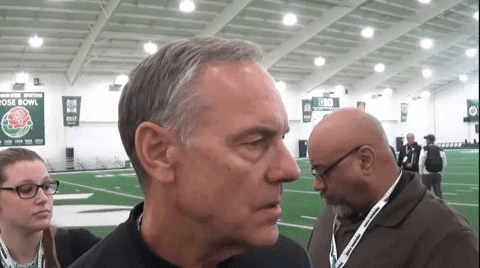 I know, we're going all Zapruder film on it but you guys know how critical these things are. So it's good to be able to put this "mystery" to rest.
Michigan State makes for the 9th Pro Day Colbert attended in 2019. The rest are: Alabama, Michigan, LSU, Clemson, Notre Dame, Texas, Texas A&M, and West Virginia.
Colbert, as is almost always the case, doesn't travel alone to these workouts. Joining him were defensive assistant Teryl Austin, RBs coach Eddie Faulkner (shown below), area scout and his son Dan Colbert, and at least one other personnel member, possibly Player Personnel Director Dan Rooney Jr.
Earlier in the video with Dantonio, Colbert can be spotted having a conversation with one of the Spartans' players working out. That player appears to be linebacker Jon Reschke. He spent 2017 away from the team after being caught using a racial slur in a text message but rejoined the team last year, recording 33 tackles (6.5 TFL) and half a sack. In 2015, he was tied for 4th on the team with 75 tackles. He's almost certainly going to be undrafted and may enter a camp on a tryout basis.
Justin Layne is the top rated Spartan in this year's class who could be a candidate for the Steelers at #52 should he fall that far. The team brought him in for a pre-draft visit, one of several corners who've come in. Fun stat for you. Pittsburgh's 2nd round pick has been someone either brought in for a pre-draft visit or attended by Colbert/Tomlin for their Pro Day in seven of the last eight years. JuJu Smith-Schuster is the lone exception.
L.J. Scott is a Day Three candidate at running back whose garnered some Le'Veon Bell comparisons. Khari Willis is a hard-hitting safety in a similar mold to Marcus Allen while TE Matt Sokol is a quality UDFA candidate.