Terrell Edmunds wasn't supposed to play 907 snaps. That wasn't the plan for the entire season, let alone through the first three-quarters of the season. But with Morgan Burnett rarely healthy this year, the Pittsburgh Steelers were left no other choice. And so Edmunds saw his snap count balloon up. All things considered, Keith Butler believes the rookie is holding his own.
"He's done a good job holding up, I think," Butler told reporters yesterday, according to the Steelers' communication department. "I tell him he's no longer a rookie. He's played enough football to not be a rookie anymore. I think he's gotten better over the year and I think he'll continue to get better."
Edmunds 907 snaps, including what he's done on special teams, is the 6th most of any non-offensive linemen this year and the most by any Steeler, regardless of positions. For rookies, he's played the 2nd most snaps of anyone, trailing only Colts guard Quenton Nelson. Edmunds has already played more total snaps than T.J. Watt did last year (901).
That's plenty of exposure for a rookie but means quicker progress. Butler believes Edmunds is playing much faster now than the start of the year.
"If he's faster on the field than he has been, it's because he understands the game better and for us, that's a good thing. It's good for him, too. He gets a little more confident when he does that, when he understands the game better, what we are asking him to do, while we are asking him to do it, then he's going to appear faster."
Edmunds showed that confidence against the Chargers, recording his first NFL sack – and first by a Steelers' DB all year – and popped running back Austin Ekeler to blow up a screen.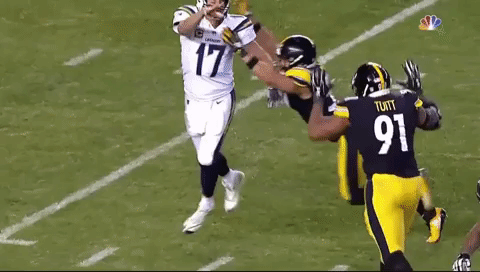 Ideally, Edmunds was going to be used in the Steelers' dime packages, playing in obvious pass situations. But Burnett's constant injuries quickly changed those plans and thrust Edmunds into an every down role. It's asked a lot out of a guy who is supposed to be finishing up his senior year at Virginia Tech and that context should be considered when evaluating his play.
Still, you want to see more physicality from him playing the SS position, that Ekeler hit aside. And obviously, the safeties have created very little splash. Edmunds has just one interception from way back in Week Three against the Tampa Bay Buccaneers.