As we have been for several years now, we'll break down the Pittsburgh Steelers' opponent each week, telling you what to expect from a scheme and individual standpoint. Like last year, Dan Vasko and I will cover the opposing team's defense. I will focus on scheme, Dan on the players.
Today, our second look at the Baltimore Ravens' defense.
Alex's Scheme Report
Ravens Run Defense
This defense is excellent across the board and it's not even worth debating which unit is stronger – their run or pass. They're allowing just 3.9 YPC, seventh in the league and honestly, this even feels high for them but still an excellent number. They have allowed a decent amount of 10+ yard runs, ranking below average with 26 given up, but the safeties keep a lid on things. Only three of those have gone for more than 20, top five in the NFL.
There's still a lot of beef up front. Brandon Williams and Michael Pierce will rotate up front but they'll also both be on the field in some nickel packages. Brent Urban and Chris Wormley started last week at defensive end. Long, well-coached bunch who use their hands well and disengage from blocks.
C.J. Mosely's status is uncertain but if he plays, he's the rock of that defense. In the Ravens' base 3-4, Patrick Onwusasor is the other ILB (he's a former safety) while Kenny Young works in their nickel package. Young continues to play as well as we highlighted him a month ago. Super athletic, good balance, high effort and finishes plays.
The outside contains usual suspects. Za'Darius Smith and Terrell Suggs will start with guys like Matthew Judon rotating in. Tim Williams may not play due to injury; he sacked Ben Roethlisberger in Week 4.
Baltimore, and this is a trend with their defense, are tops in most categories. Even after giving up 36 to Carolina last week, they still lead the league in PPG (17.3). They have the second best third down defense at just over 31%, trailing only the historically good Minnesota Vikings. Perhaps the only blemish defensively, and it's still good, is their 13th ranked red zone defense. Steelers will have chances to finish drives…if they can get in range.
Ravens Pass Defense
Superb group top to bottom. Rush and coverage really working together well. They're tied first in completion percentage allowed (59.5%), YPA (6.3), top five in TD passes given up (10), and second in QB rating (82.6). Baltimore leads the NFL with 27 sacks and while yes, 11 of those came in a slaughtering of Tennessee, it still counts. An absurd 13 different Ravens' defenders have registered at least one sack this year. Five of their 27 come from the secondary. Suggs and Smith are tied for the team lead with 5.5.
They allow very few big pass plays. Just 21 completions of 20+ yards, that's tied for 7th fewest while they and the Colts are the only two teams in the NFL not to allow a reception of 40+ yards. Pretty unbelievable for this point in the season.
No surprises in terms of personnel. Jimmy Smith and Brandon Carr at CB with Tavon Young still working the nickel spot. Tony Jefferson, Eric Weddle at safety, a fantastic tandem, while Anthony Levine works as the dimebacker. Lurker in coverage and effective blitzer. Their dime package can come in different groupings but a 1-4-6 look is pretty common. Get their athletes and pass rushers on the field. Stand guys up and align them all over.
Always credited Baltimore for disguising their coverages well. Have the experience and talent to hold their coverage until the last second, late to rotate safeties or buzz one into the flat. Some of that scheme, some of that gameplan. Last week, it appeared the Ravens made it a point to match Weddle on Panthers' RB Christian McCaffrey, rather than putting a LB on him. The Steelers don't have that kind of player but you get the idea. Ravens want to take away your best players even if that means doing something a little unconventional.
3×1 sets often have the Ravens check into Cover 1. More zone against 2×2.
They play some combination coverages too. Early against the New Orleans Saints, they "locked" the RCB on the X receiver, bracketed over the top, and played zone to the bottom.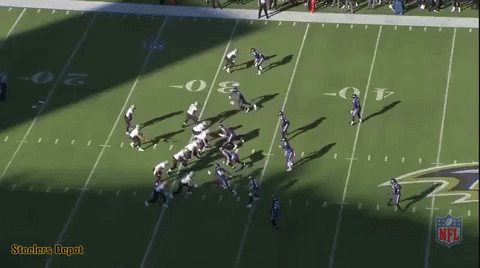 Might be worth trying some pick/rub concepts down near the goal line. Slant/flat combinations. Ravens played man coverage against this Twins set. CBs got picked, didn't banjo and pass it off.
One last note about the Ravens' special teams. The Saints executed a fake punt against them two weeks ago. And this year, they've had three blocked kicks (two field goals, one punt). Good time to make up for last week's mess for Danny Smith's unit.
Dan's Individual Report
Defensive Line
Michael Pierce and Brandon Williams rotate as the nose, Brent Urban and Chris Wormley are the defensive tackles. We'll include the edge rushers in this unit as well being of course Terrell Suggs and Za'Darius Smith.
Most times with this Baltimore defense they'll employ two down linemen with two outside edge rushers, occasionally three down with a strong-side edge.  Pittsburgh saw a lot of this in week 4. And as we know by now, they're not afraid to make several rotations on any given drive. Now onto the player analysis.
On pace for yet another double-digit sack season, Suggs is still the anchor for this pass rush/front four.  He provides a consistent force on any down, is known to bat down balls at the LOS, but as we know his biggest value comes as a pass rusher. Take this play, for instance, against the Steelers earlier this year.
The Steelers are in shotgun with Suggs (55) lining up on the strong-side of the formation on the outside shoulder of Alejandro Villanueva. Suggs takes a wide angle into the backfield forcing Villanueva to quickly open his hips and delay the point of attack.
What Suggs does really well is creating leverage before he's even engaged the tackle by the way he positions himself in the pursuit (notice he makes sure the tackle can't square him up and get hands on his right side). Here he attacks Villanueva with his left shoulder almost perpendicular to him. This allows Suggs to  use his left arm as an anchor while using lower-body power to burst around the corner.
At this point Villanueva is out-leveraged and can only hope to seal Suggs long enough for Big Ben to get the release off. Now Roethlisberger is actually able to get the throw off in time, although the pressure forces an errant pass that went to nobody. While it's not one of Suggs' 5.5 sacks this season, it demonstrates what makes him such a dangerous weapon, especially since this could have nearly been a forced fumble going the other way.
We broke down the play of Brandon Williams previously this year, so let's shift to Brent Urban, the man with the thankless job. He's not very flashy, won't be seen getting very many sacks, or blowing up the backfield, but rather Urban does a great job of shifting a play elsewhere and plugging the gap. On the following play, Urban makes the tackle for no gain, and more importantly displays his ability to not only plug the gap and take on a double team, but to hold his ground while also pursuing the ball.
Here Urban (96) is lined up directly on the left tackle. The Panthers pull the right guard and tackle, leaving Urban double-teamed with the left tackle and tight end. Initially the LT is hoping to jam and then move on to the linebacker, but Urban pushes the block to the outside knowing the LB has the inside gap. Because of this, the tackle makes another effort to gain a push before disengaging, but Urban holds his ground all the way through. He doesn't give up barely any ground.
At this point the running back approaches the "C" gap to the outside and Urban shows his upper-body strength with a left-hand shove to the tight end making way for the tackle at the line of scrimmage. By holding the left tackle for a split-second longer, by conceding no ground to the double-team and by forcefully shifting to the outside, Urban makes this play work all by himself. If there's one thing you can say about this defensive line is that it's  very hard to move.
Linebackers
C.J. Mosley is the mike, Matthew Judon is the sam, and Kenny Young/Patrick Onwuasor rotate at the will.
At the time of this writing Mosley has been a non-participant in practice with a thigh injury, but it appears this may be more precautionary than a good indicator of potentially being inactive. Tim Williams has also been out of practice, so if both are out the Ravens would be fairly thin at linebacker in which case we'd see even more rotation with the likes of Chris Board and Tyus Bowser.
Mosley is a very talented all-around type of linebacker. Very good in coverage, has good combination of size and speed to attack the backfield while also tracking down backs on the outside. He's been banged up throughout this season, but has still produced well in his seven starts.
Young has performed quite well for a rookie and has seen a good amount of time given various injuries to the unit. He's seen a slight drop-off over the past couple of weeks, but that's bound to happen in a "committee" approach. He's best utilized in the passing game, as he's a bit undersized for the position, but has great cover skills and the speed to match. Onwuasor, on the other hand, is a veteran that brings experience to the position plus a complementary skillset to Young as he excels against the run.
Matthew Judon, to me, is one of the most talented outside linebackers/edge rushers in the league. He's long, insanely athletic, and has a mean pass-rush. Check out how he uses his hands on the Titans' Taylor Lewan, one of the best tackles in the game.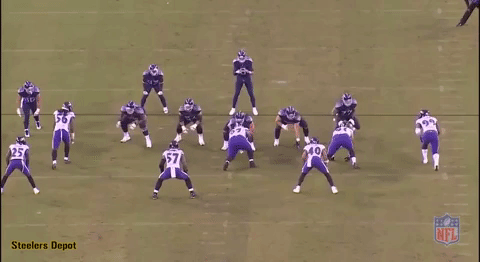 Judon is very active with his hands when engaging blockers, first swiping with his right and then his left giving himself an angle to the quarterback. What makes this work so well for Judon is his speed. By the time Lewan can get a hand on him, Judon is already into the backfield with Lewan turned 180 degrees. Pressure from the inside gives Marcu Mariota nowhere to go but into the arms of Judon.
Defensive Backs
RCB Jimmy Smith, LCB Brandon Carr, Strong Safety Tony Jefferson and free safety Eric Weddle. Tavon Young will get mostly slot duties at nickel, along with Anthony Levine Sr.  Marlon Humphrey will be a valuable rotational piece along the perimeter.
Jefferson has been out with a hamstring injury and may not be available on Sunday, paving the way for Levine to get the start. Humphrey had been injured throughout the week, but practiced Thursday and should be set to go. Chuck Clark will enter the mix in nickel packages as well.
Having Smith back is a huge benefit to the Ravens; they were without him in the week 4 matchup with the Steelers. Smith is a prototypical shut-down corner. Great press, very long and can jam receivers well, great hips and can run with the faster guys. Great at re-routing; he won't make the simple routes easy at all. A major upgrade for this unit.
Weddle is still performing at a high level. He and Jefferson are used in a multitude of ways; they cover a lot of ground within this defense. Carr remains a very solid, consistent corner. With Jimmy Smith, they're a formidable tandem, and barring further injury to the entire defense, they will be a much different unit than what Pittsburgh saw over a month ago.