James Washington thought it was a sure-fire touchdown. The rookie, standing on the other side of the field, raised both arms in the air. Touchdown. 
Call that a rookie moment, one of many I'm sure he's had. After all, it was Jesse James who had just caught the ball. And as much as I respect James as a player, he's much more tortoise than hare. So it went for a 51 yard gain, not a touchdown.
But that begs the question. How did James get so wide open? And how did the Ravens allow their first reception of 40+ yards this season?
After the game, Ben Roethlisberger offered a brief explanation.
"We had been waiting for that call all day," Roethlisberger said post-game. "We saw them doing something so we finally had the opportunity to call it."
It makes for a great chance to break down what makes for an effective offensive coordinator. How one play sets up another and how you can burn a team by something set up two quarters earlier.
Here's the first play in the sequence. A couple factors are critical in trying to determine a team's tendencies. Down, distance, line of scrimmage, formation. That's how you scout an offense/defense, those are the parameters coaches work around. On 3rd and 7-11, out of 11 personnel, X team likes to run mesh out of 2×2 between their 20 and 40. That's a specific tendency.
In the mid-second quarter Sunday, the Steelers were facing a 2nd and 10 from their 25. They come out in a 3×1 formation with the TE as the "nub," isolated to the backside. Three receivers to the bottom.
The Ravens send an ILB blitz, a five man pressure, with a three under-three deep zone coverage. Jesse James, the backside Y tight end, runs a nine yard out route against LCB Brandon Carr. With no other vertical threat, Carr drives on it, covers it, and ultimately, the play breaks down. Roethlisberger is able to squeeze out an eight yard completion to Antonio Brown.
A look at the entire play.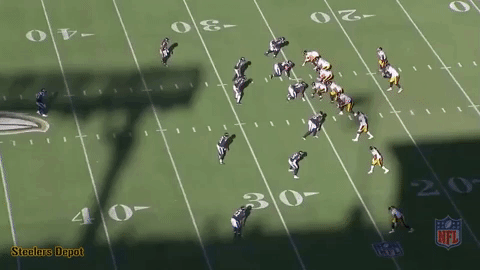 James had no significant role on that play. It just looked like a well-covered out route. But those are the things a good OC has to recognize. And keep in his back pocket for later.
The Steelers ran this two more times, as Dave Bryan pointed out to me when we both went back to the film. Even before the James catch, they hit Vance McDonald on 2nd and 10 from their own 25 early in the 2nd quarter. 3×1, McDonald backside, on the out, this time, versus Jimmy Smith.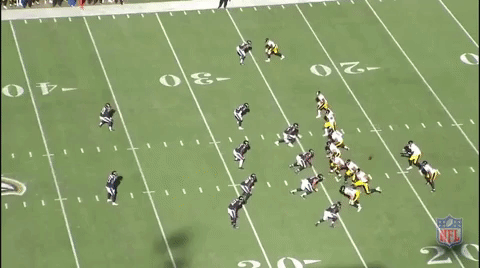 Once more in the third quarter. The field position and down/distance was a little different, 1st and 10 in Ravens' territory, but again, 3×1 with the Y running the out. This time, on Carr.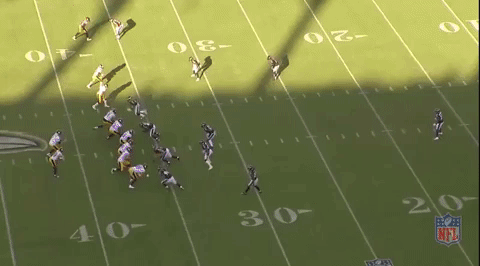 Finally, let's fast forward to the 4th quarter. 2nd and 9 at the Steelers 28. They come out in a 3×1 formation with the TE as the "nub," isolated to the backside. Three receivers to the bottom. The same look as above.
Guess what? Baltimore responds the same way. Only a four man pressure this time but a four-under, three deep zone coverage with special attention to JuJu Smith-Schuster over the middle.
James runs his out. Carr, like before, drives on it with no other threats in his area. But this time, James converts his route from an out route to stem vertical. He swims over Carr to the inside and beats him cleanly, creating tons of space.
Easy throw for Roethlisberger, his pump fake ensures Carr will jump it, and James makes a juggling catch but a reception nonetheless. Carr finally tracks him down for a monster gain. The drive only ended in a field goal but it made it a two possession game, enough for the Steelers to hold on and secure victory.
And you can see Washington's celebration at the bottom here.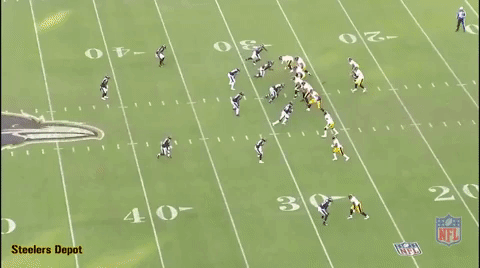 The Steelers actually tried to run the double-move on Carr earlier in the second half but it was a different down/distance (2nd and 6 from the Ravens 21) and Carr wasn't fooled. But they got him the second time around in a situation where he was expecting it.
On his weekly radio show on 93.7 The Fan, Roethlisberger talked in greater detail about the play.
"I got back out there and I called that very next play to Jesse, I had been waiting for that. We had been setting it up all day running out routes to him and Vance and completing it. I was hoping they were going to jump on it and sure enough we got it. I've never wanted to celebrate too early, but as soon as I released it, I said to the linemen that were standing around me, 'We got em boys, got em.' And sure enough, Jesse caught it."
That's how someone like James gets open. That's all scheme, knowledge, and attention to detail from Randy Fichtner. Sometimes, it's difficult to see a coordinator's impact. Much of their work is done behind the scenes. This? Plain as day. Big kudos to the call and execution.