Through six weeks, Cam Heyward and Stephon Tuitt have combined for 3.5 sacks this season. That's uglier than last night's Monday Night Football broadcast.
It's unfair to say they've played as poorly as the numbers suggest. There's been pressure. There's been close plays.
But is there a bigger reason for why neither have been able to consistently get home? It's hard to say with certainty. However, going through the final drive explains why those numbers have been so low.
It's an idea I've floated out before. And I admit this post isn't exactly comprehensive. I haven't gone through every single snap again. But we know two things.
1. Keith Butler is blitzing at an all-time high rate.
2. The OLBs have struggled to consistently win. T.J. Watt has played well in bursts but he's been streaky. All six of his sacks have come in two games, Cleveland and Atlanta.
That's meant the ends haven't had nearly as much freedom this year. Blitzing means Heyward and Tuitt don't have "two way gos," the ability to beat their man in either gap. They're assigned to a spot so the blitz can get home. Makes it a lot tougher to win as a pass rusher who you don't have a choice.
And with the outside linebackers struggling to win their matchups, Butler has had to resort to tons of twists and stunts to free those guys up. That means Heyward and Tuitt, on this final drive, but also during chunks of the season, become space-eaters, designed to contain the outside, and hope the linebackers get free.
Three times on the final drive, the Steelers' DL – Heyward, Tuitt, or Javon Hargrave – were asked to be the contain man on a T/E stunt. Let's take a look at all three.
This comes on the second play of the series. Stunt to the right side between Stephon Tuitt, the looper working to the tackle, and T.J. Watt, the crasher hitting the A gap. It doesn't get home, passed off nicely by the Bengals, and Andy Dalton has a clean pocket to throw from.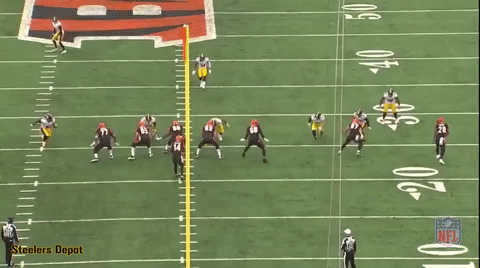 Here are the Steelers trying it to the other side with Heyward and Bud Dupree. Not much success here either and Dalton gets the ball out with a clean pocket and throwing lane.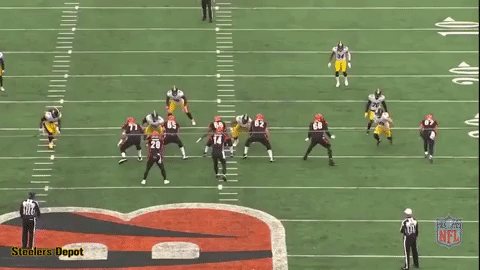 Heyward and Tuitt subbed out for a pair of plays before the two-minute warning, a fair bit of strategy by the coaching staff. That brought in Tyson Alualu and Hargrave, who weren't asked to do much. Again, Hargrave has edge contain here while Watt tries to dip through the B gap. Like before, not much doing and Dalton has plenty of time.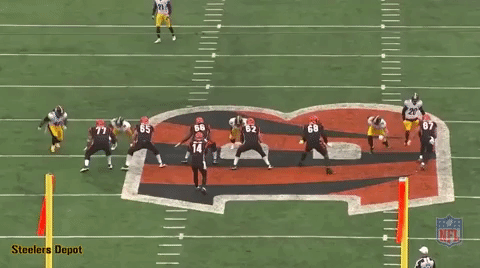 Doing this with Alualu and Hargrave makes a little more sense though the execution is still ugly.
Two other times on the final drive, Butler called a DT twist with Heyward and Tuitt. That's designed for them, not the OLBs, but with the time it takes for those two to cross and get vertical, while rushing just four, these plays have no chance.
This came on the first snap of the drive.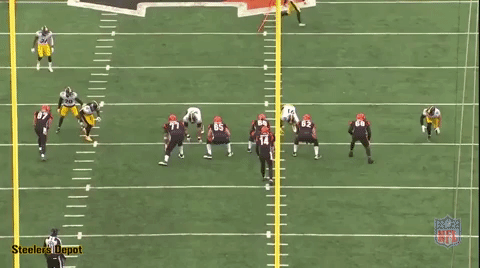 And here it is on the play before Joe Mixon's rushing score. You know the ball is likely to come out quick here and it does. Stunt has no chance and Dalton hits A.J. Green for a quick out to the sideline.
Also getting dime pressure from Cam Sutton, which restricts where Heyward can go all the more.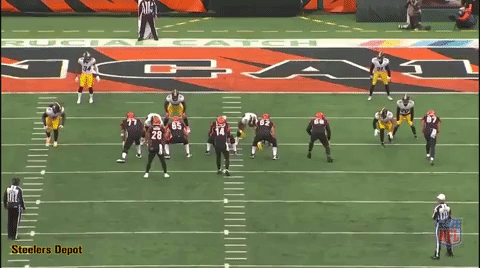 Look at any of those plays and tell me how Heyward or Tuitt were expected to win and get pressure. On their seven pass rush snaps this drive, both guys stunted three times
And listen, I get it. I can't be too critical of Butler here and I'm sincerely not trying to be, though those DT stunts aren't my favorite. He sorta has to do this stuff. Dupree and Watt simply don't win reliably enough on their own to let everyone pin their ears back. You have to manufacture a good portion of their pressure and stunts play a big role in that. It's worked before, these types of blitzes getting home in the regular season matchup last year.
I'm less looking to outright complain as I am trying to explain why Heyward and Tuitt's sack numbers are as low as they are. What they're being asked to do so often doesn't put them in a spot to win, only contain and squeeze. And you're not racking up a dozen sacks doing that.