We're going to take one final look at Sunday's Pittsburgh Steelers debacle of a loss to the Kansas City Chiefs, 42-37, at Heinz Field.
The Steelers offense was spectacular, rolling up 35 points at home, but the defense once again let the Steelers down in a big spot, allowing Patrick Mahomes and the Chiefs to throw all over them.
One week after having a solid showing in the tackling department in a downpour at Cleveland, Pittsburgh really came back to Earth on Sunday, recording one of the highest total missed tackles numbers I've seen from them in my four years tracking this for Steelers Depot.
Let's take a look.
Total missed tackles vs. Chiefs — 17
Sean Davis — 4
Mike Hilton — 3
Terrell Edmunds — 2
Artie Burns — 2
Vince Williams — 2
TJ Watt — 1
Cam Sutton — 1
Anthony Chickillo — 1
Roosevelt Nix — 1 (special teams)
Total missed tackles through 2 weeks — 29 (14.5 misses per game on average)
Mike Hilton — 5 (1 one special teams)
Sean Davis — 4
Vince Williams — 4
Stephon Tuitt — 3
Terrell Edmunds — 2
Artie Burns — 2
Joe Haden — 2
TJ Watt — 2
Cam Sutton — 1
Cam Heyward – 1
Tyson Alualu – 1
Anthony Chickillo — 1
Roosevelt Nix — 1 (special teams)
Not only did the Steelers allow 42 points at home, they missed 17 tackles in the process. Sure, that's just 5 more than last week, but take a look at who missed those tackles this week: 12 of the 17 misses came from secondary players. That's egregious.
Sean Davis is obviously going to stand out at the top of that list and have everyone jumping back off the bandwagon after a clean sheet in Week 1, but the 4 misses aren't as bad as the numbers would indicate.
However, he needs to be much, much better as the last line of defense. Hopefully Sunday's showing was a minor blip on the radar for the young safety.
A guy like Mike Hilton is one to be very concerned with though, considering he's now missed at least 2 tackles in the first 2 games of the season. Tackling was his strong suit last season, but this year he's really struggled to get going. Maybe missing action in the preseason has hindered him a bit. We'll see, but there's definitely reason to be concerned with Hilton in the tackling department.
Terrell Edmunds had a rough game Sunday, from both a tackling perspective as well as in coverage. One of Edmunds misses led directly to a touchdown. More on that later.
If the Steelers want to get going defensively, the secondary needs to be much better in the tackling department. You're rarely going to win games when you can't really stop an offense, and your secondary players are recording 55 percent of your team's missed tackles through two weeks of action.
Let's take a look at some of the biggest misses.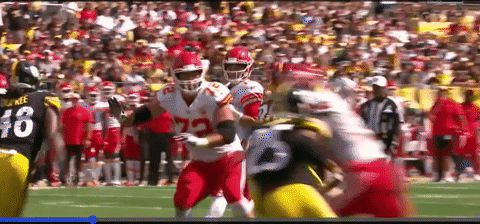 As I alluded to earlier, Edmunds' biggest miss of the game came on Kareem Hunt's 5-yard touchdown catch that put the Chiefs up 21-0 midway through the first quarter.
The miss by Edmunds is a play that he was drafted to make:  one-on-one in the flat with a running back. A sure tackler in college, Edmunds was hesitant once Hunt caught the ball, allowing the Chiefs back to create an angle on the rookie safety. Once the angle was created, Edmunds was in recovery mode, lunging for Hunt.
The powerful back was able to easily walk through Edmunds' arm tackle for the score.
After the Steelers offense did all that work to tie the game at 21-21 heading into the half, the Steelers defense promptly came out to start the second half and gave it right back with shoddy tackling.
No, Tyreek Hill didn't bust this one for a long, highlight-reel touchdown, but look at the missed tackles in space by Artie Burns and Davis.

Burns gets beat off the line by Hill, and Mahomes does a great job of throwing back shoulder down the sideline. With Burns in trailing here, he should be able to cut down Hill quickly. Instead, the much-maligned corner runs right past Hill, allowing the speedy wide receiver to get out of trouble on the sideline and work back into open space near the hash marks. As that happens, Davis takes an awful angle and overruns the play. Fortunately, Burns is able to recover quickly to make the stop, shutting down any potential touchdown by Hill.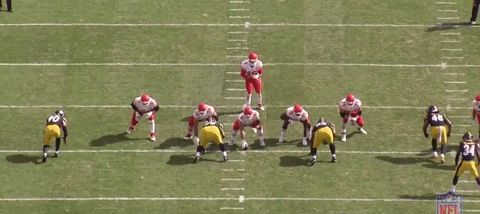 Finally, the most egregious misses from the game on Sunday comes from Hilton and Davis on Sammy Watkins.
This is a simple curl by Watkins that results in an easy completion from Mahomes with the Steelers in off-man coverage.
Hilton does a good job of closing and getting in position to make the stop on Watkins, but the Chiefs receiver does a great job of spinning out of the tackle attempt quickly after making the catch. This is a play Hilton has to make though to stay on the field.
Following Hilton's miss, Watkins makes Davis look downright silly in space. Look at the swim move by Watkins. It's a dangerous play by the Kansas City receiver because he exposes the ball, but Davis just flops to the ground on the miss. I'm not sure what happened to his game from Week 1 to Week 2, but he's got to channel his Week 1 performance more consistently. Plays like this are why the fan base has soured on him, and why he's been considered one of the worst Steelers defenders in recent years.
Moving in a more positive direction, the Steelers did force a whopping 23 misses on Sunday. The 23 forced misses means the Steelers finished +6 on the afternoon. That says more about the Chiefs defense to me than it does the Steelers ability to force misses. That's not me trying to be negative either. Watching some of the Chiefs misses, it made me feel a lot better about the Steelers tackling woes honestly. Even the Steelers aren't THAT bad in that department.
Forced misses vs. Chiefs — 23
James Conner — 8
Antonio Brown — 7
Ben Roethlisberger — 3
Ryan Switzer — 2
JuJu Smith-Schuster — 1
James Washington — 1
Vance McDonald — 1
 Forced misses through 2 weeks — 33 (16.5 forced misses per game)
James Conner — 14
Antonio Brown — 7
Ryan Switzer — 6
Ben Roethlisberger — 3
JuJu Smith-Schuster — 1
James Washington — 1
Vance McDonald — 1
The name that stands out on this list is obviously James Conner, who is filling in quite well for Le'Veon Bell through 2 weeks. Conner has done most of his damage with forced misses on catches out of the backfield. Against the Chiefs, 5 of his 8 forced misses came on easy dump-offs out of the backfield. He's really adding a major element to the offense with his ability to force misses in space.