Last week, I criticized Keith Butler pretty hard for the miscommunication and schematic breakdowns that led to the Kansas City Chiefs throw at will against the Pittsburgh Steelers' secondary. But I said if things got cleaned up, we'd talk about that.
By no means does this one play means things are perfect, clearly, there's still 100 issues, but wanted to show one play that's at least a step in the right direction.
Flashback to the first touchdown the defense gave up against KC. 15 yard score down the left seam to Chris Conley. Empty set, a smoke/seam combination against Cover 3. Mike Hilton doesn't carry #2 – Conley – vertical and Burns has no chance to close in time. Easy touchdown.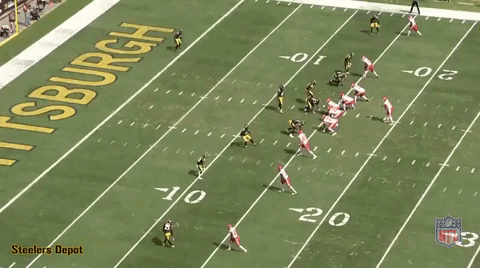 Now let's jump to Monday night. Buccaneers try to do the same thing. Empty set. Smoke/seam against the Steelers Cover 3 shell.
This time, Hilton has a much better feel for the route behind him, eyes on the QB, and sinks as Ryan Fitzpatrick begins to throw. Squeezes it, dives, and breaks it up for the incompletion.
Maybe not a perfect play, Hilton was a little late to get depth but much better than before. No question about that.
Take a look at both plays back-to-back and you can really see the difference.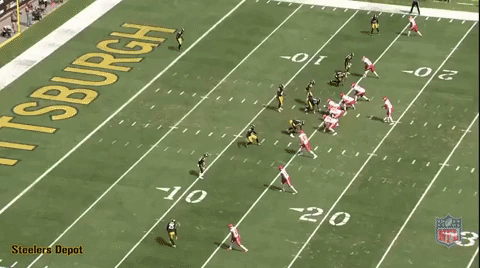 It's just one small step but it's one in the right direction. And at least shows this defense is solving some of the very obvious problems that killed them against KC.