No, I'm not proclaiming Ola Adeniyi as the next James Harrison. But if you caught him out of the corner of your eye or were on your 5th (or 6th…or 10th) beer, for a second, you might think they're the same person.
Adeniyi, as he had done in training camp, proved to be a headache for Philadelphia Eagles' offensive tackles Thursday night. He recorded his first career sack and forced fumble, all on the same play, that Keion Adams fell on. The move Adeniyi used was one of his go-to pass rushes. Nothing fancy. A rip and dip of the edge versus the taller tackle.
Sound familiar?
Let's take a look at how the rookie won and made him a familiar name in Pittsburgh…even if it's one hard to pronounce.
Here's the tale of the tape. The Eagles LT is Jordan Mailata, their former rugby player who stands in at 6'8, 346 pounds. Adeniyi is 6'1 with high heels on, instantly giving him the height mismatch. Rip the edge, force the tackle to try to bend and get into your pads. If he can't, you can turn the corner.
Rushing around the edge from his ROLB spot, Adeniyi begins the rush with a strong punch from his right, outside hand. That knocks the tackle's hands down and prevents him from getting into Adeniyi's chest, allowing him to turn the corner and not get pushed upfield.
From there, Adeniyi just needs to finish. He shows the hip and ankle flexibility to turn the corner and uses his left, inside hand/arm to rip under Mailata on his path to the QB. He finishes at the top, poking the ball out, and Adams winds up jumping on it to complete the turnover.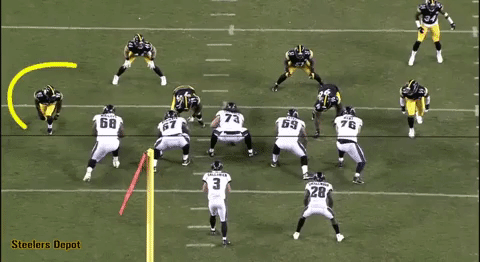 That's all it takes. Don't need to make it look fancy because, frankly, it isn't. Quick, efficient, violent hand use and the ability to finish. It's a tremendous rep.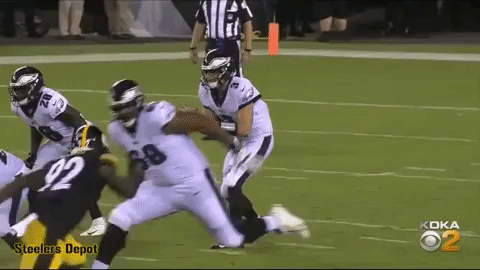 Harrison, of course, had a similar move in his arsenal. You could pull up a 100 of these rushes but my mind immediately jumped to Deebo's game-sealing sack against Eric Fisher in Week 6 of last year, helping to beat the Kansas City Chiefs. It's a little different and you see the nuances from Harrison you don't get from a rookie – Harrison reduced his split right before the snap to give the inside/out threat – but the idea is the same. Use your lack of height as an asset and show the strength to rip under the tackle and turn upfield.
These two look pretty similar, don't they?
Again, don't expect Adeniyi to go rewriting Steelers' history books. And his win did come versus one of the rawest players at his position. It's like beating Alejandro Villanueve in his rookie year. But what I like about Adeniyi is that he has a pass rush plan. He knows how he's going to win and in camp, has shown enough inside counters that tackles can't just sit on this dip and rip. It makes him pretty advanced for a rookie. Heck, Bud Dupree is still trying to figure out his plan and he's in Year Four.
What I'm saying is this. Expect Adeniyi to make a couple more of those impact plays before the preseason ends. And he might just find himself sitting on the 53 man roster come Week One.