Wanted to do a quick check in on Christian Scotland-Williamson, the hulking tight end leaving rugby to give professional football a shot. It's an admirable story and he's guaranteed to stay on the roster this year, granted a practice squad exemption as the 11th man.
But as you'd expect, it's been a difficult first year for him. Picking up the nuances of the position and heck, just some of the rules of the game. His training camp was awfully quiet, three receptions total across 15 practices. He's been targeted just once in the preseason, a short catch in Week 1, but today, I wanted to look at two quick examples of his run blocking. There's been his fair share of struggles there, too.
Let's start back in Week One against Philadelphia. 3rd and 1. There are probably several issues on this play but it looks like CSW needs to base block the LDE, sealing him to the outside and creating a gap for Stevan Ridley. But he whiffs on the block and Ridley, along with an unblocked linebacker up the middle, stop him short of the sticks.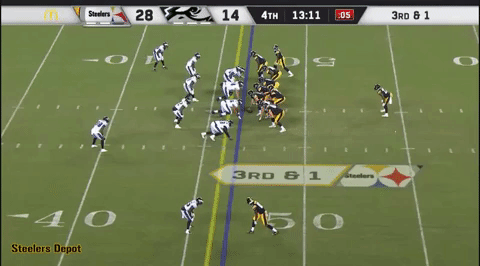 It's also possible he blocked the wrong man, needing to step down and let the WR try to crack the end. Think that's less likely but either way, it's a negative grade and result.
Then there's last week. Classic example of needing to be able to adjust on the fly depending on how the play develops. Counter run with guard Chris Schleuger and Scotland-Williamson pulling across right to left. Schleuger sees the first defender, "first color," and kicks him out. No problem there.
Seeing that, Scotland-Williamson needs to find the next color, the next defender. That means turning upfield and off Schleuger's inside shoulder to the LB or DB that you know is coming down into the alley. Instead, he doesn't, and winds up double-teaming the man Schleuger is blocking.
That leaves the defender free, forcing Jaylen Samuels to try and bounce the run, bump into his blockers, and it goes for a three yard loss. A play that could've gone for a good chunk of yards had it been executed correctly.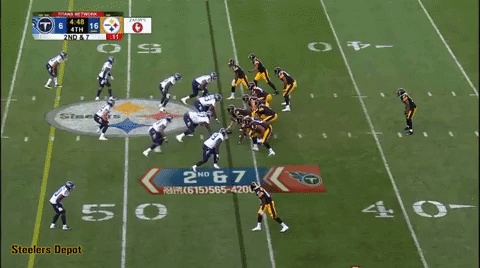 I'm not trying to kill Scotland-Williamson here. No one should've expected an eye-popping camp. It's his first year, so much to learn, so many mistakes that will allow him to do that. But we haven't written about him in awhile and he's one guy you can expect to be back in camp next year. This will help provide a baseline to compare him to come 2019.