New series I'll pop up from time to time to try and make the offseason at least feel a little quicker.
The Internet is a great place for some wayback Pittsburgh Steelers' games that you and I have long forgotten about (or not been alive to remember in the first place). That in mind, we'll occasionally post clips of random – and sometimes meaningful – plays from at least a decade ago.
No, it might not have been his most impactful interception. That honor goes to his pick six in the 2008 AFC Championship Game. And it definitely won't be among the most remembered; heck, his non-interception against the Colts in 2005 has lived in the memories of Steelers fans for much longer.
But to me, Troy Polamalu's greatest INT – the one leaving me thinking how did he do that, even knowing it was #43 – came against the Philadelphia Eagles in 2008.
And honestly, thank God for that. Because otherwise, it was a spectacularly sucky day to be a Steelers fan. A 15-6 loss to the Eagles where Ben Roethlisberger was sacked eight times (Byron Leftwich also taken down once for good measure). The offense threw up on itself like a college kid frat party, passing out in the bushes while the Eagles' defensive line wrote on their faces with Sharpie.
Pittsburgh converted only two third downs, rushed for 33 yards, and never found the end zone.
Then there's Polamalu. Literally a ray on sunshine on a cloudy day. On the Eagles first drive of the second half, Pittsburgh desperate for a spark, quarterback Kevin Kolb fired a slant over the middle for TE L.J. Smith. Give Bryant McFadden credit, he read the route, drove on the all, and volleyed it up into the air.
Troy did the rest. Locating the ball, he dove over McFadden's body, went full extension with his right hand, and somehow – I still don't understand the physics of it – cradled it while dun dun dun, surviving the ground.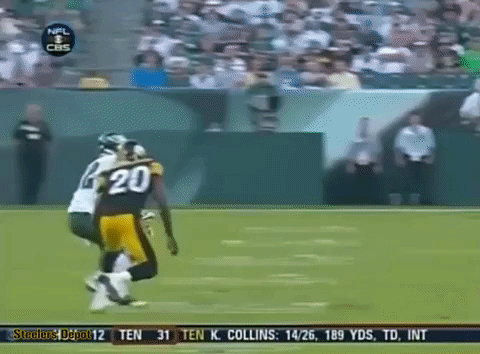 The refs got it right, ruling it an interception. Andy Reid challenged, probably out of disbelief, and the call stood. Then, Polamalu would crack a smile. I'd still love to know what Deshea Townsend, appearing offscreen below, said to him.
It's a shame the Steelers squandered the chance, promptly going three and out and held scoreless for the entire second half.
I know most people consider the pick against the San Diego Chargers to be #1 on his "greatest hits" list but man, I think this play doesn't get talked about nearly enough.
When he's inducted into the Hall of Fame, and it BETTER be first ballot, this play needs to show up on his highlight reel. I still don't believe my eyes.