If you're been following along during the offseason, you know the drill by now. Day after a new Pittsburgh Steeler is brought in? We have a report on him. Ricardo Mathews is no different, though he was a surprise, brought in without anyone reporting it and signed.
I put on three games of his: Week 4 versus Cleveland, Week 9 vs Chicago, and Week 17 at Denver. In total I watched 115 snaps. I charted where he lined up on all 115 and these were my results.
Three Technique: 78 snaps – 67.8%
Zero/One Technique: 31 snaps – 27%
Four/Five Technique: 3 snaps – 2.6%
Six+ Technique: 3 snaps – 2.6%
Very rarely was Mathews involved in the San Diego Chargers' base defense and those three snaps as the four/five tech didn't come until Week 17. He was mainly used in their 2-4-5 nickel, playing the one or the three, as the numbers indicate.
Even at times where he would be sprinkled into the base defense, there were instances where he would line up as the three and not head up on the tackle. Not sure what the reason is, if they thought he didn't have enough length (he's 6'2 and though I couldn't find an exact number, imagine his length is not tremendous).
We'll break Mathews down into three categories. Run defense, pass rush, and overall scheme usage.
Run Defense
Some clips before I go into my report.
Mathews has good feet. I mean that in a couple different ways. He's a decent enough athlete able to flow down the line against zone runs, something Cam Thomas could never ever do. But he also has the ability to establish and reestablish a wide, powerful base from which to anchor from.
In the clip below, Mathews, #90 and the three technique, gets hit with a combo block by left tackle Joe Thomas. It gets his shoulders and feet turned but he's able to get both square again and hold the point against the guard's drive block.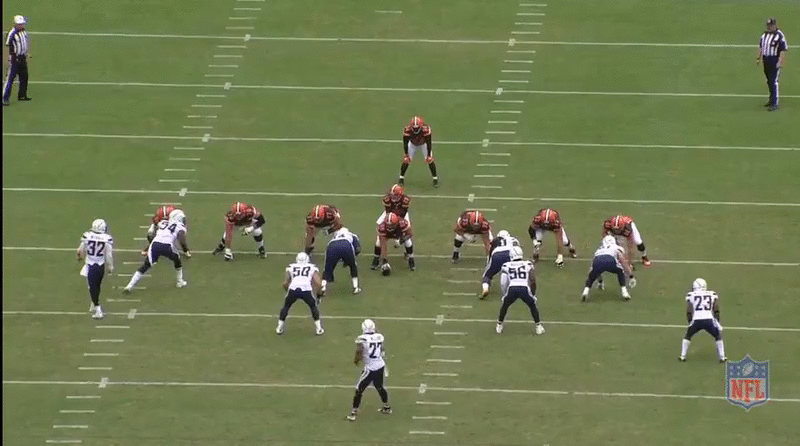 And this was probably my favorite play of his. Flow against the inside zone, maintain gap control, shed, and make the tackle.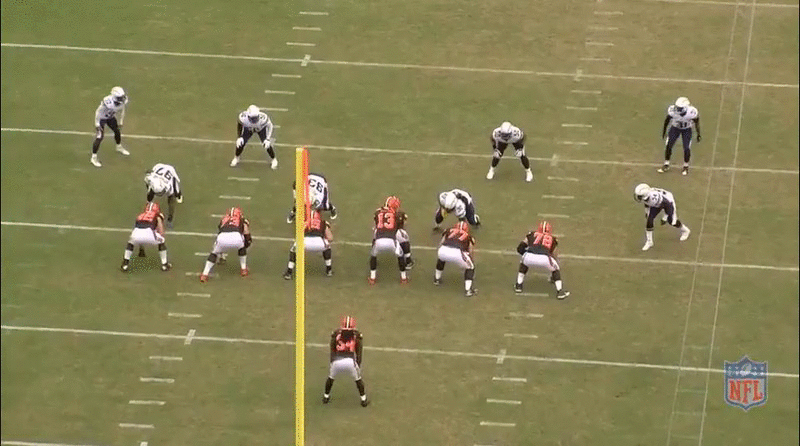 But against true double teams? He struggles. Turned, washed, blown out, whatever choice of words you want to use, as long as they're negative, you're probably on the right track. Again, he's the RDT.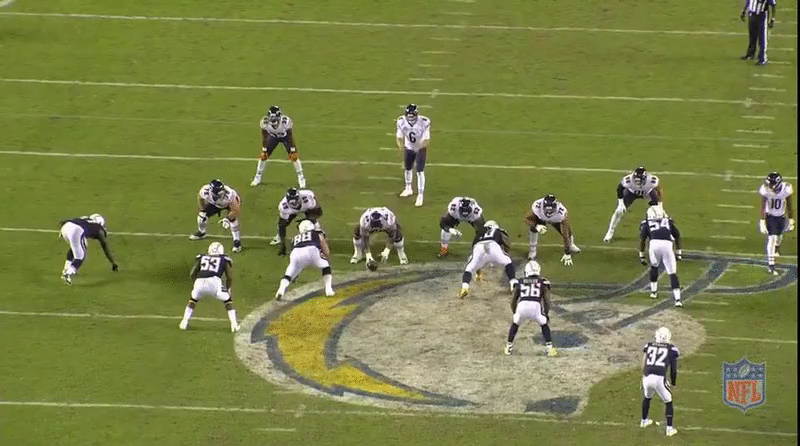 My overall notes.
The Good: Shows active feet, wide base to create power. Capable of reestablishing base when knocked off it. Gets his arms extended and establishes separation, able to shed. Shows snap off the ball, flows versus zone runs and maintains gap integrity. Keeps eye level up and able to find the football when two-gapping. Is not in the Heyward/Tuitt level of chase but is not lazy going after the football downfield, either.
The Bad: Is not innately strong. Can hold own against drive blocks but turned and blown out versus double-teams. Will screw up run fill on last second assignment changes. Is not going to make a ton of impact plays against the run. Fails to finish the few chances he gets. Off feet a little too often.
Pass Rush
Despite overall athleticism, albeit a very broad term, Mathews did not show himself to be a particularly strong pass rusher. Part of it was scheme limitation, which we'll get to, but on the few "two way go" opportunities he received, he did not produce.
His "best" move is his club and arm over. Shows some power on his punch, enough to stun the linemen in order to create space. This is the best example I watched.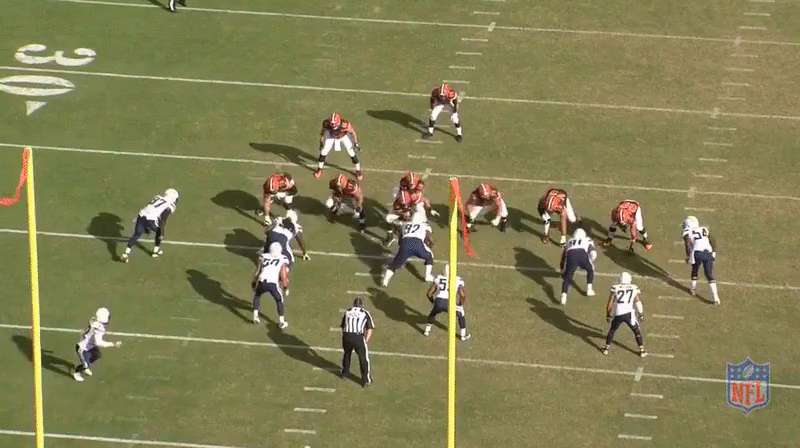 But most times, despite some energy and attempt, he just winds up being stuck.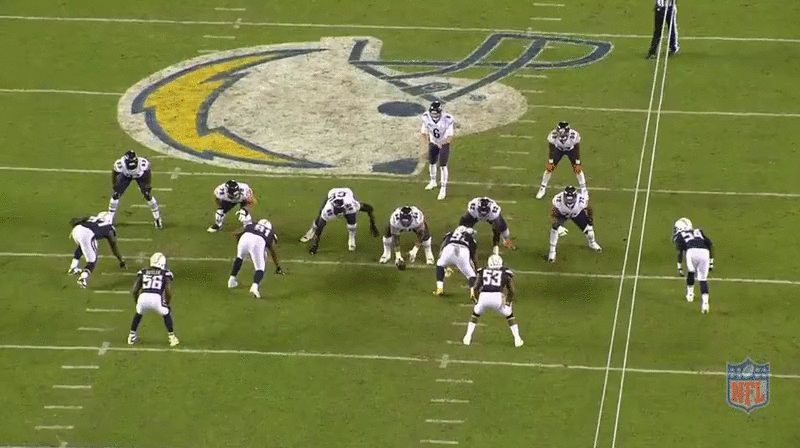 Onto my notes.
The Good: Shows some snap off the ball and is not lagging behind. Experience playing up and down the line. Plenty of time rushing from a left and right-handed stance and seems comfortable doing either. Power on punch makes for an effective club that he can work off of, club and arm-over is the best tool in his belt. Shows energy as a pass rusher.
The Bad: Not an effective pass rusher in the opportunities he received. Shows energy but struggles to disengage blocks. Lacks a variety of moves and doesn't set up his rushes very well. Is not a threat to impact throwing lanes and rarely got his hand up and in the way.
Usage
As I wrote at the top, rarely was Mathews involved in the Chargers' base defense. I didn't put a number on it but he was in nickel a good 90% of the time. Like I also wrote, there were times he was in base but lined up as the three tech whereas Pittsburgh will usually have their ends as the four, or head inside the tackle.
In Week 17, I saw a few snaps of him as an actual five.
In the run game, there was a mix of one and two-gapping. Just depended on the front. If the box was stacked, he was more likely to penetrate. If it was light, he was more apt to two-gap. The closer to the interior, the more often he'd two-gap, too.
As a pass rusher, what I mentioned earlier is that his opportunities were liimted. From a pressure/scheme standpoint, the Chargers were actually – and I am speaking broadly, obviously – similar to the Steelers. Lot of pressure, stunts/twists, and some details that were the same (OLBs with a hard chip on the TE before rushing, for example).
It confined him to rushing a specific gap, and it was usually to help build the contain rush, rather than the intended pressure. Here's an example of what I mean. Mathews, as the RDT, is the contain rush on this T/E stunt. His goal isn't to generate pressure. It's to keep the quarterback in the pocket in the hope, and plan, that the stunt works.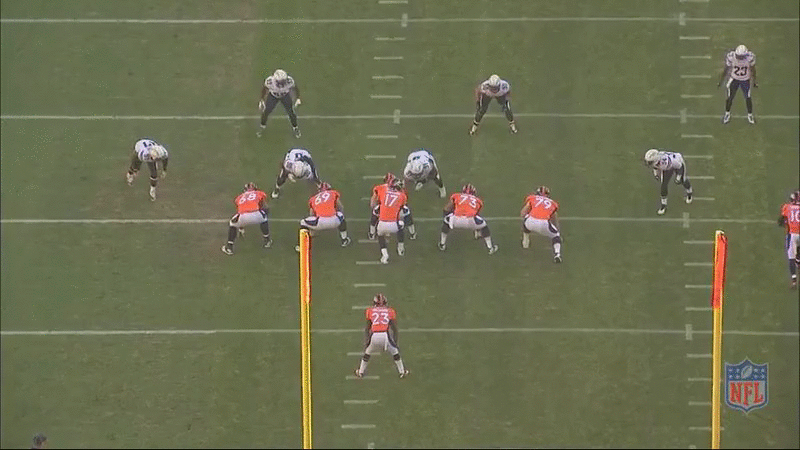 You'll absolutely get that in Pittsburgh too but if given a little more freedom than what he had out West, you will see slightly more production from him as a pass rusher.
In the three games, I witnessed him drop into coverage just once.
He played just on phase of special teams. Lined up on the FG block team over the "C" gap.
Conclusion
Though he rarely played the five in SD, and I'm not sure what his length is, his skillset is something that I think can allow him to pick up snaps there in Pittsburgh. And of course, he'll serve as interior, sub-package depth. We're way far out but I think he will make the team as that rotational end. He is definitely more of an end, not a true nose, make no mistake.
He's just average but the Starving Artists Pittsburgh has been for depth, it's an important signing. He's the epitome of the old Eddie Murphy joke. If you're starving and someone throws you a cracker, it'll be the greatest cracker you've ever had.
"What was that, a Saltine? No wait, that had to have been a Ritz."
That's Ricardo Mathews.
*waits for Pulitzer*