On Monday, we had an extensive breakdown of Keith Butler's fire zones. One of them included his Fire X, adding on the wrinkle of bringing a safety through. I actually missed the play out of Dick LeBeau's playbook and with that and the coaches' film, want to go a little more in-depth with it today. He called it twice, resulting in one sack and one interception. Not a bad day at the office.
This is LeBeau's Triple Inside Fire Zone. A screenshot of the assignments and the whiteboard version of it from his 2002 playbook.
Another "safe" five man pressure with both of the ends dropping into coverage. The inside linebackers twist up the opposite A gaps while the safety comes up the middle behind. The defensive lineman fan out to act as contain rushers, keeping the quarterback inside the pocket. Cover 3 over the top.
The first time Butler unleashed it came on 3rd and 16 in the first quarter. It works just like it's drawn up. Lawrence Timmons and Ryan Shazier trade A gaps, drawing the eyes of the interior lineman and the running back keying the 'backers, leaving Will Allen with a crease up the gut.
Interior pressure is the worst kind for a quarterback because he can't climb and slide within the pocket. He has to try to escape, putting him off his base and on the move, eliminating half the field and his vision. Austin Davis is a sitting duck and Allen brings him down.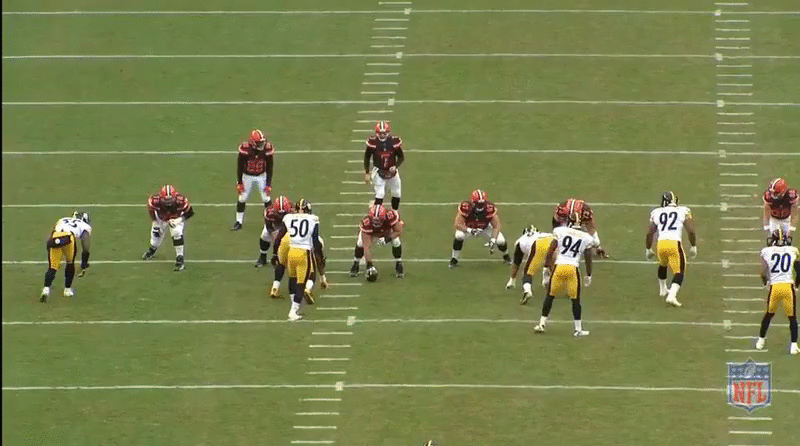 He brought it back in the second half, on a 3rd and 5. Crucial moment of the game. The Browns had just gotten the ball of a turnover, and are inside the ten with the Steelers clinging to a five point lead.
It's the same idea. Inside linebackers twist, the outside linebackers drop, and the safety blitzes up the middle.
The Browns actually do a quality job of picking it up, center Alex Mack sliding off to pick Allen up. Instead of actual pressure, we're getting the perception of pressure in Davis' mind. Two linebackers and a safety coming? His thought is to get the ball out quick, assuming something underneath will be open.
But Harrison has dropped into coverage and has carried tight end Gary Barnidge. He undercuts the out route and picks it off, keeping momentum – and more importantly the lead – on the Steelers' side.